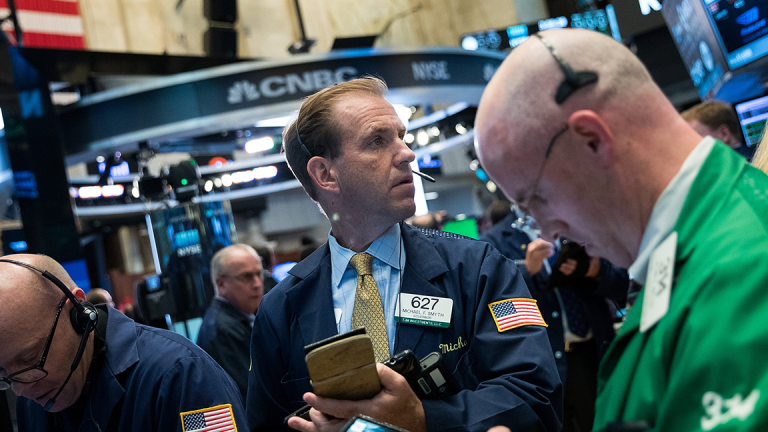 Stocks Grind Higher as Global Trade Concerns Ease, But China Questions Linger
Global stocks edged higher Wednesday as the bullish tone from this week's potential trade agreement between the U.S. and Mexico faded into broader concern over the ongoing dispute between Washington and Beijing and its impact on growth in the world's second-largest economy.
The Wednesday Market Minute
Global stocks trade modestly higher following U.S-Mexico trade deal, but gains were capped by concerns that talks may delay any potential agreement with China.
China's state-controlled National Development and Reform Commission says "bigger effort" needed to meet economic growth targets in the second half of the year.
European stocks edge higher, as the euro slips to 1.1682 against the U.S. dollar, but weak retail stocks hold gains in check.
Amazon is set to open at a record high, and past the $1 trillion market cap barrier, following a price target upgrade from Brian Nowak at Morgan Stanely.
U.S. equity futures suggest S&P 500 could test 2,900 barrier again Wednesday as futures point to another soild session on Wall Street.
Market Snapshot
Global stocks edged higher Wednesday as the bullish tone from this week's potential trade agreement between the U.S. and Mexico faded into broader concern over the ongoing dispute between Washington and Beijing and its impact on growth in the world's second-largest economy.
With the White House now focused on closing its recently-announced deal with Mexico, which must be approved by Congress within 90 days of it being finalised, and bringing Canada into the fold in order to maintain an North American framework similar to NAFTA, investors now feel that a bespoke arrangement with China may not be reached until at least 2019.
Added to that concern is the fact that China's economy is slowing, and the state-controlled commission mandated to direct its growth said Wednesday that a "bigger effort" will be needed in order to meet second half and full year targets.
"Targets in economic growth, employment, inflation and exports and imports can be achieved through effort," the National Development and Reform Commission said. "But to achieve growth goals in consumption, outstanding total social financing and urban disposable income will require bigger effort."
Those concerns weighed on China stocks, with the CSI 300 slipping 0.62% into the close of the trading session and Hong Kong's Hang Seng giving back earlier gains to eek into the red, even as Japan's Nikkei 225 booked its seventh consecutive gain with a 0.15% advance that lifted the benchmark to 22,848.22 points. The MSCI Asia ex-Japan index, the region's broadest measure of share prices, was marked 0.11% to the upside heading into the final hours of trading.
European stocks were modestly stronger at the start of trading, but gave back some of those gains by mid-day amid questions over the nature of the U.S. Mexcio agreement and the chance that it might give the White House greater leverage to extract more concessions from Brussels when the two blocs resume their trade talks in the months ahead. 
The Stoxx Europe 600 index was marked 0.08% to the downside by noon Frankfurt time while Germany's DAX performance index fell 0.14% from its Tuesday close as traders trimmed earlier gains amid a renewed decline in the Turkish lira, which fell to 6.4 against the dollar -- the weakest since August 15 -- after Moody's Investors Service downgraded ratings on 20 domestic banks citing "a substantial increase in the risk of a downside scenario, where a further negative shift in investor sentiment could lead to a curtailing of wholesale funding."
Deutsche Bank AG  (DB) - Get Report shares were an early mover of note, with the stock rising 0.27% in Frankfurt after CEO Christian Sewing told an audience in Frankfurt said sector consolidation would increase "considerably" in the near-term, a statement that could rekindle speculation that the German government could orchestrate a merger with its domestic rival Commerzbank AG  (CRZBY) .
Indetix SA (IDEXY) , the world's biggest clothing retailer, fell more than 4.4% to the bottom of the Stoxx 600 after Morgan Stanley cut its rating on the owner of the Zara franchise to "underweight", saying the group is facing falling margins and "channel shift pressures". 
Wall Street futures held their ground, however, and suggest another solid session for U.S. stocks at the start of trading, with contracts tied to the Dow Jones Industrial Average I:DJI marked for a 22 point gain at the opening bell while those linked to the S&P 500 I:GSPC suggesting a 3.1 point advance, taking the broader benchmark past the 2,900 point barrier for only the second time in history.
Amazon Inc. (AMZN) - Get Report shares are set to open at a record high Wednesday, and become the second U.S. company after Apple Inc. (AAPL) - Get Report to break the trillion dollar market value barrier, after Morgan Stanley lifted its price target on the online retailing giant, citing expanding sales margins and its dominant cloud computing business.
Amazon shares were indicated 1.3% higher from their Tuesday close in pre-market trading, suggesting an opening bell price of $1,958.00 each, a move that would take its year-to-date gain to just under 67% and value the Seattle, Wash.-based group at just over $1 trillion. Apple became the first company in the world top the $1 trillion market value threshold on August 1 when its shares hit a then-record high of $207.39. Apple was marked 0.14% higher in pre-market trading at $220.00 each.
The U.S. dollar index, which benchmarks the greenback against a basket of six global currencies, held close to its recent four-week low of 94.85 in overnight trading, while China's offshore yuan was little-changed at 6.8091 against the dollar.
Global oil prices were modestly softer in overnight trading, with traders citing a surprise 38,000 barrel increase in domestic crude inventories, according to data published yesterday by the American Petroleum Institute, against market expectations of a 686,000 barrel drawn down.
Brent crude contracts for November delivery, the global benchmark for pricing, were marked 13 cents lower from their Tuesday close in New York and changing hands at $76.16 per barrel in early European trading. WTI contracts for October delivery, which are more tightly linked to U.S. gas prices, were seen 9 cents lower at $68.46 per barrel.