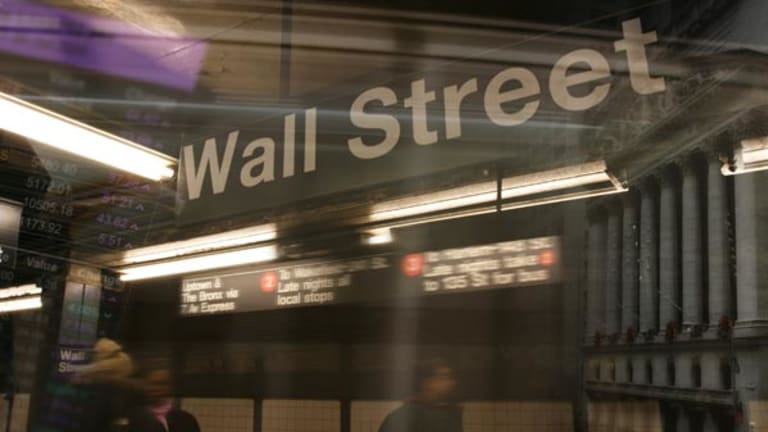 Stocks Give Some Back
Google isn't enough to keep yesterday's spark alive.
Updated from 4:02 p.m. EDT
Tech shares again set the tone for stocks Friday, this time dragging the broader market lower despite great numbers from
Google
(GOOG) - Get Report
. Oil surged.
The
Nasdaq Composite
fell 30.22 points, or 1.54%, to 1932.19, giving back about two-thirds of Thursday's 45-point rally. Selling was more moderate in blue chips, with the
Dow Jones Industrial Average
losing 60.89 points, or 0.60%, to 10,157.71, and the
S&P 500
falling 7.83 points, or 0.68%, to 1152.12.
Selling was heaviest in the final hour, with the Dow down as much as 150 points at one point.
"Earnings were mixed overnight in some sectors, so there's still some concern on the earnings front," said Barry Hyman, equity market strategist with Ehrenkrantz King Nussbaum. "It could be a reaction to oil, which has ratcheted up quietly over $55. There's a lot of volatility. The market needs to prove that these upside moves are not just one-day wonders."
Trading volume on the
New York Stock Exchange
was 2.03 billion shares, with decliners beating advancers by a 5-to-3 margin. Volume on the Nasdaq was 1.80 billion shares, with decliners outpacing advancers 7 to 3.
In other markets, the 10-year Treasury bond was up 12/32 in price to yield 4.25%, while the dollar fell against the yen and euro. Oil closed $1.19 higher to $55.39 a barrel, rising 2.2% for the session.
"Today is a little profit-taking in the absence of economic news," said Peter Cardillo, chief market analyst with S.W. Bach & Co. "Oil around $55 is also causing some profit-taking."
For the week, the Nasdaq still managed to gain 1.25%, the S&P 500 added 0.83% and the Dow rose 0.69%.
"The market appears to be very confused, especially when commentary says the
Fed
is in tightening mode even though the Fed says it is not," said Edgar Peters, chief investment officer with Pan Agora. "Everyone is looking for someone to blame on the economic growth slowdown. What we're seeing today is a knee-jerk reaction to the buying yesterday, and now everyone is wondering what to do next."
Strong sectors Friday included energy and utility, while weaker sectors were materials, tech, airlines and retail. The Philadelphia semiconductor sector index, which rose 2.8% Thursday, lost 1.3%.
The Dow closed at its year low on Wednesday but started Friday's session 206 points better, after rallying Thursday along with the S&P 500 and Nasdaq Composite. Strong earnings from
Motorola
(MOT)
,
UPS
(UPS) - Get Report
and
Nokia
(NOK) - Get Report
helped drive those gains, while Google followed suit with a blowout quarter after the bell.
In its first quarter, Google earned $369 million, or $1.29 a share, up from the year-ago $64 million, or 24 cents a share. Analysts had been forecasting a profit of 92 cents a share. Google said its total revenue rose 93% to a record $1.26 billion in the quarter. Net revenue, or revenue excluding the fees from search-engine advertising partners, jumped to $794 million.
The stock closed at $215.81, up $11.59 or 5.7%. Rival
Yahoo!
(YHOO)
was down $1, or 2.8%, to $34.87 after CIBC downgraded it to sector perform.
Moving lower was
Amgen
(AMGN) - Get Report
, whose first-quarter earnings left Wall Street cold. The biotech firm earned $854 million, or 67 cents a share, in the quarter, up from $690 million, or 52 cents a share, a year ago. Adjusted earnings were 72 cents, 4 cents above the Wall Street analyst consensus estimate.
Revenue rose 21% from a year ago to $2.83 billion, just shy of the $2.87 billion Thomson First Call consensus. The stock fell 36 cents, or 0.6%, to $58.89.
Wireless-equipment giant
Ericsson
(ERICY)
said first-quarter earnings rose 77% from a year ago to $654 million, reflecting a 12% jump in sales to $4.48 billion. The sales number was about $150 million better than expected. Ericsson rose 27 cents, or 0.9%, to $30.47.
Would-be digital giant
Kodak
(EK)
swung to a wide first-quarter loss in its first quarter, the result of charges and a 3% sales decline. Before items, the company earned 3 cents a share, a result that looked well short of estimates. Kodak earned $8 million, or 3 cents a share, a year earlier. Shares lost $2.85, or 9.4%, to $27.55.
Shares of
Halliburton
(HAL) - Get Report
rose after the company reported a first-quarter beat of Wall Street forecasts. The oil services company said that net income in the first quarter was $365 million, or 72 cents a share, up from a loss of $65 million, or 15 cents a share, a year ago. Excluding gains from the sale of a stake in a joint venture, Halliburton's EPS was 58 cents, higher than the Thomson First Call consensus of 44 cents a share. The stock added 51 cents, or 1.2%, to $43.84.
Costco
(COST) - Get Report
projected earnings for the third and fourth quarters below Wall Street's average estimates, and announced it would increase its quarterly dividend. The retailer expects third-quarter earnings of 41 cents to 43 cents a share, below its previous projection as well as analysts' average estimate of 46 cents a share, according to Thomson First Call. The dividend goes to 11.5 cents from 10 cents. Shares were down $3.85, or 8.7%, to close at $40.17.
USF
(USFC)
reported a first-quarter loss of $5.8 million, or 20 cents a share, compared with a profit of $7.1 million, or 26 cents a share, last year. USF said it incurred $4.9 million for shutting down its Red Star unit, $7.8 million on the sale of its USF Processors business, and costs of $3.5 million from its merger with
Yellow Roadway
(YELL)
. Excluding charges, earnings would have been 18 cents a share, above the Thomson First Call average estimate of 14 cents. Shares of USF fell 86 cents, or 1.9%, to $43.87. Yellow was down $1.65, or 3.2%, to finish at $50.16.
Late Thursday,
bebe stores
(BEBE)
reported third-quarter net income of $11.1 million, or 18 cents a share, up from $5.5 million, or 9 cents a share, a year earlier. Excluding charges, the company earned 21 cents a share, beating the Thomson First Call average forecast of 20 cents a share. The retailer, however, forecast fourth-quarter EPS of 17 cents to 20 cents, below analysts' projections of 21 cents a share. The stock fell $3.02, or 8.5%, to $32.51.
In M&A news,
Qwest
(Q)
again raised its bid for
MCI
(MCIP)
, calling the increase its "best and final" offer. MCI has previously rejected Qwest in favor of a lower offer from
Verizon
(VZ) - Get Report
. Qwest said MCI has two days to consider the new offer, which comes out to $9.7 billion in cash and stock.
In brokerage action,
Anheuser-Busch
(BUD) - Get Report
took two downgrades Friday. J.P. Morgan cut its rating to neutral from overweight, while UBS downgraded the stock to reduce from neutral, citing expectations for a rise in the cost of business. Both downgrades come one day after the U.S. brewer said that
Berkshire Hathaway
(BRKA)
had acquired a significant stake in the company. Shares lost $1.04, or 2.2%, to $47.
Brokerage Sandler O'Neill downgraded
Archipelago
(AX) - Get Report
to sell from hold, two days after the company announced a deal to merge with the
New York Stock Exchange
. Also, Jefferies cut its rating to underperform from hold. Archipelago, which gained 60.9% Thursday, was down 71 cents, or 2.4%, to close at $29.25.
Meanwhile, the
Nasdaq Stock Market
announced an agreement to acquire the electronic trading network of
Instinet
(INGP)
. Other buyers will assume Instinet's institutional brokerage and trading units. Overall, the deals value Instinet at $1.89 billion.
Shares of the Nasdaq rose $2.78, or 26.1%, to finish at $13.43, while Instinet was down 51 cents, or 8.9%, to $5.19.
Overseas stocks finished higher, wagging along with U.S. markets that saw one of their best days in two years on Thursday. In Europe, London's FTSE 100 was up 0.6% to 4849 while Germany's Xetra DAX rose 0.7% to 4223. In Asia, Japan's Nikkei rose 0.6% to 11,046, while Hong Kong's Hang Seng added 0.7% to 13,694.