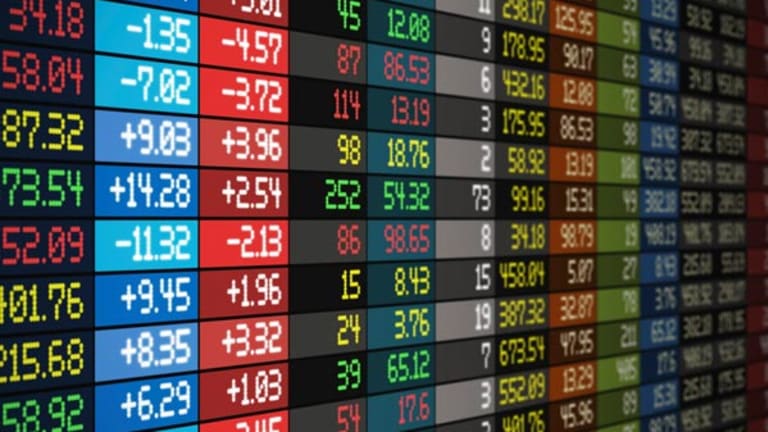 Stocks Get Spooked
The Dow gives up almost 250 points as the dollar strengthens and rally sustainability fears take over.
(Updated with investor expectations for coming week.)
NEW YORK (
) -- Volatility spiked, and a strengthening dollar, compounded with a soft
report and sustainability fears, made for a dreary close to the month and what one observer called "a precarious position."
October held true to its reputation as a bad month for stocks: The
Dow Jones Industrial Average
edged up less than one half of a point; the
S&P 500
lost just less than 2%; and the
Nasdaq
fell 3.6%.
Much of those losses materialized Friday. The Dow lost 249.85 points, or 2.5%, to 9709, while the S&P 500 fell 29.93 points, or 2.8%, to 1036.18. The Nasdaq plunged 52.44 points, or 2.6%, to 2045.11.
Perhaps appropriate for the day before Halloween, the CBOE volatility index, considered a reading on fear in the market, rose 24% to above 30.
"It tells me we still have a lot of fear and doubt and a continuation of climbing the wall of worry," says Jim Paulsen, chief investment officer, Oaktree Asset Management. But volume is "extraordinarily low," he says, and, "I think it's more traders are moving this around on whatever information they can find to push this thing where they want."
For the five-day session, the Dow lost 2.6%, the S&P 500 gave up 4%, and the Nasdaq fell 2.6%.
Nonetheless, "I think at the end of the day we've completed another week where the vast majority of the reports on the economy and earnings were better than expected," says Paulsen. "As of now, I don't see that it's any different -- I fail to see why it should roll into something else, when we're turning a corner."
With the majority of S&P 500 companies having reported, investors' primary focus is likely to
shift from earnings to economic data
in the coming week. Among the week's releases will be the government's employment report for October.
Vote in TheStreet.com's market poll here.
Energy and financial stocks were among the worst performers Friday, with the NYSE Financial index and KBW bank index down 4.1% and 5%, respectively. (
Wells Fargo
(WFC) - Get Wells Fargo & Company Report
,
Citi
(C) - Get Citigroup Inc. Report
and
Goldman Sachs
(GS) - Get Goldman Sachs Group, Inc. Report
continued to edge lower in after-hours trading.)
The Philadelphia Oil Services index and NYSE Energy index were off by 4.4% and 3.7%, respectively, while crude oil futures fell $2.86, to $77 a barrel.
$6.70 to $1,040.40 an ounce, while the dollar gained ground vs. the pound and euro.
"There was certainly skepticism regarding yesterday's rally, and as had been the case, equities trade inversely to the dollar -- so with the dollar strengthening you're seeing the unwinding of the long-equities, short-dollar trade," says Michael James, managing director at Wedbush Morgan Securities, adding that there's been a fair amount of focus on the key 1050 level on the S&P 500, which it dipped below.
"We're in a very precarious position with the S&P near 1050 and the lows of Wednesday," says James. "Probably the leading indicator was the weakening in financials; as they continued to worsen, it's only brought about more selling across the board."
Stocks started the day to the downside even as the Chicago purchasing managers index surged to 54.2, from 46.1, topping expectations for a rise to 49. Also, the University of Michigan's revised reading on consumer sentiment rose slightly more than expected to 70.6 from 69.4.
"The market is coming off a really strong day yesterday, that's part of it," says Alan Gayle, senior investment strategist at RidgeWorth Capital Management. "They were very encouraged and surprised by strength in third quarter, but attention is turning back to momentum -- whether we can sustain the numbers we saw in the third quarter. Even though the glass is half full, it's filling very slowly."
Earlier in the day, the Department of Commerce said personal income was unchanged for the month of September while spending decreased 0.5% -- both in line with expectations.
"Consumer spending was soft, that wasn't a big surprise," says Gayle. "But it's a reminder that the consumer isn't flush with cash -- and it's a question of whether or not the strength we saw in the third quarter can continue into 2010. The data is unconvincing."
Outside of economic data,
Sony
a smaller-than-expected 26.3 billion yen ($289 million) quarterly loss. Shares fell 3.8%.
Chevron
(CVX) - Get Chevron Corporation Report
-- down 1.8% -- said net income fell 51% to $7.89 billion on lower prices and margins.
Stocks overseas were mixed, with the FTSE in London off by 1.8% and the Dax in Frankfurt down 3.1%. In Asia, Japan's Nikkei and Hong Kong's Hang Seng rose 1.5% and 2.3%, respectively.
-- Written by Elizabeth Trotta in New York.