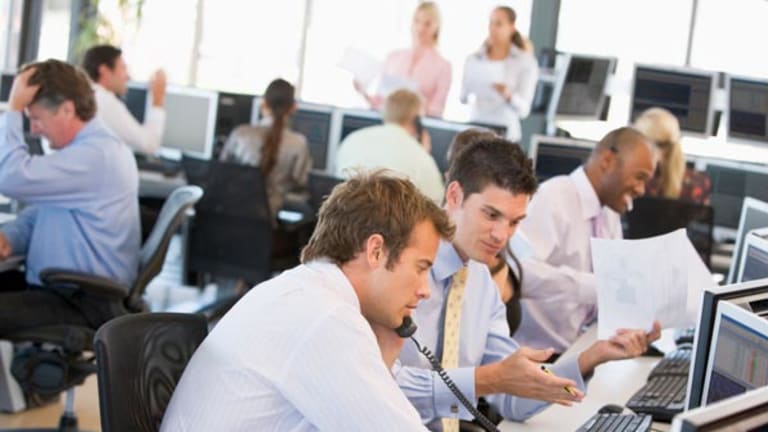 Stocks Get Roughed Up
The Dow falls 360 points, and the Nasdaq plunges by 76.
Updated from 4:10 p.m. EST
Troubling comments from a
Federal Reserve
official, weak earnings and a plummeting dollar pushed stocks in the U.S. deep into the red Wednesday.
The
Dow Jones Industrial Average
sank 360.92 points, or 2.64%, to 13,300.02. The
S&P 500
plunged 44.65 points, or 2.94%, at 1475.62, and the
Nasdaq Composite
tumbled 76.42 points, or 2.7%, at 2748.76.
"This was a confluence of oil, subprime and dollar fears all hitting the market at once," said Paul Nolte, director of investments with Hinsdale Associates. "These factors have all been there, but this is the first day they've all been front and center. It seems no one wanted to hold anything overnight, which is why we had this late-session selloff."
The major averages fell to their worst levels of the day after St. Louis Fed President William Poole said that the central bank will not raise interest rates when it meets Dec. 11. Investors took Poole's comments as a sign that the Fed believes recent credit problems will persist.
"Market participants must be confident that they can take positions without the risk that the Fed might raise rates," said Poole during a speech in Milwaukee. "Barring unusual circumstances, the
Federal Open Market Committee would not consider a rate increase just after cutting its fed funds rate target."
Poole added that "the Fed needs to be careful to do what is necessary, but not more."
Crude prices also pressured stocks. Overnight, crude oil touched a record $98.62 a barrel in electronic trading. Crude lost its gains, though, after the Energy Department's weekly inventory report showed a softer-than-expected decline of 800,000 barrels in oil stocks. Oil ended lower by 33 cents at $96.37 a barrel.
Meanwhile, the dollar hit fresh lows against the euro as an official in China said Beijing should adjust its currency reserves to a stronger currency than the dollar.
"The weak dollar is potentially pressuring China to peg its yuan to stronger currencies," said Marc Pado, U.S. market strategist with Cantor Fitzgerald. "Historically, China has been forced to buy dollars to maintain the peg. As they turn to sell those dollars, it could cause a short-term crisis."
During a speech on financial markets in New York, Fed Governor Kevin Warsh noted that the central bank may have to act if the decline in the dollar led to higher prices for imported goods.
The dollar's weakness had gold futures surging. Gold jumped $10.10 to close at a record $833.50 an ounce. Silver relinquished early gains and finished lower by 5 cents to $15.32 an ounce.
"All of a sudden today oil was too high and the dollar was too low," said Phillip Roth, chief technical market analyst with Miller Tabak. "The floodgates opened and volume picked up dramatically. This seems to be emotional selling, the first we've seen since August. The market still has a long way to go in its corrective process."
Among the worst performing sector indices, the NYSE Financial Index dropped 4.2%, the Philadelphia Housing Sector Index slumped 3.9%, and the Dow Jones Transportation Average fell 3.2%.
Washington Mutual
(WM) - Get Waste Management Inc. Report
was the weakest of the financial names, plummeting 17.3%.
Bear Stearns
(BSC)
,
Morgan Stanley
(MS) - Get Morgan Stanley Report
,
Lehman Brothers
(LEH)
and
Bank of America
(BAC) - Get Bank of America Corporation Report
lost 4.9% or more on the day.
Breadth was decidedly negative. On the
New York Stock Exchange
3.11 billion shares changed hands, as decliners toppled advancers by a 10-to-1 margin. Volume on the Nasdaq reached 2.49 billion shares, with losers beating winners nearly 4 to 1.
Little help was found on the earnings docket. Dow component
General Motors
(GM) - Get General Motors Company Report
posted a staggering third-quarter net loss of $39 billion, or $68.85 a share. Excluding items, the company lost $2.80 a share, well below the Thomson First Call estimate.
Shares of GM dropped $2.21, or 6.1%, to $33.95. Rival
Ford
(F) - Get Ford Motor Company Report
, which reports its results Thursday, lost 4.5%.
Toyota
(TM) - Get Toyota Motor Corporation Report
slipped 0.3% despite reporting a rise in second-quarter profits.
Also,
Time Warner
(TWX)
reported a 53% decline in third-quarter earnings compared to a year ago. Excluding items, the media giant earned 24 cents a share, matching Wall Street's estimates. Time Warner shares were off 53 cents, or 2.9%, to close at $17.80.
Following the close,
Cisco
(CSCO) - Get Cisco Systems Inc. Report
sank after its solid quarter and in-line guidance failed to impress investors. Dow component
AIG
(AIG) - Get American International Group Inc. Report
was also due to report quarterly earnings.
On the economic front, the Labor Department said its preliminary read on third-quarter productivity showed a 4.9% jump, nearly doubling expectations. Unit labor costs unexpectedly eased 0.2%, much better than estimates for a 1.0% increase.
U.S. Treasury securities were higher following a volatile session. The 10-year note rose 12/32 in price, dropping the yield to 4.33%. The 30-year bond was up 3/32 in price to yield 4.66%.
Most overseas indices were lower. In Europe, London's FTSE 100 was fell 0.9%, the Paris CAC 40 lost 0.5%, and Germany's Xetra Dax was down 0.4%. In Asia, Japan's Nikkei 225 dropped nearly 1% overnight, while Hong Kong's Hang Seng added 0.9%.