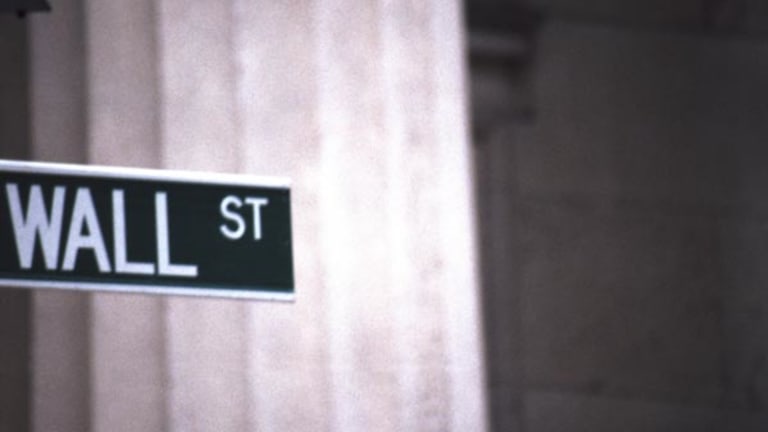 Stocks Get Motor Running
The Dow runs up 128 points as GM drives broad-based buying.
Updated from 4:07 p.m. EDT
Stocks caught a brisk tailwind Wednesday as a surprise vote of confidence for
General Motors
(GM)
helped offset turmoil in the bond markets.
The
Dow Jones Industrial Average
rose 127.69 points, or 1.24%, to 10,384.64, paced by an 18% rally in GM. The
gained 14.48 points, or 1.25%, to 1175.65. The
Nasdaq Composite
rose 29.16 points, or 1.51%, to 1962.23. All three major indices ended near their session highs, with the Dow and Nasdaq notching their fourth straight session of gains.
Trading volume on the
New York Stock Exchange
was heavy at 2.28 billion shares, with advancers beating decliners by 3 to 1. Volume on the Nasdaq was 1.88 billion shares, with advancers outpacing decliners 2 to 1.
Stocks broke higher when Las Vegas billionaire Kirk Kerkorian announced a $31-a-share tender offer for about 5% of General Motors, lifting the stock $5.03 to $32.80. Kerkorian already owns about 22 million GM shares. The stock has lost about half its value over the last 18 months, most recently crushed in mid-March by a profit warning and a series of debt downgrades.
Kerkorian said he wants the shares for investment purposes and went public with the tender because of rumors that started circulating last weekend. The 88-year-old investor currently controls
MGM Mirage
(MGM)
and once tried to acquire
Chrysler
.
"GM created a bit of a spark, although it's better for GM than it is for the market," said Barry Hyman, equity market strategist with Ehrenkrantz King Nussbaum. "The market is on the verge on breaking important resistance. It could be perceived that we have a nice bottom established."
Oil prices plunged earlier then recovered after the Energy Department said crude stocks rose by 2.6 million barrels last week, about twice the expected level. The June crude contract closed up 63 cents to finish at $50.13 a barrel. Gasoline inventories rose by 2.2 million barrels, much higher than the expected 700,000-barrel increase.
Bonds fell after a Treasury Department official said the U.S. government might reintroduce the 30-year bond. The 10-year note, which rallied Tuesday after the
Federal Reserve
corrected a truncated policy statement on its Web site, was down 6/32 in price to yield 4.19%. Existing 30-year bonds lost 1 27/32 in price to yield 4.60%.
"The major effect today is a sharp curve steepening of the 30-year notes," said John Canavan, market analyst with Stone & McCarthy Research Associates. "Because of that, the 10-year not has weakened, although it has actually held in pretty well against the curve. The announcement won't come until August, and the funding won't come until February of next year, giving us quite some time to sort through it all."
On the economic front, the ISM's services index for April came in at 61.7. Economists had expected a reading of 61.2 in April, down from 63.1 in the prior month. The report's price component was 61.9 in April compared with 65.6 in March, while the employment index fell to 53.3 in April vs. 57.1 in March.
"The employment index has been a decent guide to trends in nonmanufacturing employment over the past year but has overshot the official data recently," said Ian Shepardson, chief economist with High Frequency Economics. "The April drop might mark a correction, though it has fallen far enough now to be at odds with the strong claims and help-wanted data."
"I'm actually surprised we're getting a rally," said Paul Nolte, director of investments with Hinsdale Associates. "I don't know if we're just getting a reflex that the Fed is out of the way, if it's from the GM news, or the lower oil. The economic numbers are still not terrific and still should not promote these higher prices."
Stocks ended Tuesday's session little changed, but not before some big swings related to the Fed's interest rate announcement. The Dow traded in a 100-point range after the central bank raised interest rates for the eighth straight time and retained its pledge to continue tightening at a "measured" pace.
"If the Fed believes this is a soft patch, then we can perceive that the second half of the year will be improving," added Hyman.
Stronger sectors Wednesday included autos, materials, health care, insurance and tech. Weaker ones were software and utilities.
In M&A activity,
American Tower
(AMT)
agreed to purchase
SpectraSite
(SSI)
for stock worth $61.53 a share, or $3.1 billion, a 9.5% premium over Tuesday's close. American Tower dipped 1 cent, or 0.06%, to $17.20, while SpectraSite rose $5, or 8.9%, to $61.20.
Also, Germany's
Fresenius Medical Care
(FMS)
agreed to buy
Renal Care Group
(RCI)
. The deal values Renal Care at $48 a share, a 22% premium over Tuesday's closing price. The $3.5 billion deal also includes the assumption of $500 million in debt. Fresenius, the world's largest dialysis services provider, lost 54 cents, or 2%, to $26.05. Renal Group gained $6.40, or 16.3%, to $45.70.
In earnings news,
Time Warner's
(TWX)
first-quarter profit rose 35% from a year ago to $963 million, or 20 cents a share, on revenue of about $10.5 billion. The media titan beat estimates by a penny, before a gain. Time Warner added 60 cents, or 3.6%, to $17.28.
Internet conglomerate
IAC/InterActiveCorp
(IACI)
said first-quarter earnings surged 71% from last year to $72.2 million, or 9 cents a share. Adjusted earnings came in at 22 cents a share, 2 cents better than expected. IAC was up $1.16, or 5.2%, to finish at $23.22.
Cigna
(CI)
reported earnings Wednesday that beat by a huge margin. The insurance company earned $436 million, or $3.28 a share, in the first quarter, compared with $68 million, or 48 cents a share, a year ago. Adjusted for items, Cigna earned $2.24 a share from operations in the quarter, more than 70 cents better than expected. For all of 2005, Cigna expects to earn $6.40 to $6.90 a share from operations, almost a dollar better than guidance issued as recently as February. Shares of Cigna rose $2.32, or 2.5%, to $96.77.
Less impressive were results from video-game maker
Electronic Arts
( ERTS) after the bell Tuesday. The San Jose, Calif., company said fourth-quarter profits slid 91% from a year ago, as several marquee titles disappointed.
EA earned $8 million, or 2 cents a share, in the quarter, compared with $90 million, or 29 cents a share, last year. Adjusted for expenses, the company made 9 cents a share, matching estimates. Guidance, however, was a disaster, including a forecast for an unexpected first-quarter loss. The shares dropped $3.45, or 6.5%, to close at $49.45.
Highflying HMO
UnitedHealth
(UNH)
announced a 2-for-1 stock split Wednesday morning, payable May 27 to stock of record May 20. The company will keep its 3-cent annual dividend, effectively doubling the payout based on the larger share base. Shares gained 59 cents, or 0.6%, to $97.30.
In brokerage action, CIBC cut both
SBC Communications
( SBC) and
Verizon
(VZ)
to sector perform from sector outperform. The brokerage cited concerns that the rate of access line losses will increase due to growth in voice-over-Internet protocol (VoIP). Verizon added 3 cents, or 0.1%, to $34.70, while SBC closed unchanged at $23.80.
Smith Barney upgraded
Marsh & McLennan
(MMC)
to hold from sell, believing that the worst may be over for the stock. On Tuesday, the world's largest insurance broker said profit fell 70% in the first quarter, hindered by charges for restructuring and legal matters. Shares gained $1.74, or 6.2%, to $29.99.
Overseas markets finished higher, with London's FTSE 100 up 0.4% to 4882 and Germany's Xetra DAX up 0.4% to 4264. In Asia, Japanese markets were closed for the second straight day as part of the Golden Week holiday.