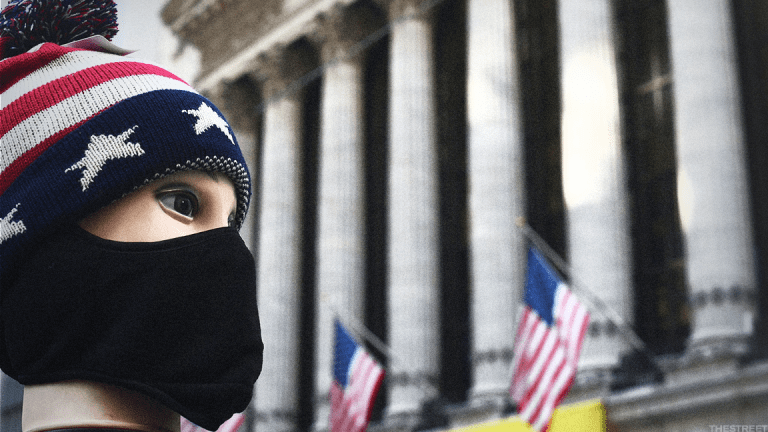 Dow and S&P 500 Jump to New Records as Nasdaq Slips
The Dow soared 140 points on Thursday.
The Dow and S&P 500 scored fresh records on Thursday, Jan. 25, as the Nasdaq declined slightly.
The Dow finished up 0.54% to 26,392. It hit an intraday record high of 26,458. The S&P 500 gained 0.06% and the Nasdaq dipped by 0.05%.
Stocks rose after 3M posted adjusted earnings in the fourth quarter of $2.10 a share, above estimates of $2.03. The company also raised its 2018 outlook and boosted its dividend. 3M shares rose 1.8% on Thursday.
Also boosting the Dow were shares of Goldman Sachs Inc. (GS) - Get Report  , Boeing Co. (BA) - Get Report  and United Technologies Corp. . Those companies' stock rose  by 1.2%, 2.5% and 1.5%, respectively.
Caterpillar Inc. (CAT) - Get Report said Thursday fourth-quarter adjusted profit was $2.16 a share, topping Wall Street forecasts of $1.77. The stock rose 0.38% after tumbling sharply earlier in the session. Caterpillar said its full-year 2018 forecast for adjusted earnings was $8.25 to $9.25 a share, above forecasts of $8.15.
Ford Motor Co. (F) - Get Report  fell nearly 4% after the second-largest U.S. automaker reported fourth-quarter earnings that missed analysts' expectations and warned that 2018 will be a tough year.
Southwest Airlines Co. (LUV) - Get Report reported fourth-quarter adjusted profit of 77 cents a share, beating estimates by 1 cent. Revenue of $5.27 also topped estimates. The stock fell 3.2%.
American Airlines Group Inc.'s (AAL) - Get Report  adjusted profit in the fourth-quarter exceeded analysts' forecasts. American, the biggest U.S. carrier by passenger traffic, said earnings excluding special items were 95 cents a share in the quarter, 3 cents above estimates. Net profit of 54 cents a share was down 2 cents from a year earlier. The stock declined 3%. 
Biogen Inc. (BIIB) - Get Report reported fourth-quarter adjusted earnings of $5.26 a share, below Wall Street forecasts of $5.46. The biotech giant said it expects adjusted earnings in 2018 of $24.20 to $25.20, higher than analysts' estimates. The stock rose 2%.
Kroger Co. (KR) - Get Report shares jumped 2.6% after the New York Post reported the supermarket giant was exploring an alliance with Alibaba Group Holding Ltd. (BABA) - Get Report , the Chinese e-commerce giant.
The dollar plunged to a fresh three-year low on Thursday amid an increasing intense debate over global trade rules ahead of Donald Trump's address to the World Economic Forum in Davos, Switzerland. 
The dollar extended declines despite Treasury Secretary Steve Mnuchin's attempts to clarify comments he made on Wednesday, Jan. 24, to reporters in Davos as he arrived at the World Economic Forum. Munchin said his views on the greenback were "clear" and "consistent" but again noted that he wasn't concerned where the dollar was trading in the short-term. 
"I thought my comment on the dollar was actually quite clear (Wednesday)," Mnuchin said. "I thought it was actually balanced and consistent with what I've said before, which is, we are not concerned with where the dollar is in the short-term. And it's a very very liquid market." 
Mnuchin also addressed the issue of global trade, telling a panel in Davos that "we're not looking to get into trade wars. On the other hand we are looking to defend America's interests." 
That helped push the dollar index, a measure of the greenback against a basket of six global currencies, down 0.7% at last check to 88.73.
European Central Bank President Mario Draghi launched an unprecedented critique of U.S. economic policy Thursday, suggesting that the recent dollar weakness may have violated terms agreed to by global finance ministers last year in Washington.
"Currency movements justified by economic strength are a just a fact of nature," Draghi said when asked it he was concerned about the dollar's moves and comments from U.S. officials. "The issue is other moves that might be the result of certain language and the impact that has on our inflation."
Sales of new homes in the U.S. fell more than expected in December, the Commerce Department said. New single-family home sales fell 9.3% in December to a seasonally adjusted annual rate of 625,000 units.
Jobless claims in the U.S. for the week ended Jan. 20, rose 17,000 to a seasonally adjusted 233,000, the Labor Department said.
More of What's Trending on TheStreet: