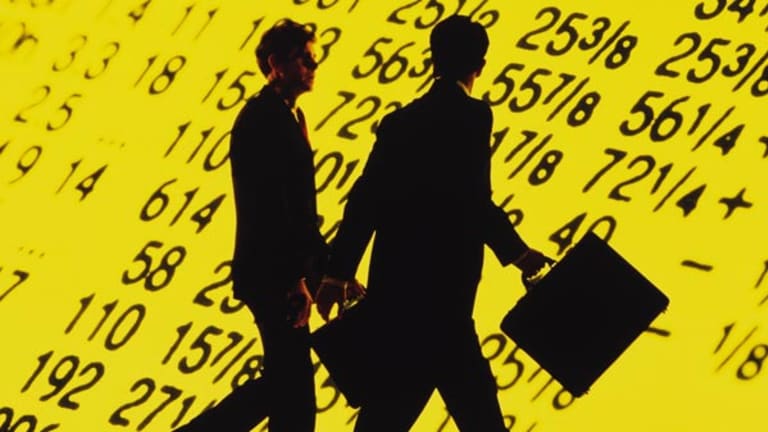 Stocks Get Data Boost
U.S. stocks advance Tuesday on promising housing and consumer confidence data. Gregg Greenberg reviews the day in The Real Story video (above).
(Updated with closing prices.)
NEW YORK (
) -- Investors looked for consumers to "turn the corner," as one market observer put it Tuesday. Economic data supported a broad-based rise in stocks as
Fed
Chairman Ben Bernanke was renominated.
The
Dow Jones Industrial Average
rose 30.01 points, or 0.3%, to 9539.29, while the
S&P 500
climbed 2.43 points, or 0.2%, to 1028. The
Nasdaq Composite
was up 6.25 points, or 0.3%, to 2024.23.
Home-price data juiced housing stocks, and the broader indices got an upward jolt after the Conference Board reported that
rose to 54.1 in August, from 46.6 the month prior and well above expectations for 47.9.
"When we're in the turning point in a recession, you want to see some confidence there so you have the sense that they'll get back to increasing spending and turn the corner," says Kurt Karl, chief U.S. economist for Swiss Re. "It's a very tough time for consumers, and you want to see them become more confident," but in this case, factors like unemployment make that difficult, he adds.
Notably, while the present situation index increased just slightly to 24.9 from 23.3 last month, the expectations index improved more significantly to 73.5, its highest level since December 2007, from 63.4 in July.
"Sure we may see a little more spending coming out of the consumers, a little more than we expected," says Hugh Johnson, chairman and chief investment officer of Johnson Illington Advisors. "But basically, consumer balance sheets are very, very leveraged, and the whole process of deleveraging those balance sheets, which really means increasing savings and reducing the level of borrowing and spending, is probably going to be ongoing."
Click below to hear what Johnson has to say on housing data, Bernanke's reappointment, and areas in which even the skeptics can invest.
The better-than-expected confidence data came after the S&P/Case-Shiller home-price index showed prices were 15.44% lower than a year prior, topping expectations for a 16.4% decline and improved from a 17.06% drop in May.
Housing stocks
Toll Brothers
(TOL) - Get Toll Brothers, Inc. Report
and
KB Home
were up 2.8% and 3.1%, respectively, while
Lennar
(LEN) - Get Lennar Corporation Class A Report
and
Hovnanian
(HOV) - Get Hovnanian Enterprises, Inc. Class A Report
rose 2.9% and 5.1%, respectively.
Meanwhile, President Obama
renominated
Bernanke for a second-term early Tuesday. The four-year appointment, which would start Jan. 31, requires Senate approval.
"While I have had serious differences with the Federal Reserve over the past few years, I think reappointing Chairman Bernanke is probably the right choice," said Senate Banking Committee Chairman Chistopher Dodd (D., Conn), in a statement a day earlier, adding that there will be a "thorough and comprehensive" confirmation hearing for the nomination.
"I think it's the right decision because he's the guy who's been there from the beginning of this crisis, and in some sense it was very fortuitous that we had an expert on depressions and monetary policy in place during this crisis," said Swiss Re's Karl. "A lot of what they did was very innovative; some programs didn't work so well, but some did, and ultimately, it looks like we got out of this without a
more severe downturn, which was a potential for quite a while."
The Obama administration made other headlines Tuesday by
raising its estimate
for the government's deficit over the next decade to $9 trillion from $7.1 trillion "as a result of a deeper than expected recession."
Elsewhere, Wall Street had an eye on the first leg of the U.S. government's sale of $109 billion in Treasuries this week. The Treasury
sold $42 billion
in two-year notes, at a high yield of 1.119%, with a bid-to-cover ratio -- an indication of demand -- of 2.68.
Longer-dated Treasuries were higher in price, lower in yield. The 10-year gained 12/32, to yield 3.43%, while the 30-year added 27/32, yielding 4.22%.
Stocks overseas were mixed. In Europe, London's FTSE 100 and the DAX in Frankfurt rose 0.4% and 0.7%, respectively. In Asia, the Nikkei in Japan fell 0.8%, and the Hang Seng in Hong Kong declined 0.5%.
As for commodities, crude oil futures fell $2.32, to $72.05 a barrel, while gold added $2.30, to $946 an ounce.
In other news, office supplies company
Staples
(SPLS)
said
fell 38% in its fiscal second quarter on a restructuring charge and as comparable-store sales in North America declined 5%. Shares fell 1.8%, to $21.79.
Also,
Yahoo!
(YHOO)
said it reached an agreement to buy Arab online community Maktoob.com. Shares ticked up half a percentage point, to $15.07.
-- Written by Elizabeth Trotta in New York.