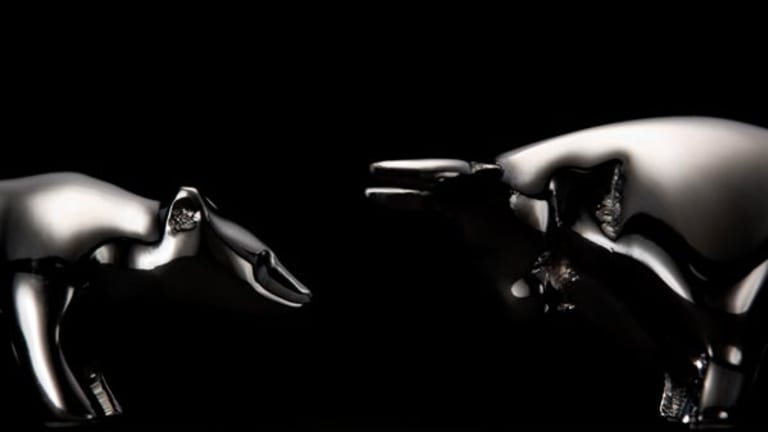 Stocks Get a Lift as Traders Return
The major averages close higher after Friday's anemic session.
Updated from 4:08 p.m. EDT
Stocks shot higher on Monday, as life -- and trading volume -- returned to normal on Wall Street following a massive power failure in the Northeast last week. With little in the way of economic data, stocks soared on a combination of strong retail sales and big moves in semiconductor names.
The
Dow Jones Industrial Average
gained 90.76 points, or 1%, to 9412.45, while the
Nasdaq
added 37.48 points, or 2.2%, to 1739.49. The
S&P 500
rose 9.07 points, or 0.9%, to 999.74.
While the upswing shows investors remain bullish about the economic outlook for the second half, some market watchers were mystified by the strength of the move, which helped the Dow close past 9400 for the first time since June 20, 2002.
The move came on small volume, however. The
New York Stock Exchange
traded 1.13 billion shares, while the Nasdaq Stock Market traded 1.47 billion shares. On Friday, the NYSE traded 455 million shares for the entire session, while the Nasdaq traded 597 million.
"I was a little surprised. The decent news about
Wal-Mart
(WMT)
saying sales were above expectations for the week helped. And it looks like tech stocks, especially
Yahoo!
(YHOO)
,
Amazon
(AMZN)
and
eBay
(EBAY)
, are up a lot," said Giri Cherukuri, head trader at OakBrook Investments.
"That's what's going up, but I'm not sure the reasoning behind it. In the broader picture, people are looking at the economy doing well in the second half and that creates some optimism. Improved sentiment is a good story for a flat day, but not necessarily an up day like this."
Indeed, retail strength appears to have continued in the month of August, driven by back-to-school sales, with Wal-Mart announcing sales would reach the high end of its forecast, which calls for growth between 3% and 5%. In July, Wal-Mart made a similar statement and sales easily beat estimates. Shares rose 82 cents, or 1.4%, to $58.92.
Tech was also strong, with the aforementioned Amazon, eBay and Yahoo! all up more than 4.7% on the session. Elsewhere, in the semiconductor sector,
Advanced Micro Devices
(AMD)
gained $1.11, or 14.2%, to $8.91 after a
Barron's
story said the maker of computer chips could raise its market share to 30%.
LSI Logic
(LSI)
was upgraded to in-line from underperform by Smith Barney, sending shares up 68 cents, or 7.1%, to $10.27. All told, the Philly chipmakers were up 5.2% -- hitting a 52-week-high in the process.
Big energy and energy-related names were also on the move, with
General Electric
(GE)
up $1.02, or 3.5%, to $29.80, and
FirstEnergy
(FE)
, currently under investigation as the potential source of the blackout, off $2.86, or 9.3%, to $27.75.
All in all, the Dow Jones Utilities Average was relatively unmoved by the blackout, standing slightly above where it was before the power grid failed. On Monday, the utilities were down 0.5%.
Alternative energy sources attracted investor interest -- and then faltered late in the session -- after a
Wall Street Journal
article highlighted
Capstone Turbine
(CPST)
and
Plug Power
(PLUG)
. Capstone rose 7 cents, or 4%, to $1.81, while Plug Power dipped 16 cents, or 3.1%, to $5.
Elsewhere in the space,
FuelCell
(FCEL)
was down 25 cents, or 2.7%, to $9.15, while
Ballard Power
(BLDP)
was up 52 cents, or 4.1%, at $13.37 after introducing a new power generator.
Elsewhere, hardware retailer
Lowe's
(LOW)
announced second-quarter earnings of 75 cents a share, topping analysts' estimates by 6 cents, while guiding third-quarter earnings in line with expectations. Shares of Lowe's rose $3.06, or 6.3%, to $51.96, while shares of rival
Home Depot
(HD)
, set to release earnings on Tuesday, rose 36 cents, or 1.1%, to $33.90.
Toys R Us
undefined
reported second-quarter losses of 2 cents a share, excluding items, on a revenue increase of 3.3% over last year's quarter. Going forward the company confirmed the 2004 guidance it gave in mid-May. Shares rose 83 cents, or 7%, to $12.71.
Kohl's
(KSS)
shares dropped $1.09, or 1.7%, to $62.45 after Sanford Bernstein cut the company to market perform from outperform, citing valuation concerns.
AnnTaylor
(ANN)
shares gained 31 cents, or 0.9%, to $33.90 after UBS Warburg upgraded the company to buy from neutral, citing an improved second-half outlook for the ladies' apparel chain.
Broadcom
undefined
shares gained $1.59, or 7.5%, to $22.85 after Piper Jaffray analyst Ashok Kumar speculated on the chipmaker's future as a standalone company and raised the issue of a buyout in the years to come by rival
Intel
(INTC)
in his morning note. Intel rose $1.14, or 4.6%, to $26.19.
Corning
(GLW)
shares rose 15 cents, or 1.9%, to $8.14 after the company was started at buy at Fulcrum Global Partners. Computer maker
Hewlett-Packard
(HPQ)
was up 73 cents, or 3.4%, to $22.13 a day ahead of releasing earnings.
Altria
(MO)
, parent of cigarette maker Philip Morris, saw its shares fall 87 cents, or 2.2%, to $38.98. On Friday, Madison County Circuit Court Judge Nicholas Byron ordered Philip Morris USA to post a $12 billion bond or face enforcement of the $10.1 billion judgment from an earlier trial, in which the company was found to have misled smokers about the dangers of "light" cigarettes.
Elsewhere,
Abbott Laboratories
(ABT)
and
Millennium Pharmaceuticals
undefined
said they're ending a joint venture to develop and market diabetes and obesity drugs. Abbott will keep the license to develop the treatments. Shares in Abbott gained 11 cents, or 0.3%, to $39.79, while Millennium rose 44 cents, or 3.5%, to $12.97.
AOL Time Warner
(AOL)
shares were up 16 cents, or 1%, to $15.61 after its "Freddy vs. Jason" horror movie, produced by the company's New Line Cinema unit, debuted as the weekend winner at the box office, grossing more than $36 million.
On Friday, stocks rose slightly on thin trading volume. The Dow Jones Industrial Average closed up 11 points, or 0.1%, at 9321, while the Nasdaq finished higher by almost 2 points, or 0.1%, at 1702. The S&P 500 rose marginally to 990.
Overseas markets were higher. London's FTSE 100 ended its session up 25 points, or 0.6%, at 4272, and Germany's Xetra DAX closed up 63 points, or 1.8%, to 3507. In Asia, Japan's Nikkei closed up 169 points, or 1.7%, at 10,032, while Hong Kong's Hang Seng rose 100 points, or 1%, to 10,525.
Treasuries were slightly higher, with the yield on the 10-year note up at 4.49%. Crude oil prices for future delivery rose in London. The dollar strengthened against the yen and the euro.