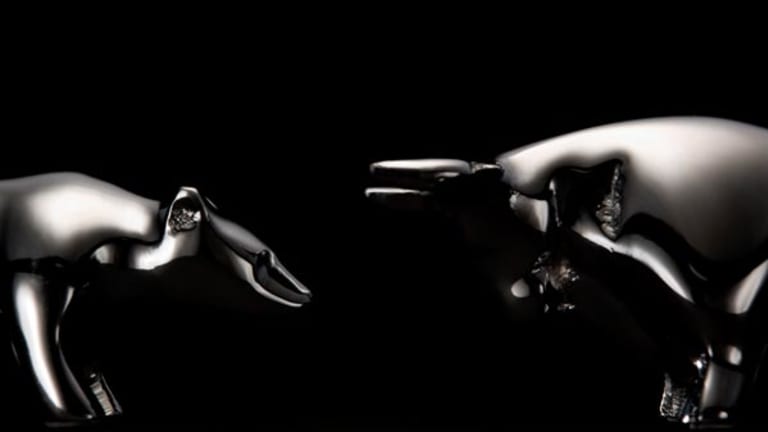 Stocks Confirm 'Santa Claus' Rally With Best Week Since October
U.S. equities moved higher Friday as a better-than-expected GDP report confirmed Wednesday's surge that markets are now trading on fundamentals.
NEW YORK (TheStreet) -- Major U.S. markets confirmed a 'Santa Claus rally' after data showed the U.S. economy expanded at its fastest pace since late 2011 as consumers pushed up spending, a key driver of U.S. growth. The Standard & Poor's 500 Index I:GSPC posted its best week since Oct. 18 fueled by the Federal Reserve's decision on Wednesday to begin tapering its massive economic stimulus program.
The Commerce Department reported that third-quarter 2013 gross domestic product grew 4.1% year-over-year, a bump higher from a previous reading of 3.6%, and as personal consumption increased 2%. Analysts surveyed by Thomson Reuters expected a 3.6% gain.
"It's an endorsement that the economy is stronger," Randy Frederick, managing director of active trading and derivatives at Charles Schwab, said in a phone interview from Austin, Texas. "The reaction that we got on Wednesday and the follow through [Friday] ... confirms that."
The S&P 500 gained 0.49% to 1,818.55, the Dow Jones Industrial Average added 0.26% to 16,221.72 and the Nasdaq climbed 1.15% to 4,104.74.
Major indices posted weekly gains as increasing confidence in underlying economic strength was punctuated by the Fed's plan of $10 billion tapering of economic stimulus starting in January.
Scorecard for the week: S&P 500 gained 2.44%, the Dow increased 2.96% and the Nasdaq climbed 2.59%.
Smartphone maker BlackBerry (BBRY) reported a third-quarter net loss of 67 cents a share, compared to analysts' expectations of a loss of 43 cents a share. Revenue of $1.2 billion missed consensus by $460 million. Still, details of a new deal with Foxconn inspired hope the company could turn itself around. Shares surged 15.7% to $7.23.
Walgreen (WAG) recorded first-quarter earnings of 7 cents a share, in line with analysts' expectations. Revenue of $18.3 billion was 5.9% higher than the year-ago quarter. Shares popped 3.8% to $59.08.
S&P Winner and Loser: Textron  (TXT) - Get Report surged 14.5% to $37.28, while CarMax  (KMX) - Get Report tumbled 9.4% to $48.07.
--Written by Andrea Tse, Keris Alison Lahiff and Joe Deaux.