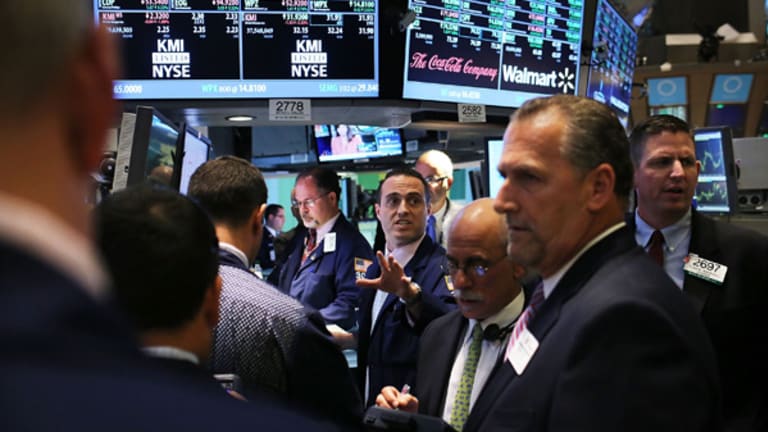 Stocks Gain on Rate Hike
The quarter-point move boosts the market.
The quarter-point move boosts the market.
Updated from 4:05 p.m. EDT
Spurred by the
Federal Reserve's
quarter-point hike in interest rates, stocks closed with small gains Wednesday in the last session of 2004's first half -- a period of little overall progress in the markets but some large disparities between sectors.
The
Dow
closed with a gain of 22.56 points, or 0.22%, to 10,435.99; the
S&P 500
added 6.45 points, or 0.57%, to 1142.65; and the
Nasdaq
was up 12.86 points, or 0.63%, to 2047.79. The 10-year Treasury note was up 23/32 to yield 4.59%, while the dollar traded near a three-week low against the euro and posted gains on the yen.In an end-of-quarter pick-up in trading, volume approached 1.5 billion shares on the
New York Stock Exchange
, where advancers outnumbered decliners by about 7 to 2. On the Nasdaq, more than 1.7 billion shares changed hands, and advancers held a 3-to-2 majority.
The Federal Open Market Committee raised its federal funds target rate as expected for the first time in more than four years, by 25 basis points to 1.25%. The move signals the beginning of the end of an accommodative stance from the Fed that left rates at a 45-year low of 1% in a bid to spur economic growth with dirt-cheap credit.
"With underlying inflation still expected to be relatively low, the committee believes that policy accommodation can be removed at a pace that is likely to be measured. Nonetheless, the committee will respond to changes in economic prospects as needed to fulfill its obligation to maintain price stability," the FOMC said.
Paul Mendelsohn, chief investment strategist at Windham Financial Services, said the Fed gave the market exactly what it expected. "The market is really not doing anything here in response," he said. "It's perfectly in balance for the time being, with a slight upward bias towards higher-beta, volatile stocks like technology and energy. That may just be window dressing for the end of the quarter, and then tomorrow and Friday, once the quarter's over, maybe we'll get a better picture of where this market is going to set its direction."
On the economic front, despite the widespread belief that a strong economic expansion is underway, the National Association of Purchasing Managers said its Chicago Purchasing Managers' Index dropped more than expected in May to 56.4. Economists expect a reading of 64.5, below the previous month's reading of 68. That news adds to a short list of recent economic indicators, like last week's reports on durable goods orders and first-quarter GDP-growth, and corporate forecasts from the likes of
Wal-Mart
(WMT) - Get Report
and
General Motors
(GM) - Get Report
that have disappointed investors.
In Iraq, the nation's new interim government assumed legal custody of Saddam Hussein and 11 of his former key deputies, but the prisoners will remain in physical custody of the U.S. military. The 12 defendants are expected to appear in court on Thursday for a formal reading of the charges against them, including genocide. Monday's surprise handover has yet to give rise to any surge in attacks against the new government or coalition forces, but three Marines were killed by a roadside bomb in southeastern Baghdad Tuesday.
Oil prices rallied off of a three-month low following reports that showed an unexpected drop in inventories, closing above $37 a barrel.
Stocks have made little progress in the first half of 2004. At Wednesday's opening bell, the Dow was down about 0.4% for the year, while the S&P added 2.2% and the Nasdaq was up 1.6%.
"I regard that as 'so far, so dull,'" Sam Stovall, senior investment strategist at Standard & Poor's, said about the market's overall progress, "but when you then look at sub-industry performances, it becomes very clear that there are big differences."
Among stocks included in the S&P 1500 list, energy stocks are the year's top performers, up 12.3% collectively. Industrials followed, up 6.5%, ahead of consumer staples, up 5.3%. The worst performing sector of 2004 was information technology, down 0.5%. However, there was a wide disparity between sub-industries within technology. Internet software and services stocks gained 49% and internet retailers were up 42.2%, while semiconductors lost 10.5%.
"What this indicates to me is that despite the impending higher interest-rate environment ahead, investors are not bailing out of equities," Stovall said. "They're just making tactical changes within their equity holdings."
John Bollinger, president of Bollinger Capital Management, said small-cap stocks were the "unsung hero" of the year so far, pointing out that if the S&P 600 SmallCap Index posts any gains during Wednesday's session, it would close at an all-time high. "Small-caps are the best kept secret in the stock market these days," Bollinger said.
While volatility between different sectors can be viewed as an opportunity, Hugh Johnson, chief investment officer at First Albany, said it created frustration for portfolio managers. "There were no clear trends among sectors," he said. "You just couldn't find anything in sector performance that you could believe in or hang your hat on."
Johnson said the bull market that began last year has performed below expectations in the last six months, but he said it has been better than people are giving it credit for. "As the bull markets of the 1990s go, this one stunk," he said. "But as the bull markets of my earlier years go, like the 1960s and 1970s, this wasn't bad at all. You can have bull markets where returns are single-digit for a six-month period. That's not unusual."
Johnson was bullish about the second-half of the year, saying that the annual returns on stocks by New Year's Day should be healthy. "I'm very optimistic," he said.
Investors also observed the end of the second quarter by looking ahead to the upcoming earnings season. First-quarter earnings results logged an overall year-over-year growth rate of 27.5%, according to John Butters, a research analyst with Thomson First Call. He said second-quarter growth is expected to slow to 20.5%, but that figure has been revised by the previous estimate of 14.9% recorded on April first.
"Historically, earnings estimates are lowered throughout a quarter, usually by about 3%," Butters said. "But for the last few quarters, we have raised estimates, and this revision for the second quarter is a record increase."
Butters added that second-quarter growth is expected to be led by basic materials, technology and energy stocks.
Among stock moves Wednesday,
Research in Motion
(RIMM)
rose after the mobile device maker posted better-than expected first-quarter earnings and predicted the same for the second quarter. The company earned $55 million, or 28 cents a share, in the first quarter, compared with a loss of $8.2 million a year ago. Revenue was $270 million in the latest quarter, up 158% from a year ago and easily beating the $264 million consensus.
Excluding a charge, the company earned 36 cents a share in the most recent period, 4 cents better than expected. Looking ahead, the company said it now expects second-quarter sales to reach $290 million to $310 million with pro forma earnings of 40 cents to 45 cents, above the current estimate for $288 million in sales and 36 cents in earnings. The stock closed up $9.07, or 15.3%, to $68.45.
Shares of
Commerce Bancorp
(CBH) - Get Report
plunged $6.14, or 10%, to $55.01 after two officials at the company were among 12 indicted Tuesday in an influence-peddling probe of the Philadelphia treasurer's office that involved the awarding of municipal bond work.
Freddie Mac
reported a 52% drop in earnings for 2003, having delayed the release in connection with last summer's accounting scandal. The mortgage giant's performance was hurt by a restatement last year that forced the company to recognize income during the restated periods that was initially projected to be accounted for in later years. It earned $4.9 billion, or $6.79 a share, from $10.1 billion, or $14.18 a share, a year earlier. Its stock added 11 cents, or 0.2%, to $63.30.
Bank One
(ONE) - Get Report
agreed to pay $90 million to settle charges from New York state and federal regulators that it engaged in improper mutual-fund trading practices. The bank is in the final stages of merging with
J.P. Morgan Chase & Co.
(JPM) - Get Report
on Thursday. Its stock closed up 58 cents, or 1.1%, to $51.
Also,
General Mills
(GIS) - Get Report
closed up $1.41, or 3.1%, to $47.53 after reporting a 24% jump in fourth-quarter earnings. Meanwhile, it lowered its projections for sales and earnings in 2005 and 2006.
With the handover of sovereign power in Iraq completed and the FOMC decision made, the market's main focus of the week turns to Friday's employment report. The government is expected to say that the economy added 250,000 nonfarm payrolls in June, and the unemployment rate held steady at 5.6%.
Thursday's schedule offers a prelude to monthly jobs report at 8:30 a.m. EDT when the Labor Department is expected to report that initial jobless claims dipped by 6,000 to 343,000 in the week ended June 26.
At 10 a.m. EDT, the Institute for Supply Management will release the June results of its manufacturing index. Economists expect the index to drop to 61.5 from May's 62.8. Also, the government is expected to say that construction spending increased 0.7% in May, down from 1.3% in April.