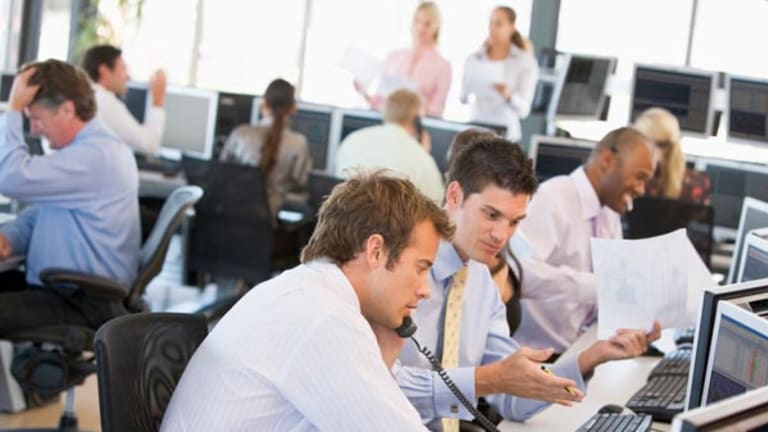 Despite Washington, S&P Hits Another Record Closing High
Stocks gained Friday on signs the Federal Reserve is likely to sustain its current level of bond-buying while Google, GE and Morgan Stanley posted earnings that beat estimates.
NEW YORK (TheStreet) -- The S&P 500 Index set another record close amid speculation the Federal Reserve will stick with its equity-bolstering stimulus program in lieu of tepid economic data releases. Solid growth from China and strong domestic corporate earnings added to the view that stocks can extend the year's record gains.

The S&P 500 rose 0.7% to 1744.48, pushing the 2013 advance to 22%, its best performance to start a year since 1997. The Dow Jones Industrial Average gained a modest 0.18% to 15,399.26 while the Nasdaq surged 1.3% to 3914.28 as Google (GOOG)  reported earnings that beat estimates catapulting the stock to more than $1,000 per share, the first technology stock to rise to a four-figure price.
For the 5-day trading week, the S&P rose 2.4%, its best week since the 5-day period ending July 12. The Dow added 1.1% and the Nasdaq increased 3.2% this week.
"Today and yesterday it's as if the budget [debt ceiling] was just a bad dream," John Manley, chief equity strategist at Wells Fargo who helps manage $222.1 billion in total assets, said in a phone interview. "The Fed's not going to taper right away, the market valuation at around 14.5 times is not overvalued and earnings are better than expected, even if not great." 
China's third-quarter gross domestic product rose to 7.8% in line with expectations, showing acceleration for the first time in three quarters, and helping to fuel gains in Asian equity markets.
While the U.S. debt ceiling has only been delayed until January, investors voiced confidence that ongoing monetary stimulus rather than politics would drive market sentiment. Chicago Fed President Charles Evans said Thursday that the central bank shouldn't start reducing the pace of bond buying due to disruption to economic data during the government shutdown. Dallas Fed President Richard Fisher added that political dysfunction in Washington supports the case for not tapering in the near term.
Several investors forecast the Federal Reserve may now not reduce its $85 billion-a-month bond-buying program until early next year.
"We are entering a period where we see the end of macro [concerns] where Europe, the Federal Reserve leadership and the debt ceiling all got resolved favorably," Scott Ranger, chief investment officer of Ranger Asset Management, said in a phone interview. "Now the market is more focused on earnings - GE was pretty good, Google was fantastic and large cap equities are not expensive." Ranger recently moved from Alliance Berstein where he managed $14 billion to start his own funds management firm.
Google closed up 13.8% to record an all-time closing high of $1,011.41 a share after the search engine giant posted third-quarter earnings of $10.74 a share, beating analyst expectations of $10.34 a share.  Restaurant chain Chipotle CMG was the top performer in the S&P 500 as shares soared 16.1% to $509.74 after third quarter profit rose 15% and net income climbed to $83.4 million from $72.3 million a year earlier, the company said yesterday. Intuitive Surgical ISRG was the worst performer in the S&P after the maker of da Vinci Surgical Systems reported third-quarter revenue missed expectations on lower sales of devices and related equipment. The Sunnyvale, Calif.-based company reported earnings of $3.99 a share on revenue of $499 million. Analysts polled by Bloomberg data were expecting $3.39 a share on $525.9 million. Shares lost 5.7% to $376.52.
Baker HughesBHI, the world's third biggest oil services company, also beat profit expectations with strong drilling activity in the Middle East and Asia Pacific. Its shares added 7.3% to $55.55.
Morgan Stanley MS gained 2.6% to $29.69 after posting third quarter revenue of $8.1 billion, beating expectations of $7.66 billion.
General Electric GE added 3.5% to $25.55 after the company announced adjusted earnings per share of 36 cents, above expectations of 35 cents a share.
Gold settled down 0.63% to $1,314.6 while oil was up 0.44% to $101.11. Ten-year Treasuries were up 1/32 to dilute the yield to 2.589% while the U.S. dollar index was down 0.08%.
 --By Jane Searle and Joe Deaux in New York.