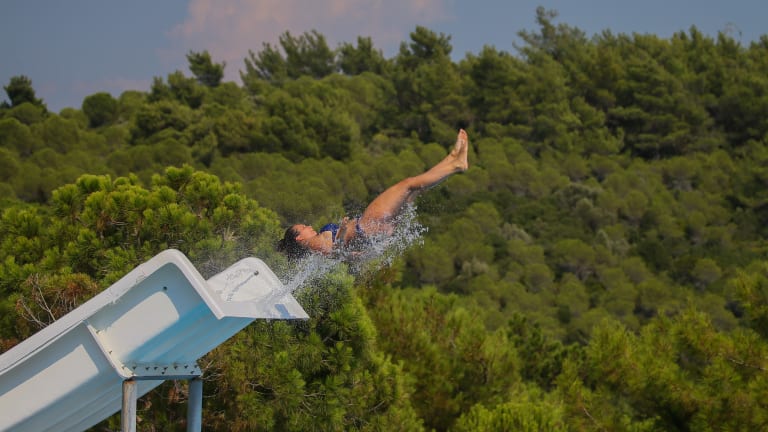 Stocks Slide as Trade Concerns Hit Investor Sentiment
Global stocks rebounded modestly Tuesday, lifting U.S. equity futures into positive territory, even as investors continue to worry about developments in the various trade disputes between Washington and its major economic partners.
The Tuesday Market Minute
Global stocks stage modest rebound despite ongoing concerns over trade and tariffs.
U.S. dollar index rises to a two-week high against a basket of its global peers as investor favor U.S. assets.
Looming U.S. tariffs on $200 billion in China made goods, as well as pressure to include Canada in any NAFTA overhaul, continues to weigh on sentiment.
U.S. oil prices test $70 as Tropical Storm Gordon forces shutdown of several Gulf drilling installations.
S&P 500 poised to add to August gains, with futures suggesting a 7-point fall for the broadest equity benchmark.
Market Snapshot
Global stocks traded lower Tuesday, with U.S. equity futures reversing earlier gains, as investors continue to worry about developments in the various trade disputes between Washington and its major economic partners as President Donald Trump attempts to reach an agreement to overhaul NAFTA while preparing to impose a fresh set of tariffs on $200 billion worth of China-made exports.
The concerns over trade, as well as ongoing weakness in emerging market currencies linked to slowing global growth and a stronger U.S. dollar, accelerated gains for the greenback in overnight trading, boosting the dollar index to a fresh 10-day high of 95.53 against a basket of six global currencies. The appetite for dollars paralleled early gains for U.S. equity futures, which indicated the Dow Jones Industrial Average I:DJI is likely to post a 75 point opening bell dip when trading kicks off later today.
Contracts tied to the S&P 500 undefined , meanwhile, suggest a 7 point decline for the broader benchmark, a move that would follow the 6.7% advance it recorded over the month of August. The tech-focused Nasdaq Composite I:IXIC  , which is set to open 20 points lower, fared even better, rising just under thanks in part to a 23% surge for Apple Inc. (AAPL) - Get Apple Inc. (AAPL) Report , which took the world's biggest company to a series of all-time highs that now value the group at 1.1 trillion. 
Nike Inc. (NKE) - Get NIKE, Inc. (NKE) Report shares traded lower Tuesday after the sportswear giant unveiled a new advertizing campaign featuring Colin Kaepernick, a former NFL quarterback who inspired a series of nation-wide protests against police brutality and social injustice but courted controversy by kneeling during the playing of the national anthem.
Nike shares were marked 1.63% lower from their Friday close in pre-market trading, indicating an opening bell price of $80.86 each, a move that would trim the stock's year-to-date gain to 29.3%.
Outside of the United States, however, equity market performance has been quite different: the MSCI Asia ex-Japan index, the broadest measure of regional share prices, lost nearly 2% last month as investors trimmed positions in Chinese stocks and ploughed cash into safe-haven assets such as the dollar and the yen over concerns that the ongoing trade dispute between Washington and Beijing will harm growth in the world's second-largest economy.
China shares were modestly stronger Tuesday, however, with the Shanghai Composite gaining 1.16% and the bluechip CSI 300 rising 1.3% as both benchmark reversed earlier losses, but declines in Australia and India helped pull the MSCI index 0.03% lower into the close of the session. Japan's Nikkei 225, however, which closed just prior to the late-session rally in Asia, ended 0.05% to the downside at 22,696.90 points.
European stocks were able to ride the modest gains in Asia at the start of trading Tuesday, but investor concern over the impact of Italy's political and economic battles with Brussels and the prospect of Britain failing to reach a deal on its exit from the European Union prior to the October deadline both sides have been working towards for more than 18 months meant the early advance quickly turned negative.
The Stoxx Europe 600 index, the regional benchmark, was marked 1% lower by mid-afternoon in Frankfurt, the lowest level in two months, even as the stronger dollar pushed the euro 0.6% lower to 1.1555, the lowest since August 23, making export-focused stocks look more attractive. Germany's DAX performance index slipped 0.97% lower and France's CAC-40 fell 1.28%. A weaker pound, which fell to 1.2819 against the dollar helped the FTSE 100 in the opening minutes of trading in London before the benchmark fell 0.55% following weaker-than-expected data from the construction sector.
WPP plc (WPP) - Get WPP Plc Sponsored ADR Report was an early mover of note, with shares in the world's biggest advertizing firm falling more than 6.5% in the opening hours of trading after it cut its profit margin guidance even as new CEO Mark Read said full-year net sales would grow modestly faster than anticipated. 
Emerging market currency weakness, however, continued to hold back risk sentiment as the dollar's gains, alongside concerns that the $3.7 trillion in dollar-denominated debts taken on by emerging market economies since the global financial crisis is growing increasingly more difficult to maintain, helped push the Turkish lira to 6.71 against the dollar and the Argentine Peso, which has lost around half of its value this year, held at 3.301 against the greenback.
U.S. oil prices spiked past $70 a barrel Tuesday as Tropical Storm Gordon gathered pace across the Florida Keys and headed north towards the Louisiana coast, forcing the closure of several drilling installations in the Gulf of Mexico.
Gordon is expected to gather speed over the next several hours and could be upgraded to category one hurricane -- with wind speeds of around 75 miles per hours -- when it makes landfall on the southeastern Louisiana coast later this morning, leaving as much as 10 inches of rain in rain in its wake. Louisiana Governor John Bel Edwards has declared a state of emergency for the region and plans to deploy as many as 200 national guard troops along the coast to assist as the storm makes landfall, while rig operator Anadarko Petroleum said it has evacuated two of its platforms in the Gulf.
Brent crude contracts for November delivery, the global benchmark, gained $1.04 cents from their Monday close and were changing hands at $79.21 per barrel in early European trading. WTI contracts for the same month, which are more tightly-linked to U.S. gas prices, were seen $1.04 cents higher at $70.74 per barrel. Gasbuddy.com, the comparison website, indicated that U.S. gas prices averaged around $2.82 per gallon of the Labor Day weekend, the highest level in four years, prior to the Tuesday price spike
Start, and end, your trading day right with TheStreet's 'Daily Snapshot' on your favorite smart-speaker. Learn more about TheStreet's market coverage for your trusted smart-speaker here.