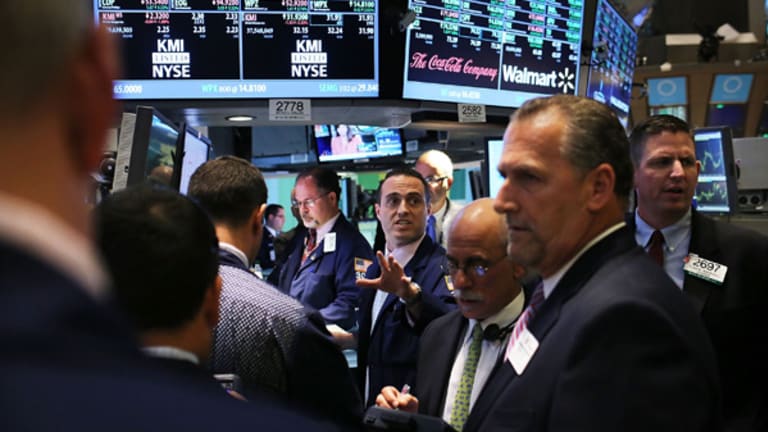 Stocks Forget Yesterday's Good Times
Lehman is falling hard as all three major indices dip into the red.
Updated from 12:06 a.m. EDT
Stocks on Wall Street were falling Tuesday, giving back the previous day's big gains as anxious traders dealt a substantial blow to
( LEH) shares.
The
Dow Jones Industrial Average
was recently down 59 points to 11,452, and the
dropped 14 points to 1,253. The
Nasdaq
dropped 14 points to 2,256.
After Monday's close, a
regulatory filing showed Michael Dell
, CEO of PC maker
(DELL)
, bought $100 million in the company's stock last week.
Ahead of the new day's trading,
Dow Jones Newswires
reported that South Korea Development Bank, which had been rumored ready to buy a stake in Lehman, has ended talks with the struggling brokerage. However,
Bloomberg
later reported that Korea's Financial Services Commission denied the report. Subsequently,
Bloomberg
reported that the talks between Lehman and KDB did in fact end.
Whatever really happened, Lehman is trading down some 30%.
"The financials are weak," said Ted Weisberg, floor trader at Seaport Securities. "I don't know if there's any specific news; I only know what I read in the paper." He said that much of the headline news concerning Lehman is conjecture and talk.
"There continues to be no tolerance for negative rhetoric, no matter what the source," said Weisberg. "Nothing seems to work, and whatever happens seems to have a 24-hour life cycle at best, and
then we're back to the underlying trend, which seems to be neutral at best."
Market analysts' revisions on some stocks' ratings were reflecting the negative sentiment. Stifel Nicolaus downgraded banking companies
(TCB)
and
(BBT)
to hold from buy and to sell from hold, respectively.
(WB)
also took a hit from Merrill Lynch, which cut the bank to underperform from neutral.
Merrill also took consumer conglomerate
(PG)
down a peg, to neutral from outperform, saying the stock trades at an unjustified premium.
Homebuilders
(PHM)
and
(KBH)
both got downgraded at Credit Suisse to neutral from outperform.
Meanwhile, mining company
(SSL)
reported that full-year profit rose 32% from a year ago. The company also said it expects continued growth in the year ahead.
Marius Kloppers, CEO of fellow miner
(BHP)
, said that slowing global demand for commodities will bring shareholders of
( RTP) to support BHP's hostile bid for the company.
Elsewhere, fast-food colossus
(MCD)
announced that its
August same-store sales rose 8.5%
, up from an 8.1% increase a year ago.
As for economic data, the National Association of Realtors' pending-home sales figures showed a 3.2% contraction in July to an index reading of 86.5, a greater decline than was expected by economists. The Census Bureau reported that wholesale inventories in July rose to 1.4% from 0.9% in June. Analysts were predicting an increase of 0.7%.
Looking at commodities, the price of crude oil was down $2.05 to $104.29 a barrel. Prices fell after forecasts indicated Hurricane Ike would miss key Gulf Coast production facilities. Ali al-Naimi, Saudi Arabia's oil minister, and Rafael Ramirez, energy and oil minister of Venezuela, both signaled that OPEC would keep oil production at its current pace.
Prices of longer-dated U.S. Treasury securities were rising. The 10-year was up 18/32 to yield 3.61%, and the 30-year was adding 1-4/32, yielding 4.2%. The dollar was softening against the euro, yen and pound. Gold was down $12.30 to $790.20.
Overseas, European indices, such as London's FTSE and Frankfurt's Dax, were mainly trading lower. In Asia, the Nikkei in Japan and the Hang Seng in Hong Kong likewise lost ground.