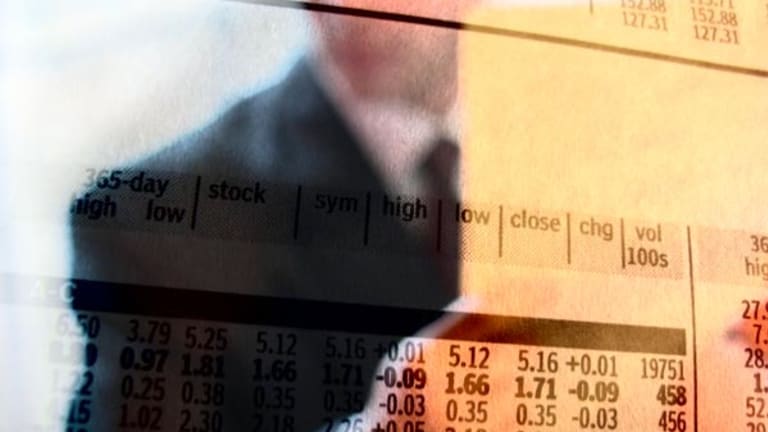 Stocks Follow Chips South
The broad averages are weaker despite Home Depot's big quarter. Crude oil is rising.
Updated from 4:08 p.m. EST
Stocks closed lower Tuesday as rising energy prices and a pullback in chip stocks trumped a big quarter at
Home Depot
(HD)
and another legal victory for
Merck
(MRK)
.
The
Dow Jones Industrial Average
lost 46.26 points, or 0.42%, at 11,069.06. The
fell 4.21 points, or 0.33%, at 1283.03. The
Nasdaq Composite
lost 19.87 points, or 0.87%, to 2262.49.
"Investors are reliving
Federal Reserve
fears today," said Peter Cardillo, chief market analyst with S.W. Bach & Co. "Economic activity has been strong, which maybe reignited Fed fears of higher interest rates. Oil prices are also rising, and we'll have to keep our eye on that all week."
General Motors
(GM)
was one of the Dow's main drags, down 2.3%, after Moody's downgraded its rating on the automaker to B2 with a negative outlook.
Hewlett-Packard
(HPQ)
was off 4.6%.
"We had only moderate losses to start the week," said Michael Sheldon, chief market analyst with Spencer Clarke LLC. "Despite today's setback, the technical outlook appears relatively positive. The Dow has still closed above the 11,000 level. The main risks to the market are still geopolitical concerns and higher oil, as well as the possibility of tightening rate hikes."
About 1.55 billion shares changed hands on the
New York Stock Exchange
, with decliners beating advancers by a 6-to-5 margin. Volume on the Nasdaq was 1.76 billion shares, and five stocks fell for every three that rose.
By sector, the Philadelphia Oil Service Sector index rose 3.8% and the Amex Oil index gained 1.1%. Meanwhile, the Philadelphia Semiconductor Sector index lost 2.2% after Smith Barney downgraded the semiconductor industry, while the Amex Airline index fell 1.1%. The Amex Networking index dropped 1.6%, and the Computer Hardware index was lower by 2%.
The 10-year Treasury bond was up 7/32 in price to yield 4.56% -- 16 basis points below the two-year note -- while the dollar rose against the yen and euro.
Crude was higher amid renewed rebel activity in Nigeria, where nearly 20% of oil production has been halted. The March contract finished up $1.22 to close at $61.10 a barrel. Since bottoming out below $58 last Wednesday, front-month crude is up more than 6%.
Home Depot's fourth-quarter earnings rose 23% from a year earlier to $1.29 billion, or 60 cents a share, beating estimates by 4 cents. Sales rose 16% to $19.49 billion, beating the $18.74 billion consensus. Shares rose a penny to $41.87.
Two other blue chips finished lower on news.
Time Warner
(TWX)
lost 0.8% after Carl Icahn called off his battle with the media giant. Time Warner agreed to boost its stock repurchase authorization to $20 billion through 2007, up from $12.5 billion through 2006.
Dow component Merck was lower even after a federal jury in New Orleans ruled late Friday that the drugmaker was not liable in the 2001 death of a Florida man who used Vioxx. Merck was down 46 cents, or 1.3%, at $35.59.
Meanwhile,
Wal-Mart's
(WMT)
fourth-quarter earnings rose 12.5% from a year ago to $3.6 billion, or 86 cents a share, on an 8.6% jump in sales to $89.3 billion. Adjusted earnings were 84 cents a share. Analysts had been forecasting earnings of 83 cents a share on sales of $90.4 billion.
To view Gregg Greenberg's video take on today's market, click here
.
Wal-Mart said it expects to earn 58 cents to 62 cents a share in the first quarter and $2.88 to $2.95 a share in the current year. Analysts surveyed by Thomson First Call were forecasting earnings of 62 cents a share in the first quarter and $2.98 a share in the full year. The retail giant was down 36 cents, or 0.8%, to finish at $45.74.
On the economic front, the Commerce Department said that leading economic indicators for January rose 1.1%. Economists expected a gain of 0.5% after December's revised 0.3% rise.
Stocks failed to catch a bid after the minutes of the Jan. 31 Fed meeting, former Chairman Alan Greenspan's last, were released. The minutes stated that although "the stance of policy seemed close to where it needed to be given the current outlook, some further policy firming might be needed to keep inflation pressures contained and the risks to price stability and sustainable economic growth roughly in balance. In the view of some members, the possibility of additional policy moves was reinforced by readings on core inflation and inflation expectations that were somewhat higher than was desirable over the long run."
Barry Hyman, equity market strategist with Ehrenkrantz King Nussbaum, said the FOMC minutes have been more important in terms of market volatility than the actual rate change itself . "However, this shouldn't have much market impact because this is from Greenspan's last meeting," he said. "We've already seen the new chairman Ben Bernanke testifying in front of Congress, and we know what his opinions are."
In other earnings news Tuesday,
Federated's
( FD) adjusted fourth-quarter earnings of $2.74 a share were 12 cents ahead of estimates, but the company left its lackluster guidance for the current year intact. Federated slid $1.23, or 1.7%, to $70.40.
Clear Channel
(CCU)
swung to a fourth-quarter profit of $461.6 million, or 86 cents a share, as sales dipped 1% to $1.76 billion. Adjusted earnings of 34 cents a share were a penny shy of the Thomson First Call consensus. Clear Channel was higher by 10 cents, or 0.4%, to close at $28.20.
Placer Dome's
( PDG) fourth quarter earnings fell to $22 million, or 5 cents a share, from $39 million, or 9 cents a share, a year ago. Sharply higher gold and copper prices were offset somewhat by hedging activities. The stock gained a penny to $23.53.
RadioShack
(RSH)
CEO David Edmondson resigned Monday amid growing controversy about the accuracy of his resume. Edmondson last week admitted that his prior claims to a pair of college bachelor's degrees were inaccurate. RadioShack was lower by 8 cents, or 0.4%, to $19.
Among ratings moves, HSBC Securities upgraded
BellSouth
( BLS) to neutral from underweight, raising its stock price target to $33.60 from $26. The firm also upped
Verizon
(VZ)
to overweight from neutral, bringing its price target to $39 from $35. Meanwhile, HSBC downgraded
AT&T
(T)
to neutral from overweight.
BellSouth tacked on 15 cents, or 0.5%, to $31.80. Verizon was down 43 cents, or 1.2%, to close at $34.35. AT&T was lower by 13 cents, or 0.5%, to $28.15.
Deutsche Securities upgraded shares of clothing-maker
Gap
(GPS)
to buy from hold, sending shares up nearly 1%. Gap is set to report fourth-quarter earnings results on Thursday. Shares added 12 cents to close at $18.94.
Overseas markets were mostly stronger Tuesday, led by Japan, where the Nikkei rallied 3% overnight to 15,895 on signs that pricing power is returning to the economy. Hong Kong's Hang Seng tacked on 0.2% to 15,627. In Europe, London's FTSE 100 was down 0.1% at 5858, while Germany's Xetra DAX rose 0.1% to 5801.