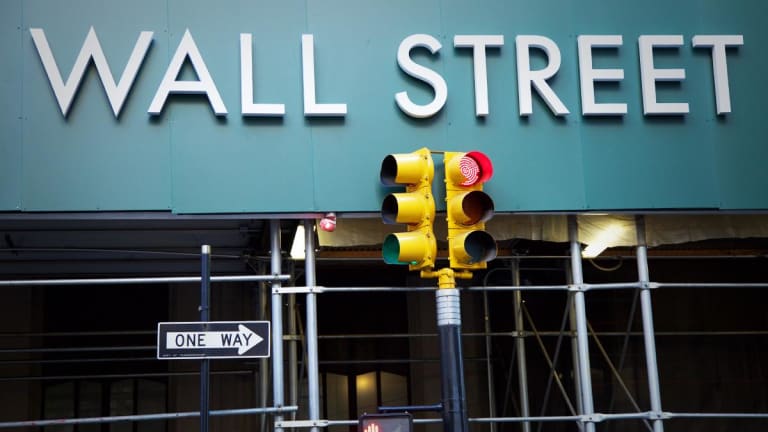 Stocks End Day in the Green as Dow, S&P Overcome Slow Starts
Stocks finished the day higher on Monday as gains by tech stocks offset concerns over the fate of U.S.-China trade talks, and after the U.K. delayed a parliamentary vote on Brexit.
Here Are 3 Hot Things to Know About Stocks Right Now
The Dow Jones Industrial Average rose slightly after recovering from a 500-point drop on Monday following last week's 4.5% tumble. 
Apple Inc. (AAPL) - Get Report   rose in spite of a court in China granting an injunction that would limit the sale of iPhones into the world's biggest smartphone market.
Gilead Sciences Inc. (GILD) - Get Report named industry veteran Daniel O'Day as the drug company's new CEO. The stock fell 1%.
Gilead Sciences Inc. (GILD) - Get Report named Daniel O'Day of Switzerland's Roche Holding AG (RHHBY) as the drug company's new CEO.
Wall Street Overview 
Stocks ended higher across the board on Monday, Dec. 10, as investors overcame concerns over the fate of U.S.-China trade talks, and after U.K. Prime Minister Theresa May delayed a parliamentary vote on Brexit. Strength in the tech sector led to a rally for the Dow Jones Industrial Average and S&P 500.
The Dow rose 0.14%, or 34 points, to 24,323 -- at its low for the session the Dow slumped 507 points. The S&P 500 rose 0.18%, and the Nasdaq rose 0.74%. 
U.S. Trade Representative Robert Lighthizer told CBS's "Face the Nation" that trade talks with China must be completed by March 1, 2019, or tariffs will be either accelerated or added on China-made goods coming into the United States.
"As far as I am concerned it is a hard deadline. When I talk to the president of the United States he is not talking about going beyond March," he said. "The way this is set up is that at the end of 90 days, these tariffs will be raised."
The deadline has put added pressure on negotiators to set the tone of the talks, which already have been affected by the arrest last week of Huawei Technologies Co. Chief Financial Officer Meng Wanzhou in Vancouver over allegations she misled multinational banks about Huawei's control of a company operating in Iran. The deception put the banks at risk of violating U.S. sanctions and incurring severe penalties, according to court documents seen by Reuters. China has demanded the executive's release.
Tech stocks led a late rally for the market, which was able to avoid another selloff at least for one session. 
Microsoft Corp. (MSFT) - Get Report was one of the Nasdaq's best performers, rising 2.64% during the session, while Intel Corp. (INTC) - Get Report  gained 2.1%, and International Business Machines Corp.   (IBM) - Get Report shares rose 1.5%.
May delayed a key parliamentary vote on her Brexit deal that looked certain to be rejected by lawmakers, throwing both her government and the broader plans to leave the European Union in chaos. Stocks in London were down 0.4%.
Apple Inc. (AAPL) - Get Report  rose 0.66% Monday after a court in China granted an injunction that would limit the sale of iPhones into the world's biggest smartphone market.
Qualcomm Inc. (QCOM) - Get Report , which is locked in a patent dispute with Apple, said the Fuzhou Intermediate People's Court order bans the sale of iPhone 6, iPhone 6s, iPhone 7, iPhone 7-plus, and iPhone 8 models models in China and orders four China-based Apple subsidiaries to cease infringing on Qualcomm patents.
"Qualcomm's effort to ban our products is another desperate move by a company whose illegal practices are under investigation by regulators around the world," Apple said in a statement. "All iPhone models remain available for our customers in China."
Apple is a holding in Jim Cramer's Action Alerts PLUS member club. Want to be alerted before Jim Cramer buys or sells AAPL? Learn more now.
Tesla Inc. (TSLA) - Get Report  was up 2% after CEO Elon Musk hinted the company was close to producing a low-priced electric car, but raised further concerns over the electric carmaker's governance as he insisted its new chairwoman wouldn't be able to oversee his actions.
Watch: Jim Cramer Says That Tesla Is a 'Cult Stock'
Speaking with CBS's "60 Minutes," Musk said it was "not realistic" to think new Chairwoman Robyn Denholm, who replaced Musk in October as part of a multi-million settlement with the Securities and Exchange Commission, could hold him to account as CEO. He also said his Twitter account, the catalyst for both the stock's recent volatility and the ultimate SEC settlement, wasn't being monitored by company executives.
Musk also noted that his tweets are only reviewed by the company if there is a "probability of causing a movement in the stock." He added: "I want to be clear. I do not respect the SEC."
O'Day most recently served as head of Roche's pharmaceuticals business. Gilead has been seeking a new chief executive since July when CEO John Milligan said he would step down at the end of the year.
The stock fell about 1% on Monday.  
Nutrisystem Inc. (NTRI) - Get Report  jumped 28.2% to $43.85 after it agreed to be acquired by Tivity Health Inc. (TVTY) - Get Report in a deal valued at roughly $1.4 billion.
Under terms of the deal, Nutrisystem shareholders will receive $38.75 a share in cash and about 0.21 a share of Tivity.