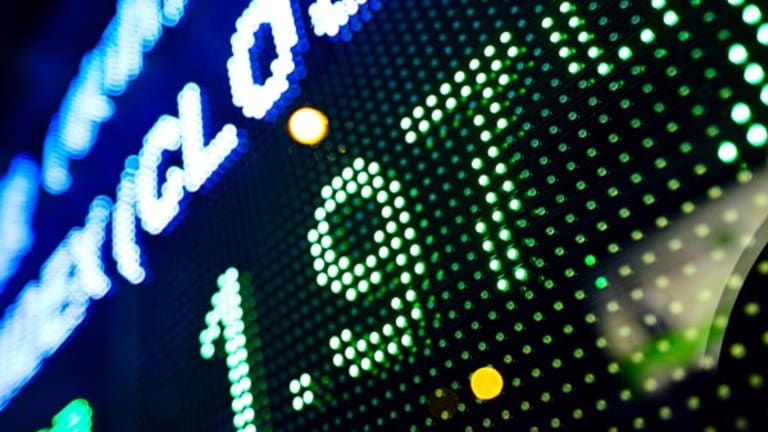 Stocks Fluctuate in an Undecided Day of Trading
Stocks have a lazy start to the week after the Easter long weekend, managing to break only slightly higher by the afternoon session.
Stocks had a lazy start to the week after the Easter long weekend, managing to break only slightly higher during the afternoon session. 
The S&P 500 was up 0.17%, the Dow Jones Industrial Average rose 0.2%, and the Nasdaq was flat.
Wall Street was closed on Good Friday and reopened as normal on Monday morning. European markets were closed for the Easter Monday public holiday.
U.S. stocks snapped a five-week winning streak on Thursday on renewed concerns about a crude-oil supply glut and global security worries following a terrorist attack in Belgium. For the week, the S&P 500 fell 1%, and the Dow dropped 0.6%. The losses were enough to pull stocks back into negative territory for the year.
"The five week rally in the S&P 500 ran out of steam last week," explained David Joy, Ameriprise chief market strategist. "There was no steep selloff, nor was there strong downside volume, but stocks could not muster the strength to push higher. A firmer dollar and the Belgian terror attack took their toll on risk appetites in the shortened trading week."
Oil was pressuring Wall Street on Monday as worries over supply and demand resurfaced. Crude fell 4.1% last week on signs a domestic supply glut is worsening with inventories building by millions of barrels each week. West Texas Intermediate crude oil slid 0.6% to $39.21 a barrel on Monday. Despite the day's decline, crude is still off 13-year lows suffered earlier in the year. 
"This seven-week rally has in large part been driven by a steady exit of short position: speculators take profit from the twenty-month decline," Daniel Holder, commodity analyst at Schneider Electric, wrote in a note. "However, whether or not [crude's] $26.05 a barrel was in fact the low, this market has the potential to move back in that direction because the filled short positions have not been transformed into longs but instead into wait-and-see positions. The market now enters a period of price uncertainty."
Pending home sales in the U.S. reached a seven-month high. The number of houses in which a sale has been made but the deal not yet finalized climbed 3.5% in February, notching a reading of 109.1. Economists had expected pending home sales to climb by 1.8%. 
Consumers both spent more and saved more in February, according to the latest data from the Commerce Department. Consumer spending rose 0.1% in February, in line with economists' estimates. However, incomes climbed 0.2%, the smallest increase since September. Meanwhile, the personal savings rate rose to a one-year high of 5.4%.
Federal Reserve chatter was fueling some positive momentum early Monday. San Francisco Fed President John Williams struck a dovish tone, arguing that the current global environment is preventing the central bank from hiking rates sooner than later.
"The real issue is the global financial and economic developments, there's uncertainty about what's happening around the world and how that feeds back to the dollar and the U.S. economy," Williams told CNBC.
Williams' comments are in contrast to hawkish commentary from last week that increased the chances of a rate hike as soon as April. St. Louis Fed President James Bullard last week said that the economy continues to improve, noting that "the next rate increase may not be far off."
Revlon (REV) sank after naming Fabian Garcia as its new CEO. The executive had previously headed operations at Colgate-Palmolive. The cosmetics company announced months ago that it was exploring strategic alternatives.
Pandora (P) tumbled 9% after Brian McAndrews resigned as CEO, effective immediately, after less than three years in the role. The company named founder Tim Westergren as its new CEO.
Starwood Hotels (HOT) climbed more than 2% after Chinese company Anbang Insurance Group raised its buyout offer. Marriott International (MAR) has already offered a merger proposal, which was initially accepted before Anbang expressed interest.
Batman vs. Superman, a production of Time Warner's (TWX) Warner Bros., topped the weekend box office, pulling in $170.1 million in North American sales and $254 million overseas. Analysts estimated the film needs to generate more than $800 million in total to break even.
GameStop (GME) slid 6% after issuing weaker-than-expected guidance for its current quarter and full year. The company expects console sales to fall by 10% this year and new game sales to decline between 5% and 10%.
Yahoo! (YHOO) climbed more than 1% on reports Microsoft (MSFT) executives have held early talks with potential Yahoo! investors about contributing to financing to buy the Internet company. Microsoft executives have reportedly held early talks with Yahoo!. Yahoo! is currently at risk of a proxy fight with activist investor Starboard Value, which is unhappy with its performance and calling for a board overhaul.
Qlik Technologies (QLIK) jumped 8% on reports it is exploring strategic alternatives, including a possible sale. The data analytics company is currently under pressure from hedge fund Elliott Management which disclosed an 8.8% stake earlier this month.