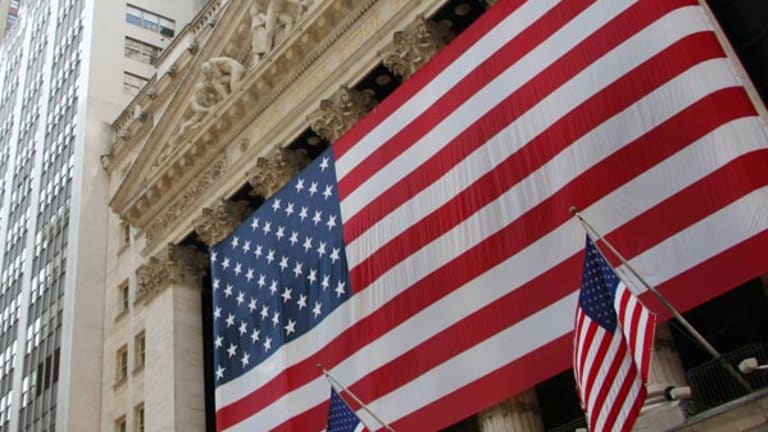 Stocks Inch Higher as Yellen Eases Markets Into Drop in 'Patient' Phrasing
Stocks are mixed as Federal Reserve Chair Janet Yellen addresses Congress on Tuesday and reiterates investors have 'patience' in predicting when a rate hike could occur.
NEW YORK (TheStreet) -- Stocks were slightly higher by late morning Tuesday after Federal Reserve Chair Janet Yellen reiterated "patience" in predicting when a rate hike could occur but prepared markets for the drop of the phrasing in forward guidance in upcoming central bank meetings. 
The S&P 500 was up 0.3%, the Dow Jones Industrial Average added 0.42%, and the Nasdaq climbed 0.1%.
Speaking to the Senate banking committee on Tuesday, Yellen reiterated that dropping the word "patient" would not automatically mean a rate hike would occur over the next two meetings and that it would depend on continuing strength in the labor market and confidence that inflation was moving back to a 2% target. 
"What she is now saying is that (likely) patient will be removed in March but a hike thereafter could come at any time, perhaps one meeting away or perhaps five meetings away," said BTIG chief strategist Dan Greenahus. "They want, and should get, maximum flexibility. Fine, but they never should've linked in the first place 'patient' to a specific time-frame."
Greece's eurozone creditors approved a list of economic reforms, pushing the debt-riddled nation one step closer to a four-month extension to its bailout package. The reforms still need to be approved by a few member nations, but the outlook looks positive. The Athens Stock Exchange jumped 9.4%.
Trading of crude oil appeared to have stablized under $50 a barrel. West Texas Intermediate was up 0.9% to $49.87 a barrel. Oil saw a brief rally on Monday after the Financial Times reported the Organization of the Petroleum Exporting Countries could hold an emergency meeting which could lead to a cut in production. The oil cartel isn't scheduled to meet until June.
"Today's rally is being encouraged by complications (in the form of power cuts) at fields in Libya and murmurs, hopes, and denials of a potential emergency OPEC meeting -- although in reality prices are just looking for an excuse to bounce amid the current highly volatile environment," said Matt Smith, commodity analyst at Schneider Electric. 
Shares of the world's largest home improvement chain, Home Depot (HD) - Get Free Report , climbed 3.2% after the company beat profit estimates with a 36% earnings increase to $1.38 billion, or $1.05 a share. The retailer also said it would buy back $18 billion of shares.
BHP Billiton (BHP) - Get Free Report jumped nearly 7% despite a 47% drop in profit over the latter half of 2014. The oil giant reported profit of $4.27 billion over the six months to December, nearly half a year earlier but exceeding analysts' estimates of $3.59 billion.
Comcast (CMCSA) - Get Free Report was slightly higher despite narrowly missing forecasts on its bottom line. The cable giant earned 77 cents over its fourth quarter, short by a penny, though revenue surged nearly 5% to $17.73 billion.
Macy's (M) - Get Free Report fell 2.9% after sales fell short of estimates. The department store retailer reported an increase in revenue of 1.8% to $9.37 billion, $30 million below expectations. Comparable-store sales increased 1.4%.
Toll Brothers (TOL) - Get Free Report surged 5% after beating profit estimates, reporting a 32% gain in revenue, and boosting guidance. The homebuilder expects 5,200 home deliveries over the year at the low-end of guidance, 200 above previous estimates.
-- Written by Keris Alison Lahiff in New York.