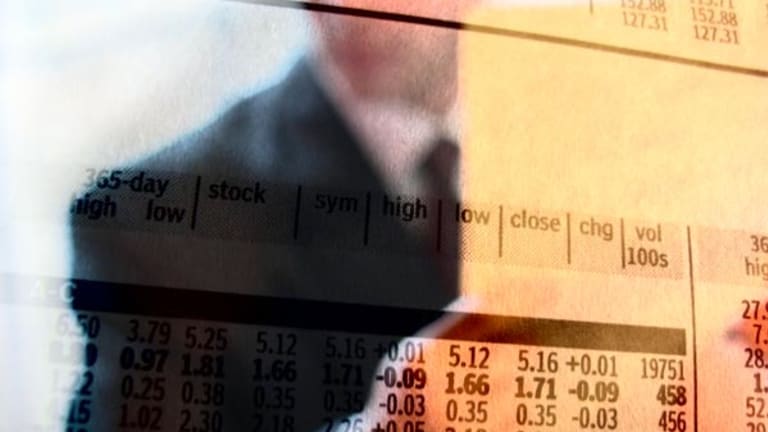 Stocks Finish With Moderate Gains
The indices end in the green despite another afternoon fade.
Updated from 4:11 p.m. EST
Stocks finished moderately higher Monday, with tech outperforming the broader market, but early investor enthusiasm for a wave of mergers steadily dissipated.
The
Dow Jones Industrial Average
rose 17.07 points, or 0.16%, to 10,621.03; the
gained 4.06 points, or 0.34%, to 1190.25; and the
Nasdaq
gained 8.43 points, or 0.40%, to 2097.04. Earlier in the session, the Dow held a 50-point gain, and the S&P 500 rose above the 1200 level. The 10-year Treasury note fell 1/32 in price to yield 4.27%, while the dollar was weaker against the yen and euro after six sessions of gains.
"You might have seen some profit-taking before the economic data coming later this week," said Brian Williamson, an equity trader with Boston Company Asset Management. "It may also have been some jitters before some of the earnings reports."
Volume on the
NYSE
was 1.49 billion shares, with advancers beating decliners by a ratio of 7 to 4. On the Nasdaq, 2.10 billion shares changed hands, with advancers outpacing decliners 17 to 14.
The February crude contract closed down 10 cents to $45.33, even after
Royal Dutch
undefined
and
Shell Group
(SC)
halted North Sea output for a fourth straight day. Crude topped $47 a barrel earlier in the session for a six-week high.
In economic news, a Commerce Department report showed U.S. wholesaler inventories increased 1.1% last month, outpacing a 0.7% increase in sales. Economists had expected a 0.9% increase in inventories.
"Growing inventories can actually show an increase in demand for products, so that's a little bit of a positive," said Robert Pavlik, a portfolio manager with Oaktree Asset Management. "Today's number, while usually not heavily emphasized, helped the market jump a bit."
Among companies,
Alltel
(AT)
agreed to acquire
Western Wireless
(WWCA)
for cash, stock and assumed debt that comes out to about $6 billion. Little Rock, Ark.-based Alltel will pick up about 1.4 million subscribers in 19 states. Alltel fell $1.37, or 2.4%, to $54.75, while shares of Western Wireless were up 85 cents, or 2.3%, to $37.37.
In another big deal, Rupert Murdoch's
News Corp.
(NWS)
will buy out shareholders of its publicly traded
Fox Entertainment
(FOX)
unit for $7 billion. Shares of Fox rose $3.06, or 9.8%, to $34.28.
Movie Gallery
undefined
announced a definitive agreement to acquire
Hollywood Video
undefined
for $13.25 a share, or $850 million in cash, plus the assumption of $350 million in debt. The bid represents a 15% premium over a previous offer from
Blockbuster
(BBI)
. Hollywood shares were up 81 cents, or 6.2%, to $13.86.
"Since all the M&A news happened overnight and early this morning, it gave the market a pop and kept it on the upside," said Jay Suskind, head of institutional equity trading with Ryan Beck & Co. "The market wonders if there's more to come. Overall, there was no bad news today, and now we're looking ahead at earnings with cautious optimism."
UBS raised its earnings and sales estimates on
IBM
(IBM)
, citing brisk corporate demand. The brokerage expects IBM to earn $1.78 a share on sales of $27.8 billion in the fourth quarter, up from its previous estimate of $1.74 a share on $27.5 billion in sales. UBS cited specific strength in hardware and consulting. IBM was off 10 cents, or 0.1%, to $95.68.
Wal-Mart
(WMT)
confirmed over the weekend that it expects U.S. same-store sales in January to match its previous forecast of an increase between 2% and 4%. Wal-Mart lost 27 cents, or 0.5%, to $53.72.
General Motors
(GM)
CEO Rick Wagoner said health care costs could top $5 billion this year, creating "headwinds" for the world's biggest automaker. In an interview with
The Wall Street Journal
, Wagoner refused to affirm GM's goal of earning $10 a share by next year. GM was lower by 51 cents, or 1.3%, to $38.49.
American Pharmaceutical Partners
(APPX)
and
American Bioscience
said the Food and Drug Administration has approved their drug Abraxane for injectable suspension in metastatic breast cancer. American Pharma shares soared $11.01, or 28.4%, to $49.72.
CSFB upgraded
Nokia
(NOK)
to outperform from neutral, saying the Finnish firm should be able to raise its share of an expanding market in 2005 and 2006. Nokia, which was also upgraded by J.P. Morgan, rose 24 cents, or 1.6%, to $15.49.
Advanced Micro Devices
(AMD)
was upgraded by UBS to neutral from reduce. The firm said it believes AMD is now priced at fair valuation but that it will be increasingly difficult for AMD to differentiate its products from
Intel's
(INTC)
. AMD finished up 21 cents, or 1%, to $20.13.
Comcast
(CMCSA)
will outline a plan Monday to move into the telephone business, similar to steps taken by
Time Warner
(TWX)
and
Cox Communications
undefined
. Comcast's plan is expected to be the most ambitious to date and would increase pressure on competitors while escalating a battle for market share. Comcast rose 66 cents, or 2%, to $33.23.
Later this week,
Apple
(AAPL)
,
Intel
(INTC)
and
Sun Microsystems
(SUNW)
will all release fourth-quarter earnings reports.
Overseas markets finished lower, with London's FTSE 100 down 0.3% to 4840 and Germany's Xetra DAX falling 0.2% to 4307. In Asia, Japan's Nikkei fell 0.5% overnight to 11,433, while Hong Kong's Hang Seng lost 1% to 13,575.