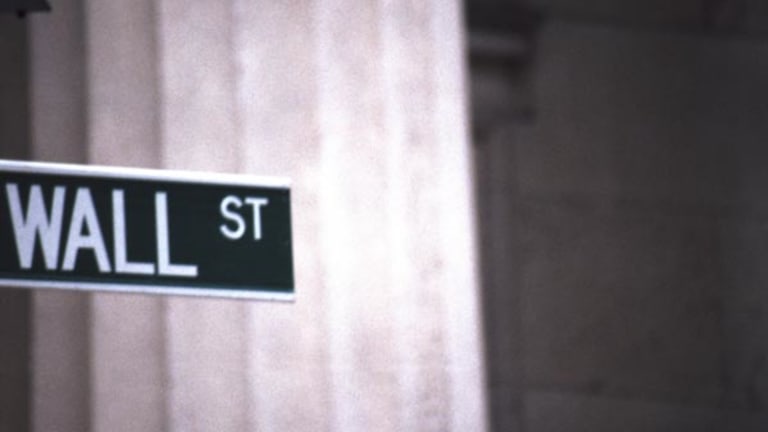 Stocks Finish Week Strong
The Dow and S&P 500 hit new 2005 highs in capping a three-day rebound from Tuesday's rout.
The Dow and S&P 500 hit new 2005 highs in capping a three-day rebound from Tuesday's rout.
Updated from 4:07 p.m. EST
Strength in the semiconductor sector Friday powered tech stocks, while a barrage of positive earnings reports and reassuring economic data helped the broad market extend its recovery from Tuesday's rout.
The
Dow Jones Industrial Average
closed up 92.81 points, or 0.9%, to 10,841.60, a new 2005 high and just 12 points shy of its 2004 high reached in late December, while the
Nasdaq
gained 13.70 points, or 0.7%, to 2065.40, still 113 points shy of its 2004 high. The
S&P 500
was up 11.17 points, or 0.9%, at 1211.37, also a new 2005 high and a fraction away from the break-even level for the year. The 10-year Treasury note added 6/32 in price to yield 4.27%, while the dollar was higher against the euro and flat with the yen.
Volume on the
New York Stock Exchange
was 1.52 billion shares, with advancers beating decliners by a ratio of about 3 to 1. Volume on the Nasdaq was 1.77 billion shares, with advancers outpacing decliners 2 to 1.
The Dow was paced by
ExxonMobil
(XOM) - Get Report
, which rose more than 3% after an upgrade at Prudential. The brokerage raised the shares to overweight from neutral and kicked up the price target 23% to $70 as part of a broader, bullish call on the energy sector. Shares rose $2.13, or 3.5%, to $63.26.
"We'd be doing great if we can break through late-December highs and move forward," said Robert Pavlik, portfolio manager with Oaktree Asset Management. "With that said, I think the market will come close to that, but we'll have to wait until next week's economic data, such as the nonfarm payrolls next Friday, to see what happens. We got a bit oversold very quickly on Tuesday, but we've got a much better feeling now."
For the week, the Dow added 0.5%, the S&P 500 was higher by 0.8%, while the Nasdaq gained 0.3%. All three indices lost ground the previous week.
"What we're seeing start to heat up a bit are the semiconductors," said John Hughes, equity strategist with Shields & Co. "As you go into next week, you're looking at a continuation of strength in certain sectors. You might expect some pullback, but longer term, things look like they're acting better."
The Philadelphia Stock Exchange Semiconductor Index (SOX), which rose 2.4% on Thursday, finished Friday up 2.2%, with all 20 of its components posting gains.
Oil remained near its four-month high. In Nymex floor trading, the April crude contract gained 10 cents to close at $51.49 a barrel, a 12% increase for the week.
Barry Hyman, equity market strategist with Ehrenkrantz King Nussbaum, believes investors still must be wary of oil. "It's a lot higher than most people think it should gravitate to, so now we have to factor in what-if scenarios for $40 and $50," said Hyman. "But for today, I think we'll maintain a decent close for the week."
On the economic front, the Commerce Department said Friday that in its preliminary reading the U.S. economy grew at a 3.8% rate for the fourth quarter, revised up from a previous 3.1%. Economists had expected a growth rate of 3.7%. The estimate still marks a slowdown from the third quarter's pace of 4%.
In a trade group report, existing-home sales fell 0.1% to an annualized rate of 6.8 million units in January.
Among movers Friday, was
Gap
(GPS) - Get Report
, which posted fourth-quarter earnings after the bell Thursday of 40 cents a share, 3 cents ahead of estimates, and said it was doubling its dividend and expanding a stock buyback. The clothing retailer put 2005 earnings at $1.41 to $1.45 a share, above the Wall Street consensus of $1.40 a share. Shares rose 1 cent, or 0.05%, to $21.29.
McAfee
( MFE) said it earned $37.6 million, or 23 cents a share, before charges in its fourth quarter, a penny ahead of estimates. Revenue of $244.5 million was also about $21 million above forecasts. The company guided first-quarter earnings in line but said revenue will be $210 million to $220 million, compared with estimates of $195.1 million. Shares of McAfee fell $1.16, or 4.7%, to $23.48.
McData
( MCDTA) posted a fourth-quarter loss of $100,000, or break-even on a per-share basis, after charges for deferred compensation and goodwill. Excluding those charges, the storage company earned 6 cents a share, a penny better than estimates. Brokerage Piper Jaffray upgraded the stock on the earnings news. Still, shares finished down 15 cents, or 3.6%, to $4.04.
MCI
( MCIP) reported a loss Friday morning, one day after
Qwest
(Q)
raised the cash portion of its takeover offer for the No. 2 long-distance company. MCI lost $32 million, or 10 cents a share, compared with a gain-swollen profit of $22 billion a year ago. The company put 2005 revenue at $18 billion to $19 billion, toward the high end of expectations. Shares of MCI lost 21 cents, or 0.9%, to $22.60.
Clear Channel Communications
(CCU) - Get Report
posted fourth-quarter earnings of $214.3 million, or 37 cents a share, from $187.2 million, or 30 cents a share, last year. Earnings excluded a $4.9 billion asset impairment charge. Including the charge, Clear Channel swung to a fourth-quarter loss of $4.67 billion. Revenue for the quarter was $2.31 billion, up 1% year over year. Analysts were expecting earnings of 37 cents a share on revenue of $2.34 billion. Shares ended down $1.16, or 3.4%, to $32.75.
Retailer
Kohl's
(KSS) - Get Report
fourth-quarter earnings rose 33% from a year ago, thanks to a 1.3% rise in same-store sales and minimal discounting. Late Thursday, the company reported earnings of $324.9 million, or 94 cents a share, in the quarter, compared with earnings of $244.8 million, or 71 cents a share, last year. Sales rose 15% from a year ago to $4.08 billion. Analysts had been forecasting earnings of 93 cents a share on sales of $4.10 billion. Brokerage William Blair upgraded Kohl's to outperform on the news. Shares added $1.90, or 4.1%, to $47.80.
IBM
(IBM) - Get Report
said Friday it is revising sales figures for last year, reducing them by $210 million, because of inappropriate sales activities by workers in its Japan unit. The company said that the sales decrease would have no effect on the group profit. IBM, having spent most of the session in the red, gained 16 cents, or 0.2%, to close at $92.80.
Overseas markets were mostly higher after a late buying spree lifted the Dow to a 75-point gain Thursday. London's FTSE 100 was up 0.7% at 5006, while Germany's Xetra DAX added 1% to 4348. In Asia, Japan's Nikkei rose 1.1% overnight to 11,658, while Hong Kong's Hang Seng added 0.7% to 14,147.
Economic data will be in focus next week, with the Chicago PMI number due out on Monday and February's nonfarm payroll numbers due out next Friday. An increase to 225,000 from January's 146,000 is the consensus.