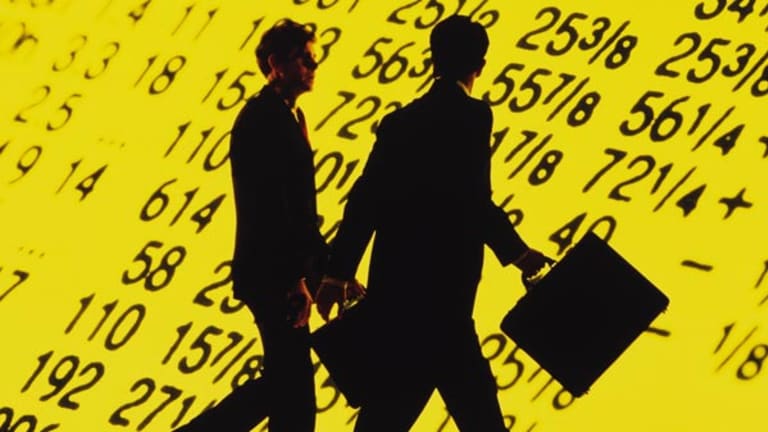 Stocks Finish Volatile Week With Losses
The major indices are erratic again and ultimately lose ground as investors absorb new economic data and a fresh slate of earnings.
Updated from 2:46 p.m. EDT
Stocks in New York continued their bumpy ride Friday and ultimately closed to the downside after the release of discouraging housing data and a record low in a consumer sentiment survey.
The
Dow Jones Industrial Average
fell late and ended with a loss of 127.04 points, or 1.4%, at 8852.22, while the
slipped 5.88 points, or 0.6%, to 940.55. The
Nasdaq
was off 6.42 points, or 0.4%, at 1711.29.
The teeter-totter action marked a fitting end to a jarringly volatile week, during which the Dow added 4.8%, the S&P 500 rose 5% and the Nasdaq was up 3.8%.
The day's economic data looked bearish. The Census Bureau reported that September building permits came in at an annualized rate of 786,000, down from 857,000 in August and below analyst estimates. New-home starts were estimated at 817,000, hitting a 17-year low.
Michael Pento, senior market strategist at Delta Global Advisors, said that the U.S. needs to build 1.15 million units a year to satisfy the needs of Americans. "We're building significantly below that at this time," he said.
Pento also said that the U.S. has excessive housing inventory, and housing starts may have to drop to 500,000 to clear out the excess. He said that historically, 64% of the U.S. population owned homes, and lately the number has increased to 67.8%. The ratio of median home price to median income has risen to 4-to-1, vs. historical levels of 3-to-1, he said. "You have to wash out all those people who have no business owning a house, people that should be renters," he said. "Simple back of the envelope, you need a 25% drop in home prices just to get to historical measures."
He said the government's monetary policy has been an attempt to bring incomes up to levels where people can afford their homes. "That's a very scary way to solve the problem," he said.
In terms of the stock market, recent volatility illustrates that it's near impossible to time a bottom in this environment, said Bill Stone, chief investment strategist at PNC Wealth Management. "You have to either come in and say, 'I find value or don't find value in stocks,'" he said. Stone said he sees value in health care, consumer staples and some tech stocks.
"If your call is depression, then no, it's not priced in," said Stone, but "it's pretty grim what's priced in now." He said that recent economic data has often been worse than expected, but expectations have been substantially lowered of late. "I would say even less-negative data would be looked upon favorably."
Stone said that eventually the housing market will clear the inventory, but building permits have farther to fall.
Outside of the housing market, an October consumer sentiment reading from the University of Michigan showed a drop to 57.5 from 70.3 in September, the index's largest decline on record.
Credit markets continued to loosen slightly, as three-month dollar Libor, a measure of the rate banks charge one another for large loans, dropped 8 basis points to 4.42%. For the week, the three-month rate is down 40 basis points, marking its first weekly decline since July. Overnight Libor was lower by 27 basis points to 1.67%.
Pento said he wishes the credit markets wouldn't heal very fast. "They really need to be blown out. Banks need to stop loaning money to each other ... so the consumer can deleverage their balance sheet." He said that the government's injection of capital into the markets is preventing a necessary deleveraging process. "I think the government is going to be successful in forcing banks to lend to a consumer that is choking on debt," he said.
On the other hand, said Stone of PNC Wealth Management, lending standards continue to tighten, and that barring a government mandate, it's hard to believe that those standards will be greatly reduced. Currently, it's hard for even people with good credit to get a loan, he said.
Billionaire investor Warren Buffett, CEO of
Berkshire Hathaway
(BRK.A) - Get Free Report
advocated buying stocks in an op-ed published by
The New York Times
. Buffett said that the economy faces hardship in the near term, and for that reason he has placed a large portion of his investment portfolio into U.S. stocks. Shares climbed 5.9% to $119,800.00.
Trouble in the financials nonetheless persisted ahead of Friday's session. Bond insurer
Ambac
undefined
, along with some of its competitors, was working to petition the Treasury Department so that it could sell troubled assets to the government, according to a report by
Bloomberg
. Shares climbed 31% to $3.49.
Bloomberg
also reported that the New York
was in talks to create a clearinghouse for the $55 trillion credit default swaps market.
During Friday's trading, media reports indicated federal prosecutors subpoenaed executives from
Lehman Brothers
, including former CEO Dick Fuld and former CFO Erin Callan on several grand jury investigations into the demise of the brokerage.
Insurance firm
AIG
(AIG) - Get Free Report
may attempt to raise capital by participating in a government initiative to buy commercial paper, according to a report by
Bloomberg
. The stock dropped 14% to $2.10.
As
season hit full stride,
(COF) - Get Free Report
posted a third-quarter profit that missed analysts' expectations. The stock climbed 3.2% to $39.92 after Standard & Poor's said the company's credit rating was not affected by its earnings statement.
Earnings from the tech sector also were in the spotlight.
(IBM) - Get Free Report
said it would meet full-year estimates after reporting increased third-quarter profit on cost reductions and strong international sales. Shares lost 0.8% to $90.78.
Meanwhile, Internet search firm
(GOOG) - Get Free Report
beat estimates for the third quarter and said that its business could withstand a recession. The stock added 5.5% to $372.54.
, a joint venture between
Sony
undefined
and
Ericsson
(ERIC) - Get Free Report
, reported a third-quarter loss on restructuring charges.
Defense firm
(HON) - Get Free Report
saw income rise year over year and beat analyst estimates, but cut its forward guidance. Shares dropped 5% to $29.37.
Oil-services company
(SLB) - Get Free Report
announced rising profit on a substantial increase in revenue. The company said it expected a decrease in oil services spending to decline in 2009, and shares stumbled 6% to $49.99.
Beyond earnings,
The Wall Street Journal
reported that
(GM) - Get Free Report
was ramping up merger discussions with
Chrysler
. GM ticked up 0.5% to $6.43.
Ford
(F) - Get Free Report
plans on selling shares in
Mazda
to Japanese firms, according to a report in
Reuters
that cited local media. Ford's stock jumped 7% to $2.43.
In the pharmaceutical space,
Pfizer
(PFE) - Get Free Report
agreed to pay $894 million to settle legal claims related to adverse effects of its
. Shares lost 0.4% to $16.91.
As for commodities, crude oil climbed $2 to close at $71.85 a barrel after OPEC suggested it may reduce production at a meeting next week. Gold was down $16.80 to settle at $787.70 an ounce.
Longer-dated U.S. Treasury securities were mixed. The 10-year was up 10/32 to yield 3.92%, and the 30-year was shedding 28/32, yielding 4.31%. The dollar was higher vs. the yen, but weakening against the euro and pound.
Abroad, European exchanges were edging higher. The FTSE in London and the Dax in Frankfurt were both trading with gains. Looking at
, Japan's Nikkei closed on the upside, while the Hang Seng in Hong Kong finished with losses.