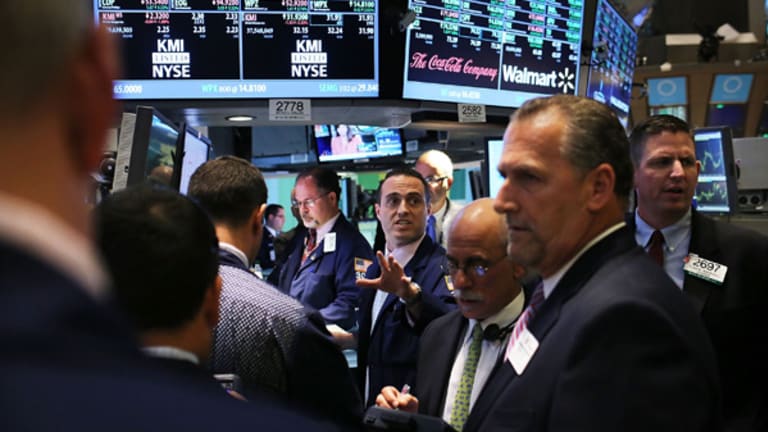 Stocks Finish Strong
An uncharacteristic late rally gives bulls a glimmer of hope.
An uncharacteristic late rally gives bulls a glimmer of hope.
Updated from 4:06 p.m. EDT
Stocks moved higher Tuesday as a rare late-session rally provided a speck of enthusiasm that the market could possibly shake off its tentative nature ahead of next week's
Federal Reserve
meeting and the hand-over in Iraq.
The
Dow
closed up 23.60 points, or 0.23%, to 10,395.07; the
S&P 500
added 4.12 points, or 0.36%, to 1134.42; and the
Nasdaq
gained 19.77 points, or 1%, to 1994.15. The 10-year Treasury note was down 6/32 to yield 4.71%, while the dollar was higher against the euro and the yen.
Trading volume was at its highest level since May 27 but continues to be lighter than longer-term averages as market players await a Fed meeting on June 29-30 and the hand-over of power in Iraq from the U.S.-led coalition to a new Iraqi government.
Nearly 1.4 billion shares traded on the
New York Stock Exchange
, while more than 1.6 billion shares changed hands on the Nasdaq. Advancers held about a 5-to-4 majority over decliners on both exchanges.
Market-watchers view a rate hike from the Fed next week as a certainty after the buzzword on Wall Street has gradually shifted from "deflation" to "inflation" over the last six months. The move would mark the end of an accommodative stance from the central bank that left rates at a 45-year low of 1% for a year, which was instituted to jump-start a sluggish economic recovery that long seemed void of job growth.
With jobs finally materializing at a healthy clip and higher pricing data bringing inflation concerns to the fore, the market has concluded that a higher rate target is imminent. Now, the question has become, "how much higher?" And while the Fed's pledge to raise rates at a "measured pace" has been widely interpreted to mean a series of quarter-point hikes in its federal funds rate starting next week, recent comments from Fed officials seemed to leave open the possibility of more aggressive action. Subsequent speculation has put the market on hold as investors wait to see what unfolds.
Alongside the Fed meeting, the Bush administration's June 30 deadline for handing sovereign powers to a newly formed Iraqi government has investors walking softly. While a successful hand-over could provide greater legitimacy to the U.S.-led coalition's occupation of Iraq, cynics worry that the transfer will be largely symbolic and serve more to provide a target date for insurgents planning more terrorist attacks throughout the already war-ravaged country.
"There's no compelling reason to get involved in this market until after June 30, because there's just too much risk from a trader's perspective," said Joe DeMarco, head trader at HSBC Management. "It makes for an uneventful market. The concern over the end of the month's deadlines are just weighing heavily and keeping people on the sidelines."
Adding to the session's jitters, the South Korean government today identified the body of a 33-year-old contractor who was believed to have been killed by an Iraqi militant group.
Oil prices settled above $38 a barrel Tuesday, even as repairs were completed on one of two major pipelines feeding Iraq's main southern export terminals, which were attacked last week. The benchmark U.S. futures contract -- light sweet crude for August delivery -- added 48 cents, or 1.3%, to $38.25 a barrel, while gasoline prices gained almost 4 cents, or 3.2%, to $1.198 a gallon.
One stock getting interest was handheld-device maker
palmOne
(PLMO)
, which jumped $8.10, or 37.7%, to $29.56 after saying fourth-quarter earnings swung to $13.3 million, or 27 cents a share, from a loss of $15 million, or 51 cents a share, last year. Excluding a charge, the company earned 32 cents a share, well ahead of the Wall Street consensus estimate of 13 cents a share.
In the first quarter, palmOne expects EPS of 12 cents on revenue of $250 million to $260 million. The consensus estimate had been for break-even EPS on revenue of $231 million.
In addition, semiconductors got a boost after a four-day decline. The
Philadelphia Semiconductor Index
was finished up 3.5%.
Shares of
Wal-Mart
(WMT) - Get Report
dropped 94 cents, or 1.7%, to $53.99 after a federal judge approved a class-action sex-discrimination lawsuit against the discount retail behemoth. The case represents as many as 1.6 million current and former women workers in what has become the largest private civil rights case in U.S. history.
Also moving Tuesday,
QLogic
(QLGC)
was upgraded to buy from neutral by Merrill Lynch. The brokerage said the stock's 50% slide this year is unwarranted, given channel checks that suggest relatively normal demand. The stock was recently up $1.89, or 7.4%, to $27.37.
In earnings news,
Morgan Stanley
(MWD)
said its second-quarter profits more than doubled, thanks to a strong performance from its investment banking arm and increased revenue on securities trading. It earned $1.22 billion, or $1.10 a share, up from $599 million, or 55 cents a share, in the same quarter last year. Its shares rose 91 cents, or 1.8%, on the day to close at $52.16.
Goldman Sachs
(GS) - Get Report
also saw an increase in second-quarter earnings, up 71%. The investment bank and brokerage said net income hit $1.19 billion, or $2.31 a share, up from last year's $695 million, or $1.36 a share. Its shares added $1.80, or 2%, to $90.59.
In a regulatory filing Monday,
Freescale Semiconductor
, a spin-off from
Motorola
(MOT)
, said it will issue 121.6 million shares priced between $17.50 and $19.50. Freescale plans to list on the
Big Board
under the ticker FSL. Valued at $2.7 billion, it will be one of the biggest initial public offerings to hit the market this year.
In London, the FTSE 100 closed down 0.7% to 4468, while in Germany, the Xetra DAX finished off 1.5% to 3928. In Asia, Japan's Nikkei slipped 0.2% to 11,581. Hong Kong was closed for a holiday.
Before Wednesday's opening bell,
FedEx
(FDX) - Get Report
is expected to report fourth-quarter earnings after special items of $1.33 a share, up from 92 cents a share in the same quarter last year.
After the close,
Bed Bath & Beyond
(BBBY) - Get Report
will report third-quarter profits, expected to come in at 25 cents a share, up from last year's 19 cents a share.
No economic releases are scheduled.