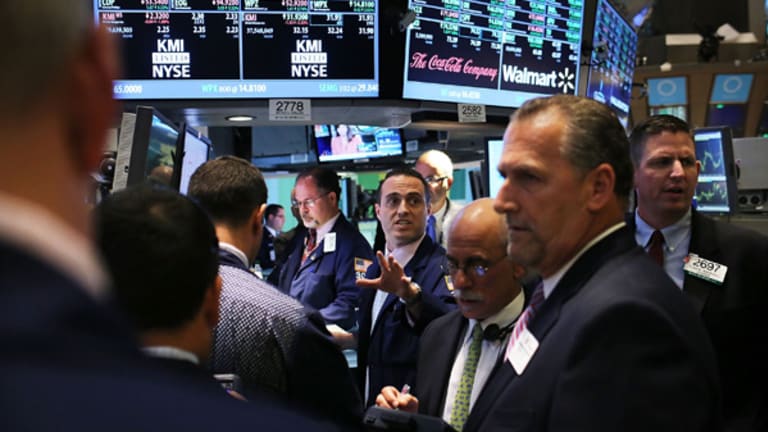 Stocks Finish Shortened Session Lower
But the Dow still posts its eighth-straight weekly gain.
Updated from 1:55 p.m. EST
Stocks slid to a lower close in Friday's abbreviated session, as investors reacted nervously to prospects of a United Airlines bankruptcy. The loss wasn't enough to prevent the major averages from posting another up week, however.
The
Dow Jones Industrial Average
ended down 36 points, or 0.4%, at 8896, while the
Nasdaq
fell 9 points, or 0.6%, to 1479. The
S&P 500
lost 3 points, or 0.3%, to 936.
Trading was light, even adjusted for the short session, with 637 million shares trading on the
NYSE
and 833 million shares changing hands on the
Nasdaq
. Advancers and decliners were evenly matched on both exchanges.
The Dow added about 1% on the week, giving it its eighth straight weekly gain -- something that hasn't happened in more than four years. The Nasdaq Composite rose a little less than 1% this week, making it seven up weeks out of the last eight.
Shares of
UAL Corp.
(UAL) - Get United Airlines Holdings, Inc. Report
were down about 27% to $2.64 as investors doubted the company would succeed at getting its mechanics union to agree to a package of pay cuts. United Airlines' parent said it still expects to cut about $5 billion from its cost-structure in time to receive much-needed loan guarantees from the U.S. government. But an S&P analyst called a chapter 11 filing "virtually inevitable."
Stocks with asbestos exposure rallied after
Sealed Air
(SEE) - Get Sealed Air Corporation Report
agreed to pay more than half-a-billion dollars to settle asbestos-related claims against it. The company faced lawsuits related to the carcinogen as well as claims it tried to shield itself from exposure via an corporate transfer in 1998. Friday's settlement covers these and all future asbestos-related claims. Sealed Air's shares rose 54% to $37.81 on the news.
A World Semiconductor Trade Statistics group survey found global chip sales rose 1.8% in October to $12.5 billion. That's up from $12.3 billion in September and up 20% from $10.4 billion in sales a year ago. The news, while positive, wasn't enough to lift the Philadelphia Semiconductor Index. It ended down a little more than 2%.
With the holiday shopping season kicking off,
Amazon.com
(AMZN) - Get Amazon.com, Inc. Report
released a report on sales patterns during November that showed cell-phone sales four times higher this year than last, and DVD player unit volume up 70%. The survey encompasses Amazon domains worldwide as well as co-branded sites. Amazon dropped 3% to $23.35.
Overseas markets were mixed with London's FTSE 100 down 0.8% to 4153 and Germany's Xetra DAX up 0.2% to 3366. In Asia, Japan's Nikkei rose 0.4% to 9216 while Hong Kong's Hang Seng lost 0.8% to 10,070.
Treasuries were higher, with the 10-year note adding 11/32 to yield 4.21%.