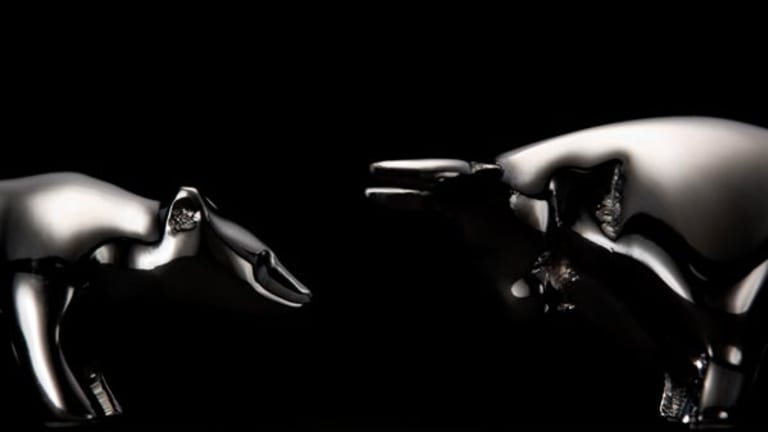 Stocks Finish Mostly Lower; Financials Weak
Caterpillar pushed the Dow just above the break-even point, though concerns about tightened financial regulations weighed.
NEW YORK (
) -- Stocks atrophied by Monday's closing bell, though strong earnings from
Caterpillar
(CAT) - Get Caterpillar Inc. Report
helped keep the
Dow Jones Industrial Average
slightly above the flat line, as concerns about tightened bank regulations yanked on the financial sector.
The Dow finished nearly 1 point higher, or 0.01%, to 11,205. The
S&P 500
lost 5 points, or 0.4%, at 1212, and the
Nasdaq
dwindled 7 points, or 0.3%, to 2523.
The financial sector was the session's weakest as investors anticipated a Senate procedural vote scheduled for later Monday. The vote is required to begin debate on the financial reform bill that aims to limit the size and risky activities of banks, in addition to increasing consumer protections. The KBW Bank index was off by 3.1% today.
Travelers
(TRV) - Get Travelers Companies, Inc. Report
,
JPMorgan Chase
(JPM) - Get JPMorgan Chase & Co. Report
,
Bank of America
(BAC) - Get Bank of America Corp Report
and
American Express
(AXP) - Get American Express Company Report
turned in the worst performances on the Dow.
Investors also remained concerned about
Greece's ability to access rescue funds soon enough to avoid default because its aid request must be ratified by the eurozone. Markets seemed concerned that Germany, which will take on the bulk of the financial burden, could be slow to free up funds to Greece even though Germany's finance minister signaled aid will be made quickly available to the ailing country.
Overseas, Hong Kong's Hang Seng gained 1.6% on Monday while Japan's Nikkei rose 2.3%. The FTSE in London gained 0.5% and the DAX in Frankfurt added 1.2%.
Earlier, the U.S. Treasury Department said it will begin selling its
Citigroup
(C) - Get Citigroup Inc. Report
stake under a pre-arranged trading plan with
Morgan Stanley
(MS) - Get Morgan Stanley Report
for up to 1.5 billion Citi shares. Citigroup's stock shed 25 cents, or 5.1%, to $4.61.
>>The Economy
>>Company News
>>Commodities and the Dollar
>>Treasuries
The Economy
With no major economic releases scheduled Monday, investors took their cues from the day's load of earnings news.
Dow component
Caterpillar
(CAT) - Get Caterpillar Inc. Report
reported better-than-expected first-quarter earnings and raised its year-end profit to a range of $2.50 to $3.25 a share, citing expectations for strong growth in Asia-Pacific and Latin American markets and in its global mining and energy segments. Analysts had been projecting a year-end profit of $2.69 a share. The stock was the Dow's best performer, gaining $2.87, or 4.2%, to $71.65.
So far, the current earnings season has been much stronger than expected, prompting UBS to boost its 2010 S&P 500 earnings-per-share estimate by 8%, to $90 from $83.
UBS strategist Thomas Doerflinger said earnings strength for the first quarter has been broad-based, with notable upside surprises from consumer, industrial, tech and financial sectors. Doerflinger pointed to names like
Starbucks
(SBUX) - Get Starbucks Corporation Report
,
United Parcel Service
(UPS) - Get United Parcel Service, Inc. Class B Report
,
Boeing
(BA) - Get Boeing Company Report
,
Apple
(AAPL) - Get Apple Inc. Report
and
Bank of America
(BAC) - Get Bank of America Corp Report
as examples of companies posting better-than-expected results.
"Much of this strength is driven by the combination of aggressive cost-cutting since fourth-quarter 2008 and better-than-expected revenue growth. Thus far, first-quarter revenue is 2.2% above analysts' forecast. We expect further EPS estimate increases over the next two to three quarters, driven by cost discipline and solid revenue growth," Doerflinger said.
Goldman Sachs
(GS) - Get Goldman Sachs Group, Inc. Report
was back in the spotlight as the market continued to react to emails showing the firm's top executives boasting about profits made on the collapse of the U.S. housing market in 2007. A law firm also filed a class-action suit against Goldman Monday, claiming, in part, in a press release that Goldman should have disclosed its Wells notice regarding the
Securities and Exchange Commission's
fraud investigation to investors.
CEO Lloyd Blankfein is also preparing to testify before a Senate panel Tuesday, where he is expected to battle against fraud allegations from the SEC. According to pre-released testimony, he will call the day the SEC's fraud charges came down as
"one of the worst days of my life."
Goldman shares lost $5.37, or 3.4%, to $152.03.
>>The Economy
>>Company News
>>Commodities and the Dollar
>>Treasuries
Company News
After the closing bell,
Texas Instruments
(TXN) - Get Texas Instruments Incorporated Report
beat first-quarter profit estimates by a penny, earning 52 cents a share on $3.21 billion in sales, while CEO Rich Templeton noted in a press release that "production output is at an all-time high." Promising guidance for the existing quarter also helped shares move higher in extended-hours trading after improving 1.8% during the afternoon session.
Health benefits company
Humana
(HUM) - Get Humana Inc. Report
surprised on the upside with a first-quarter profit of $1.52 a share, far surpassing the profit of $1.14 a share that analysts had been projecting. Its stock shed $1.97, or 4.3%, to $43.56.
Investment management firm
BlackRock
(BLK) - Get BlackRock, Inc. Report
missed Wall Street estimates by a nickel with an adjusted first-quarter profit of $2.40 a share. Shares fell by $18.07, or 8.6%, to $192.95.
Whirlpool
(WHR) - Get Whirlpool Corporation Report
far surpassed expectations for a first-quarter profit of $1.33 a share with earnings of $2.13 a share. Sales grew nearly 20% during the quarter, and the company issued better-than-expected guidance for year-end earnings between $8 and $8.50 a share. The stock soared to a new 52-week intraday high, adding $10.20, or 10%, to $112.42.
Stifel Financial
(SF) - Get Stifel Financial Corp. Report
agreed to buy investment bank competitor
Thomas Weisel Partners
( TWPG) for more than $300 million.
Hertz Global
(HTZ) - Get Hertz Global Holdings Inc Report
agreed to buy rival
Dollar Thrifty
( DTG) for $41 a share.
Charles River Laboratories
(CRL) - Get Charles River Laboratories International, Inc. Report
agreed to buy
WuXi PharmaTech
(WX)
in a deal valued at $1.6 billion.
Wal-Mart
(WMT) - Get Walmart Inc. Report
shares fell 0.9% after the company lost a key decision from federal appeals court judges in a class-action gender discrimination dispute, allowing the case to move to trial, according to
The Associated Press
.
>>The Economy
>>Company News
>>Commodities and the Dollar
>>Treasuries
Commodities and the Dollar
The June delivery crude
oil contract settled 92 cents lower at $84.20 a barrel.
Elsewhere in commodity markets, the June
gold contract added 30 cents to settle at $1,154 an ounce.
The
dollar was trading higher against a basket of currencies with the
dollar index up by 0.1%.
>>The Economy
>>Company News
>>Commodities and the Dollar
>>Treasuries
Treasuries
An $11 billion Treasury auction in five-year Treasury inflation-protected securities drew a high yield at 0.55% in the afternoon and an above average bid-to-cover ratio of 3.15, according to
MarketWatch
. Indirect bidders, a class of purchasers that gives some clue of foreign central banker demand, bought up 23.1%.
The benchmark 10-year Treasury strengthened 2/32, diluting the yield to 3.809%.
The two-year note rose 1/32, lowering the yield to 1.057%. The 30-year bond gained 1/32, dropping the yield to 4.663%.
--Written by Melinda Peer and Sung Moss in New York
.