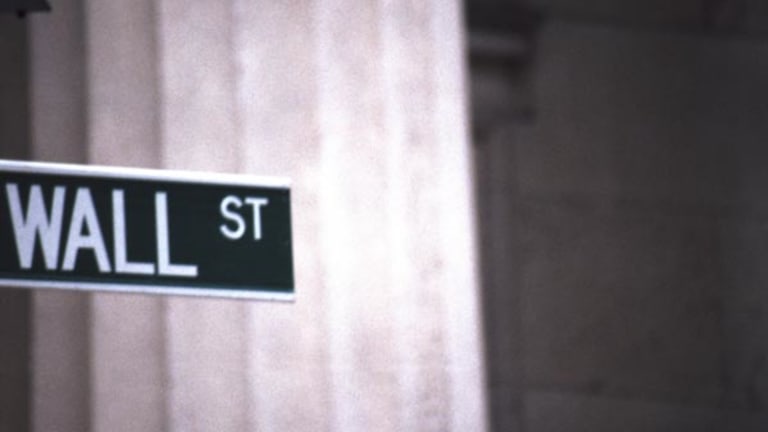 Stocks Finish Modestly Lower
The Dow closes down about 34 points after falling more than 150 earlier.
Updated from 4:07 p.m. EDT
Stocks made a late push from their session lows but still ended in negative territory Wednesday as profit warning from
J.P. Morgan Chase
(JPM) - Get Free Report
and
Oracle
(ORCL) - Get Free Report
proved too much to overcome.
The
Dow Jones Industrial Average closed down 35.10 points, or 0.43%, to 8172.45. The
Nasdaq lost 7.81 points, or 0.62%, to 1252.13, and the
S&P 500 fell 4.04 pionts, or 0.46%, at 869.48.
Among sectors, tobacco, gold, and utilities were pockets of strength, while software, banks, networking and computer hardware issues ended lower. Decliners outpaced advancers 9 to 7 on both the
and the Nasdaq.
Two economic reports were released before the start of trading. The Commerce Department said the nation's
international trade deficit narrowed to $34.6 billion in June from $37.2 billion in May. Economists were expecting the trade gap to come in at $37 billion.
Separately, the Labor Department released its
consumer price index, a key measure of inflation, which revealed a 0.3% increase in August, compared with a 0.1% rise in July. Excluding the volatile food and energy sectors, the CPI still rose 0.3%, up from its 0.2% gain the previous month. Economists were expecting a reading of 0.2% for both.
Preannouncement season heated up. Tuesday night, J.P. Morgan Chase warned that third-quarter earnings would be significantly lower than its second-quarter operating profit, citing bad loans to telecommunications and cable operators and weaker-than-expected trading volume. Shares of the Dow component were hammered early then steadily climbed back, and eventually finished lower by 5.2% to $20.44on the
New York Stock Exchange.
Eastman Kodak
( EK), also a Dow component, affirmed its third-quarter and full-year earnings guidance. The company said it expects to earn $1.35 a share to $1.75 a share for the second half of 2002 and 70 cents to 80 cents a share in its current third quarter, before one-time items. Analysts were predicting the company would earn 70 cents a share for the quarter. Kodak earned 52 cents a share in the year-ago period. The stock advanced 2.8%.
Software giant Oracle said after the close Tuesday that first-quarter profits fell due to the worldwide IT spending slump. The Redwood Shores, Calif.-based company posted net profit of $386 million, or 7 cents a share, matching analysts' forecasts. The results exclude a charge related to its investment in
Liberate Technologies
(LBRT) - Get Free Report
.
Looking forward, the company said second-quarter results would come in at the low end of the forecasted range. The guidance, offered on the company's conference call, implies sales of $2.23 billion to $2.30 billion, and earnings per share of 8 cents to 9 cents. "Visibility beyond the upcoming quarter is minimal, but we continue to believe that we will see year-over-year improvements," the company said. Subsequently, several brokerages trimmed their estimates on the stock. Oracle's shares were traded down 9.2% to $8.32 on the news.
"There's likely to be more cautionary shots fired the next few days, making for treacherous trade on the long side short-term," said Jay Shartsis, director of options trading for R.F. Lafferty, in his daily trading diary.
Brokerage
Bear Stearns
( BSC) posted fiscal third-quarter earnings that topped Wall Street estimates by a penny, citing the strength of its bond operations and a ramp-up in customer trading. The New York-based firm posted net income of $164.4 million, or $1.23 a share, compared with $134.6 million, or 95 cents a share, in the year-ago quarter. Its shares climbed 1.6% to $60.43.
Red Hat Networks
( RHAT), which develops Linux computer software, posted a second-quarter loss of $1.7 million, or a penny a share, in line with analysts' expectations, compared with $55.4 million, or 33 cents a share, in the year-ago period. Revenue for the quarter came in at $21.2 million, weaker than anticipated. Shares slipped 6.6% to $5.22.
The trust that controls
Hershey Foods
(HSY) - Get Free Report
has officially ended its search for a buyer. It reportedly received a $12.5 billion offer from
Wrigley
( WWL) last night but, at the last minute, decided against any sale of the candy maker. The stock plummeted 11.9% to $65.
In retail, sneaker giant
Nike
(NKE) - Get Free Report
said first-quarter profits rose thanks to its strong performance in overseas markets. The Beaverton, Ore.-based company said it earned $217.2 million, or 81 cents a share, before an accounting change in the quarter ended Aug. 31, up from $204.2 million, or 75 cents a share, a year ago. The results bested analysts' consensus estimate by a penny. Sales rose 15% in Europe and 24% in the Asia Pacific region, while managing only a 2% increase in the U.S. Its shares traded up 3.2% to $43.05.
In the pharmaceutical space,
Sonus
( SNUS) saw its shares rise 4% to $2.20 after announcing successful results of a phase II clinical trial.
U.S. Treasury issues were lower, with the 10-year down 5/32 at 104 13/32, yielding 3.84%.
Overseas markets were lower, with London's FTSE 100 finishing lower by nearly 4% at 3865.4 while Germany's Xetra DAX plunged 5% at 3126.4. Japan's Nikkei 225 fell 0.8% to 9472.1, while the Hang Seng closed down 2.4% to 9474.1.