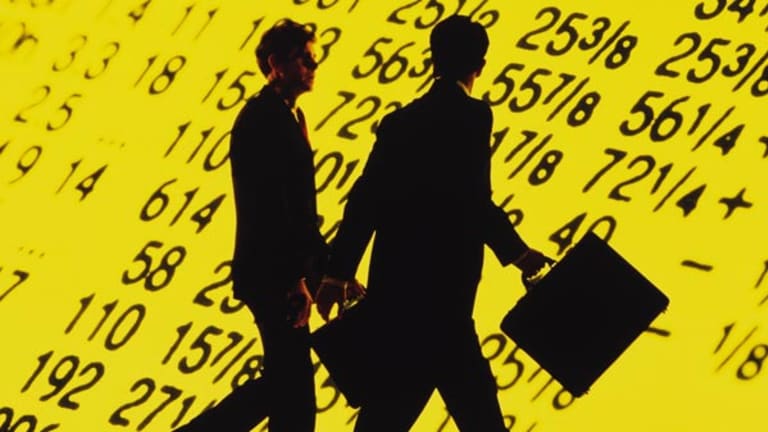 Stocks Finish Mildly in Red
The FOMC minutes provide a less-than-ringing endorsement of the economy. Frank Curzio reviews the action in The Real Story (above).
Updated from 4:20 p.m. EDT
The major indices in New York settled in negative territory after a mostly positive day as investors digested a harsher forecast for GDP and unemployment from the
Federal Reserve
.
The
Dow Jones Industrial Average
lost 52.81 points, or 0.6%, to 8422.04, while the
S&P 500
moved 4.66 points, or 0.5%, lower to 903.47. The
Nasdaq
was off by 6.70 points, or 0.4%, at 1727.84.
The major indices had been in positive territory most of the session, dipping below the flat line only briefly around midday, after crossing zero 74 times the prior day.
Financials grew weaker throughout the afternoon, with the KBW Bank ultimately losing 2.8%.
JPMorgan Chase
(JPM) - Get JPMorgan Chase & Co. Report
gave up 3.5%; and
Bank of New York Mellon
(WFC) - Get Wells Fargo & Company Report
and
Wells Fargo
(WFC) - Get Wells Fargo & Company Report
lost 3.8% and 3.9%, respectively.
On the Dow,
General Motors
(GM) - Get General Motors Company Report
was still 14.2% higher after reports that callers are serious about the automaker's
German unit
, and that the U.S. Treasury is likely to invest another $7.5 billion in its finance unit GMAC.
McDonald's
(MCD) - Get McDonald's Corporation Report
and
Procter & Gamble
(PG) - Get Procter & Gamble Company Report
rose 4.4% and 2%, respectively, after upgrades.
At 2 p.m. EDT, the
Federal Reserve
released
from the latest Federal Open Market Committee meeting, saying the pace of decline in "some components of final demand" appeared to
have slowed recently
. Consumer spending firmed, and housing activity -- although still depressed --"leveled off" in February and March. But businesses cut production and labor markets deteriorated further in recent months, according to the committee.
The FOMC is now projecting real GDP to shrink by 1.3% to 2% in 2009, vs. prior expectations for a decrease between 0.5% and 1.3%. The committee's projections for the unemployment rate during the fourth quarter were between 9.2% to 9.6%, "noticeably higher" than the latest reading available on unemployment at the time, a rate of 8.5%.
Some committee members were open to increasing the amounts of mortgage and Treasury securities purchase programs, beyond the previously committed $1.75 trillion, according to the minutes.
Earlier in the day, Treasury Secretary Tim Geithner, in his testimony before a Senate panel on oversight of the Troubled Asset Relief Program (TARP), said there have been "encouraging sings that the financial system is starting to heal" but also that we are only at the beginning of laying the foundation of recovery. "Crises this severe don't burn themselves out; to fix them requires the action of the government," he said.
Investors welcomed the news that
Bank of America
(BAC) - Get Bank of America Corp Report
$13.47 billion by issuing 1.25 billion shares at an average price of $10.77 a share. That, in addition to $7.3 billion the bank raised by selling part of its stake in China Construction Bank, brings Bank of America more than halfway to reaching its capital needs per the results of the so-called stress tests.
"The fact of the matter is the data coming out is getting increasingly harder to ignore," said Jeffrey Saut, chief investment strategist at Raymond James. "Financials are healing, there's a scramble to pay back TARP money, and they're able to hit the debt and equity windows and raise capital."
Regions Financial
(RF) - Get Regions Financial Corporation Report
added itself to those raising money to meet government requirements.
It plans
to raise $1.25 billion in capital to help meet a $2.5 billion government requirement.
Crude oil futures continued to rise, adding $1.94 to $62.04 a barrel. Helping to prop up oil prices, the Energy Information Administration said in its weekly report that crude stockpiles decreased by 2.1 million barrels last week, outpacing the drop of 1.5 million that analysts expected. Also, stockpiles of gasoline decreased by 4.3 million barrels, far more than the 1.7 million barrels analysts expected.
BP
(BP) - Get BP Plc Report
rose 1.4%, and
Conoco Phillips
(COP) - Get ConocoPhillips Report
was higher by 0.6%. But
Chevron
(CVX) - Get Chevron Corporation Report
and
Exxon Mobil
(XOM) - Get Exxon Mobil Corporation Report
lost 1% and 1.3%, respectively.
A slate of stocks were on the upswing after mixed earnings:
Target
(TGT) - Get Target Corporation Report
,
Analog Devices
(ADI) - Get Analog Devices, Inc. Report
and
Deere
(DE) - Get Deere & Company Report
were all trading higher after releasing quarterly figures. Those helped to balance out a 5.2% decline
and a 2.7% decline in
Toll Brothers
(TOL) - Get Toll Brothers, Inc. Report
, after their respective earnings.
In other tech news,
Microsoft
(MSFT) - Get Microsoft Corporation Report
is set to show off a new
at the "D: All Things Digital Conference" as it continues a rivalry with
Google
(GOOG) - Get Alphabet Inc. Class C Report
,
The Wall Street Journal
reported. The conference takes place from May 26 to May 28 in Carlsbad, Calif.
Meanwhile, an
initial public offering
for
SolarWinds
(SWI) - Get SolarWinds Corp. Report
, a provider of network management software, priced at $12.50 a share, above its expected range, netting the company more than $151 million.
Longer-dated Treasuries were rising. The 10-year was higher by 16/32 to yield 3.19%, while the 30-year was up 1-6/32, yielding 4.14%. The dollar was recently weaker vs. the yen, pound and euro.
Gold rose $10.70 to $937.40 an ounce.
Stocks overseas were narrowly mixed. In Europe, London's FTSE 100 was down 0.3%, and Frankfurt's Dax rose 1.6%. In Asia, Japan's Nikkei added 0.6%, while Hong Kong's Hang Seng lost 0.4%.