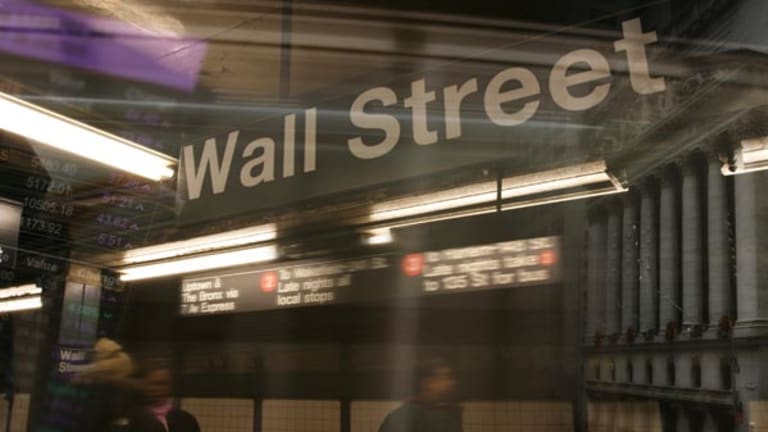 Stocks Finish Lower for the Week as Fed Talk Spooks Investors
Wall Street ends its four-day losing streak on Friday, but the minor gains are nowhere near enough to erase big losses suffered over the week.
NEW YORK (TheStreet) -- Wall Street ended its four-day losing streak on Friday, but the minor gains were nowhere near enough to erase big losses suffered over the week.
Equities have been under pressure this week since an unexpected slide in durable goods orders on Wednesday provided investors with another sign the U.S. economy could be on weaker footing. 
On top of that, Federal Reserve rate talk from members including St. Louis Fed President James Bullard led some to believe the central bank might ignore signs of a potential U.S. slowdown and move off of a zero interest-rate policy too soon. 
That was the backdrop for a volatile week. Over the past five days, the S&P 500 has lost 2.2% and the Dow Jones Industrial Average fell 2.3%. The Nasdaq tanked 2.7%, its worst week since October. 
Downward momentum was on pause on Friday, though, with stock markets finishing the week with slight gains. 
"Market momentum remains extremely lethargic ahead of the weekend as need-only business continues to drive the price action and investors remain cautious about setting longer-term strategic positions," said TD Securities U.S. strategist Gennadiy Goldberg.
Boosting momentum, Fed Chair Janet Yellen said a "gradual" return to the normal funds rate was likely and underlined that the central bank would move cautiously. Speaking at a conference in San Francisco, Yellen said she expects conditions to "warrant an increase... sometime this year."
The highly-volatile biotech and chipmaker sectors were making a rebound on Friday after a selloff dragged the Nasdaq into the red midweek. Alexion Pharmaceuticals (ALXN) - Get Alexion Pharmaceuticals, Inc. Report, Regeneron (REGN) - Get Regeneron Pharmaceuticals, Inc. Report, Vertex (VRTX) - Get Vertex Pharmaceuticals Incorporated Report, BioMarin (BMRN) - Get BioMarin Pharmaceutical Inc. Report and Biogen (BIIB) - Get Biogen Inc. Report each climbed, while the iShares Nasdaq Biotechnology Index (IBB) - Get iShares Biotechnology ETF Report added 2%.
In the semiconductor sector, Texas Instruments (TXN) - Get Texas Instruments Incorporated Report, Avago Technologies (AVGO) - Get Broadcom Inc. Report, NXP Semiconductors (NXPI) - Get NXP Semiconductors NV Report, and Analog Devices (ADI) - Get Analog Devices, Inc. Report gained, while the iShares PHLX Semiconductor ETF (SOXX) - Get iShares Semiconductor ETF Report added 2.7%. 
Crude oil prices closed lower on Friday after rebounding 7% over the past five days. Commodity prices have been rallying after Saudi Arabia attacked Yemeni militias, potentially disrupting oil production and transportation in the region.
West Texas Intermediate crude oil fell 5.9% to $48.39 a barrel on Friday after Goldman Sachs warned that conflict in Yemen and a potential nuclear deal with Iran were unlikely to have a near-term impact on supply.
"We expect both events to have negligible near-term supply impacts, with the build in crude inventories set to continue in 2Q15," analysts said in a note. "Longer term, a deal with Iran could lead to greater OPEC supplies although the timing of the sanction relief remains uncertain."
The third and final GDP reading for the fourth quarter remained at 2.2%, consistent with initial readings, though below an expected increase to 2.4%. The Commerce Department released the data on Friday.
The final reading of consumer sentiment in March rested at 93, according to the University of Michigan's survey, above an initial reading of 91.2. However, the measure still sits at a four-month low, down from February's 95.4 reading.
To the week ahead, February's personal income and spending figures will be out Monday morning, the ISM Manufacturing Index will be released Wednesday, and February factory orders and the trade balance will be released Thursday. 
The March non-farm payrolls report will be released Friday, though markets will be closed for the Good Friday public holiday. Economists expect U.S. payrolls to have added 240,000 jobs in March, the 13th month above the 200,000 level. The unemployment rate is expected to remain stable at 5.5%. 
The earnings calendar won't kick off in earnest until the second week of April when Alcoa (AA) - Get Alcoa Corporation Report reports, but there are a few to look out for next week. On Wednesday morning, agricultural company Monsanto (MON) and lighting goods maker Acuity Brands (AYI) - Get Acuity Brands, Inc. Report will report earnings. On Thursday, CarMax (KMX) - Get CarMax, Inc. Report will report before the bell and Micron Technology will report after.