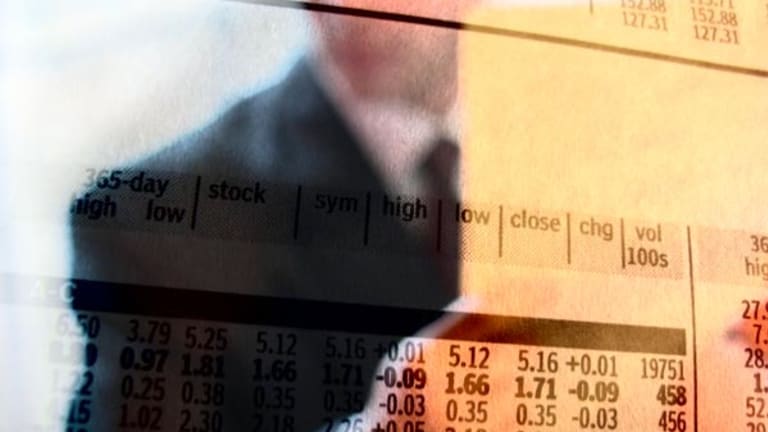 Stocks Finish Higher on Fed, GE
The Nasdaq sets a 2004 high while the S&P 500 hits 1200 after the latest quarter-point hike.
Updated from 4:05 p.m. EST
Stocks closed solidly higher Tuesday with the
Nasdaq
hitting a new 2004 high, as investors welcomed the
Federal Reserve's
decision to raise interest rates for the fifth time since June.
Positive comments from
General Electric
(GE) - Get Report
also lent support.
The
Dow Jones Industrial Average
added 38.13 points, or 0.4%, to 10,676.45, moving closer to its 2004 high of 10,737 set on Feb. 11. The
S&P 500
gained 4.7 points, or 0.4%, to 1203.38, a level not seen since August 2001. The Nasdaq rose 11.34 points to 2159.84, surpassing its previous 2004 peak of 2153.83 recorded on Jan. 26.
In other markets, the 10-year Treasury note erased a quarter-point loss and was up 4/32 in price, yielding 4.13%. The dollar firmed and held gains against the yen and euro.
Volume on the
NYSE
was 1.54 billion shares, with advancers beating decliners by a ratio of 5-to-3. Volume on the Nasdaq was 2.23 billion shares, with advancers beating decliners 6-to-4.
The Fed's policy panel raised the federal funds rate by a quarter-point to 2.25% without any major changes to the accompanying statement.
"The committee believes that, even after this action, the stance of monetary policy remains accommodative and, coupled with robust underlying growth in productivity, is providing ongoing support to economic activity," the Federal Open Market Committee said in its statement.
"The committee perceives the upside and downside risks to the attainment of both sustainable growth and price stability for the next few quarters to be roughly equal," the FOMC said. "With underlying inflation expected to be relatively low, the committee believes that policy accommodation can be removed at a pace that is likely to be measured."
Analysts said the upbeat statement, which was nearly identical to the one accompanying the Fed's Nov. 10 rate hike, could help stocks finish 2004 strong.
"The moderate Fed provides the continuing backdrop for the market to rally," said Barry Hyman, equity market strategist for Ehrenkrantz King Nussbaum. "There were no surprises, nothing to upset the equity players. This market has been strong for the last quarter and I think it remains strong.
"We should still see that trend go into 2005," Hyman said. "You have a good background for equity prices remain on a positive note, which is why you see this rally now. It takes the market up to the next level."
"The expectation to today's tightening was unanimous," added Arthur Hogan, chief market analyst with Jefferies. "The only thing that has changed is our interpretation of the word 'measured.' It has turned into 25 basis points at every meeting."
Crude prices closed higher, gaining 81 cents to $41.82 a barrel, supported by a cold snap in the Northeast and OPEC's pledge to limit supply in coming months.
In economic news, the Commerce Department said the U.S. October trade gap widened 8.9% to a record $55.5 billion. Economists had expected a deficit of $52.8 billion. Imports rose 3.4% to a record $153.5 billion, the biggest increase since November 2002. Exports rose 0.6% to a record $98.1 billion.
"The main concern was over what the dollar is going to do and how the trade deficit would offset that," said Brian Williamson, an equity trader with Boston Company Asset Management. "The dollar weakened for a bit and then firmed. It might be telling us that the Fed's .... tightening will firm up the dollar, even with the deficit issues."
General Electric reiterated forecasts for fourth-quarter earnings of 48 cents to 51 cents a share, up 7% to 13% from a year ago. The company expects revenue to increase by 15% to between $5.2 billion to $5.5 billion during the period. GE also forecast 2005 EPS of $1.75 to $1.83. Shares lost 10 cents, or 0.3%, to $37.38.
Verizon
(VZ) - Get Report
reportedly is considering a bid for
Sprint
( FON), a move that could create the nation's biggest wireless carrier. Verizon reportedly has the permission of Verizon Wireless co-owner
Vodafone
(VOD) - Get Report
to pursue Sprint, an action that could end Sprint's efforts to acquire
Nextel
( NXTL).
In software, security giant
Symantec
(SYMC) - Get Report
reportedly is in advanced talks to acquire backup-application provider
Veritas
(VRTS) - Get Report
for more than $13 billion. Negotiations have been going on for a month and a transaction could come this week,
The New York Times
reported. Veritas shares gained $2.19, or 8.7%, to $27.38. Symantec dropped $5.41, or 16.5%, to $27.45.
A Symantec-Veritas linkup would eclipse Monday's headline deal,
Oracle's
(ORCL) - Get Report
acquisition of
PeopleSoft
(PSFT)
.
The other big takeover awaited on Wall Street is
Johnson & Johnson's
(JNJ) - Get Report
$24 billion buyout of
Guidant
( GDT).
Intel
(INTC) - Get Report
gained as RBC Capital Markets raised its first-quarter earnings estimate for the company, citing signs of stronger demand and declining inventories. Intel rose 61 cents, or 2.7%, to $23.24.
In earnings news,
Pier 1
(PIR) - Get Report
said third-quarter earnings fell 39% from a year ago to $19.5 million, or 22 cents a share. The bottom line matched estimates that were recently talked down by the company. Pier 1 put fourth-quarter earnings at 43 cents to 52 cents a share, down from its old estimate of 52 cents to 62 cents a share. Pier 1 gained $1.24, or 6.9%, to $19.10.
Adtran
(ADTN) - Get Report
shares tumbled after the company lowered its forecast for the fourth quarter, saying it expected EPS of 16 cents to 18 cents and revenue of $100 million to $104 million. The Thomson First Call consensus estimates are 25 cents and $119 million, respectively. Adtran was downgraded by Janney Montgomery Scott and WR Hambrecht on the news. Shares lost $3.58, or 16.4%, to $18.23.
Electronic Arts
( ERTS) signed a five-year licensing deal with the NFL, which gives the video-game creator exclusive rights to use the football league's stadiums, teams and players' likenesses. EA gained $3.04, or 5.3%, to $60.61.
Boeing
(BA) - Get Report
raised its quarterly dividend by 25% to 25 cents -- the second increase this year. Boeing dipped 3 cents, or 0.1%, to $52.64.
Shares of
Alcoa
(AA) - Get Report
fell after the company was downgraded for the third time this month. J.P. Morgan cut Alcoa's rating to inline from outperform after echoing concerns of higher costs the company is facing in 2005. Shares lost 56 cents, or 1.7%, to $31.75.
Blockbuster
( BBI) announced plans to stop charging late fees on rentals as of Jan 1. Instead, the company will offer a 7-day grace period for customers, after which the company will automatically sell the movie or video game to the renter. The company says it will make up the lost revenue from late fees with more in-store traffic, reduced marketing costs, and more focus on operating expenses. Blockbuster gained 40 cents, or 4.6%, to $9.20.
Shopping.com
(SHOP) - Get Report
said its U.K. division signed a new advertising agreement with
Google
(GOOG) - Get Report
. Shopping.com finished up 19 cents, or 0.7%, to $26.68.
Meanwhile, Google has undertaken the task of scanning hard-to-find books and adding them to its Internet search engine to create an online reading room for five major libraries. Google will index material from the New York Public Library and four universities: Harvard, Stanford, Michigan and Oxford. Google rose $8.24, or 4.8%, to $178.69.
Overseas markets finished mixed, with London's FTSE 100 recently down 0.3% to 4723 and Germany's Xetra DAX up 0.3% to 4229. In Asia, Japan's Nikkei rose 1.2% overnight to 10,916, while Hong Kong's Hang Seng gained 1.1% to 14,044.