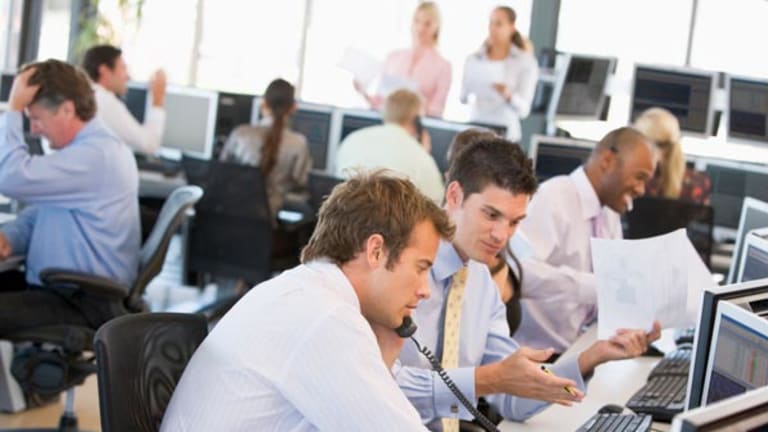 Stocks Finish Flat
The market returns to its sideways nature in a low-volume session.
Updated from 4:07 p.m. EDT
Taking a straighter route than the previous session, stocks again finished essentially flat in a light but volatile session Thursday, as tentative investors turned to the bond market amid concerns about oil prices and the threat of overseas violence.
The
Dow Jones Industrial Average
closed down a fraction at 9937.64; the
Nasdaq Composite
ended down 1.58 points, or 0.08%, to 1896.59; and the
S&P 500
closed up a half-point, or 0.05%, to 1089.18. The 10-year Treasury note was trading up 16/32 in price to yield 4.71%, and the dollar lower against the yen and stronger against the euro.
Recently, crude oil prices retreated, after nearing $42 a barrel again in early trading, following strong gains Wednesday. The benchmark U.S. crude was trading down 58 cents to $40.92.
Volume on the
New York Stock Exchange
was just over 1.2 billion shares, and advancers outnumbered decliners by about 3 to 2. On the Nasdaq, over 1.5 billion shares changed hands, and decliners held about a 5-to-4 majority.
"Today is a really dead day in the stock market," said Tom Schrader, a trader at Legg Mason. "There's really nothing going on.
"The market has traded down, really since mid-March, and for the last week we've just been going sideways," he added. "With earnings season out of the way and a rise in interest rates factored in, things have really settled down and we're just waiting. I think the path of least resistance in the next few weeks will be the upside, because we're oversold here and there's no where to go but up."
Ken Tower, chief market strategist at CyberTrader, said that investors are locked in a state of hypersensitivity toward inflation fears, and Wednesday's late-session declines opened the door to a retesting of recent lows.
"There's been so much bad news lately, that people are very sensitive to it," said Tower. "People are very emotional right now. They had a visceral reaction to the prisoner abuse pictures, and that's really sensitized everybody to a lot of things that are going on in the world right now.
"Yesterday, the markets tried to break through last week's highs and failed," he added. "The extent of the decline in the afternoon suggests that investors are not ready yet to commit to the idea that the market can have any sort of a turnaround."
On the economic front,
Federal Reserve
Governor Ben Bernanke said the central bank should be able to tighten interest rates at a gradual pace, but the speed of expected rate hikes will be dictated by economic events.
"Economic developments over the next year are reasonably likely to be consistent with a gradual adjustment of policy," he said in remarks prepared for a luncheon sponsored by the San Francisco Federal Reserve Bank and the University of Washington.
Strong employments reports for March and April, coupled with signs of inflationary pressure in the economy, have led to heightened expectations that the Fed will raise its fed funds rate, currently set at a 45-year low of 1%, sometime in the coming months. Fed Chairman Alan Greenspan reinforced this view when he warned after a May 4 Fed meeting that "policy accommodation can be removed at a pace that is likely to be measured."
Earlier Thursday, the Labor Department said initial jobless claims rose unexpectedly to 345,000 in the week ended May 14, compared with the previous week's upwardly revised tally of 333,000. Economists were expecting claims to fall to 326,000.
Also, the Conference Board said its index of leading economic indicators gained only 0.1% in April after economists predicted a gain of 0.2%. March's jump of 0.8% was revised down to 0.3%. In addition, the Federal Reserve Bank of Philadelphia reported that its regional manufacturing index came in lower than expectations for May at 23.8, down from 32.5 recorded for the previous month. Economists expected a smaller drop, to 31.
In corporate news, retail came back into focus after the closing bell with a better-than-expected earnings report out from
Gap Stores
. The clothing chain said its first-quarter earnings jumped 54% to a record $312 million, or 32 cents a share, up from $202 million in the same quarter last year. Its shares were trading up 40 cents, or 1.8%, to $22.91 in after-hours trading, after adding 0.5% during the session.
Shares of
McDonald's
(MCD) - Get McDonald's Corporation Report
lost 44 cents, or 1.7%, to $25.31 following reports that a bomb exploded near one of its restaurants in Istanbul. No one was reportedly hurt in the blast. Also, the fast-food empire told investors that its dividend would rise this year, but not as much as it did in 2003.
Tellabs
(TLAB)
said Thursday that it will acquire
Advanced Fibre Communications
(AFCI)
in a $1.9 billion cash and stock deal in the telecommunications equipment sector. Shares in the Petaluma, Calif.-based AFCI rose $2.13, or 12.7%, to $18.96, while Tellabs shares dropped $1.24 cents, or 13.5%, to $7.95.
Shares of
Ciena
(CIEN) - Get Ciena Corporation Report
closed down 53 cents, or 13.7%, to $3.35 after the company reported another second-quarter loss, falling short of Wall Street's expectations. The telecom equipment maker lost $76.2 million, or 16 cents a share, roughly flat with last year's loss of $75.5 million, or 17 cents a share. Sales inched up 1.6% to $74.7 million. On a pro-forma basis, Ciena lost $44 million, or 9 cents a share, which is a penny short of the consensus estimate.
Overseas markets ended lower. London's FTSE 100 was off 1% to 4429 and Germany's Xetra DAX was off 0.8% at 3839. In Asia, Tokyo's Nikkei fell 1% to 10,862 after two days of big gains, while the Hang Seng in Hong Kong closed 1.1% lower at 11,339.
No major economic data or earnings results are due out Friday.