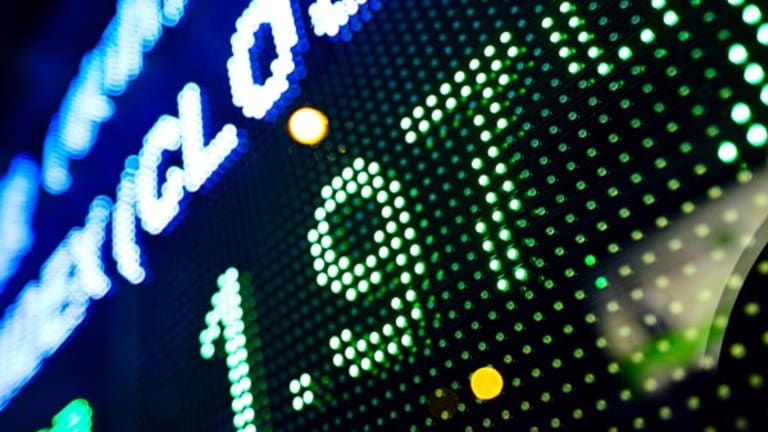 Stocks Finish Down Again
The Dow Jones Industrial Average this week has put in its worst two days since March 30. Alix Steel recaps the day in The Real Story (above).
The Dow Jones Industrial Average this week has put in its worst two days since March 30. Alix Steel recaps the day in The Real Story (above).
Updated from 4:49 p.m. EDT
The major indices in New York extended losses by more than 1% Tuesday as better than expected housing and inflation data were offset by unimpressive gauges on output and more of the same economic concerns.
The
Dow Jones Industrial Average
finished 107.46 points lower, or 1.3%, at 8504.67, while the
S&P 500
was off by 11.75 points, or 1.3%, at 911.97. The Nasdaq fell 20.20 points, or 1.1%, to 1796.18.
The Dow is now off 294.59 points or 3.4% for the week -- the biggest two-day point drop since March 30 -- although the index is still positive for the month of June, by 0.05%.
Bank of America
(BAC) - Get Report
was the worst performer on the Dow, falling 4.3%, while
Alcoa
(AA) - Get Report
,
Walt Disney
(DIS) - Get Report
,
Home Depot
(HD) - Get Report
, and
General Electric
(GE) - Get Report
lost more than 2.5% each.
The dollar weakened against the pound, euro and yen early, propping up crude futures before the U.S. currency rebounded. Oil ultimately fell 15 cents to settle at $70.47 a barrel. Gold tacked on $4.70 to $932.20 an ounce. This came after the major indices had already shed more than 2% Monday as oil sank and commodities pulled back in the face of a strengthening dollar.
"We're caught in the middle," says Jeff Kleintop, chief market strategist for LPL Financial. "We've priced out the Great Depression scenario, but now some of the good news has become bad news at the margin because it's lifted mortgage prices and gasoline rates."
The Department of Commerce reported Tuesday that housing starts and permits increased more than expected in May, offering signs of improvement in the sector. There were 532,000 new housing starts, up from 454,000 in April and well above the consensus of 485,000, while permits increased to 518,000 from 494,000, also above an anticipated 508,000.
But the National Association of Home Builders/Wells Fargo Housing Market Index (HMI) declined a point to 15 in June as homebuilders faced the recent upturn in interest rates and the lack of credit for housing production loans, according to a report earlier in the week.
"So clearly homebuilders are reacting to the rise in interest rates, and the market is sort of looking through the
starts and permits data, knowing that those will probably come back down," says LPL Financial's Kleintop.
Homebuilder stocks lost steam after an early advance, although
Centex
(CTX)
and
Lennar
(LEN) - Get Report
still gained 1.7% and 1.3%, respectively.
"It's going to be bumpy," says Brian Bethune, chief U.S. financial economist at IHS Global Insight. "A smooth ascent to the surface only happens with very highly trained and experienced scubadivers -- that's not the way the economy will behave. This is a deep cellar that we got ourselves into, so there will be a jagged pattern to get out of this."
Meanwhile, the producer price index, which measures prices of goods at the wholesale level, increased far less than expected. It ticked up 0.2% in May, less than an 0.3% rise from the month prior, and it undercut expectations for an 0.6% increase. Excluding food and energy, it fell 0.1%, while economists had expected it to be unchanged from an 0.1% increase a month prior.
Other data, however, did little to excite investors. Capacity utilization fell from 69% to 68.3% in May, roughly in line with expectations, and industrial production fell 1.1% after a 0.7% decrease the month prior.
Perhaps not helping things,
Citigroup
(C) - Get Report
CEO Vikram Pandit said borrowers likely need to get used to tighter, more expensive credit, as financial institutions recover from the elements that caused the economic downturn. "U.S. consumption and credit creation were the two main drivers of growth," Pandit said. "The world needs new drivers of growth -- and a new business model."
The consumer price index, the most widely cited gauge of inflation, will be released on Wednesday, as will weekly crude oil inventories.
Longer-dated Treasuries were rising in price, falling in yield. The 10-year was up 16/32, yielding 3.65%, while the 30-year added 1-13/32, to yield 4.47%.
In corporate news,
Matrixx
(MTXX)
plummeted 70% to $5.78 as the FDA warned that three of its Zicam products -- Zicam Cold Remedy Nasal Gel, Zicam Cold Remedy Swabs, and Zicam Cold Remedy Swabs, children's size -- may cause loss of sense of smell.
Meanwhile, biotechnology company
Genzyme
(GENZ)
fell 5.2% to $52.75
that it is being forced to temporarily shut down its Boston manufacturing facility due to a viral infection in one of the bioreactors where drugs are made.
Another biotech,
Amgen
(AMGN) - Get Report
, on the other hand, added more than 3.6% to $51.21 after Bernstein upgraded it to outperform from market perform and raised its price target to $65 from $57.
Elsewhere,
Best Buy
(BBY) - Get Report
shares fell 7.3% to $35.84 after it beat first-quarter earnings expectations despite a 15% drop in profit. But the electronics retailer also reported a 6% decline in same-store sales.
Stocks overseas were mixed. In Europe, London's FTSE 100 and Frankfurt's Dax were up 0.06% and 0.02%, respectively. Japan's Nikkei lost 2.9%, while Hong Kong's Hang Seng gave up 1.8%.