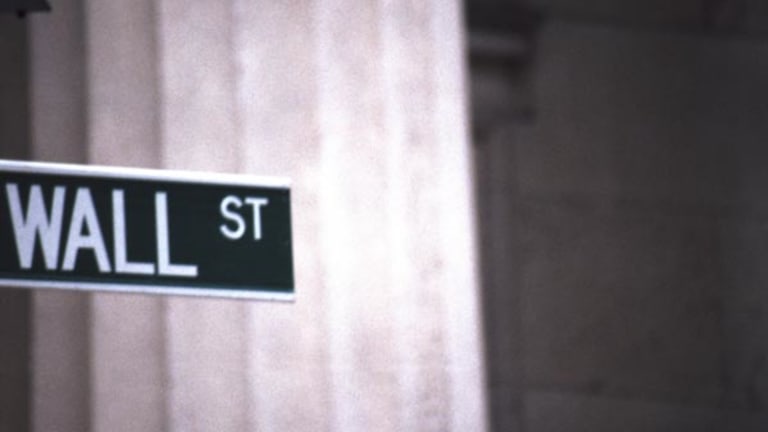 Stocks Find Late Groove
After languishing, the indices spike heading into the close.
Updated from 4:09 p.m. EST
Buyers swooped into stocks at session's end Wednesday, pushing up the major averages 24 hours after
Intel
(INTC)
reported its stellar quarter.
After hovering around unchanged for most of the day, the
Dow Jones Industrial Average
closed up 61.56 points, or 0.58%, to 10,617.78. The
rose 4.71 points, or 0.4%, to 1187.70 and the
Nasdaq Composite
, which touched a seven-week low earlier, gained 12.91 points, or 0.6%, to 2092.53. The 10-year Treasury note was unchanged in price to yield 4.23%, while the dollar eased against the yen and euro.
Volume on the
NYSE
was 1.56 billion shares, with advancers outpacing decliners by a ratio of ten to seven. Volume on the Nasdaq was 2.25 billion shares, with advancers outpacing decliners narrowly by a ratio of eight to seven..
"It's hard to really judge the fluctuation, as all year it's been a last-hour market," said Larry Wachtel, senior market analyst with Wachovia Securities.
The Dow was paced by a 2.7% gain in
Intel
(INTC)
, which reported blowout earnings Thursday, and similar percentage jumps in
Boeing
(BA)
and
Honeywell
(HON)
. The Nasdaq was helped by
Applied Materials
(AMAT)
and
KLA-Tencor
(KLAC)
, two chip equipment companies poised to benefit from Intel's aggressive capital plans.
Intel rose after posting fourth-quarter earnings of 33 cents a share on revenue of $9.6 billion, both of which eclipsed estimates. The chip giant put first-quarter sales at $8.8 billion to $9.4 billion, establishing a midpoint that is well above the $8.94 billion Wall Street consensus estimate. Shares rose 62 cents to $23.16. The rise in Intel helped the Philadelphia Stock Exchange Semiconductor Index rise 1.4% after falling 2.2% Tuesday
"People are just continuing to try and feel out the market," said Robert Pavlik, a portfolio manager with Oaktree Asset Management. "It's hard to explain why the market turned three times this afternoon. The final one at the end was from the positive news from Intel, which helps people sense that the earnings season won't be as bleak as expected."
According to the Commerce Department, the U.S. trade gap totaled $60.3 billion in November, an increase from an upwardly revised $56 billion in October. Lower overseas sales and the importation of expensive foreign oil helped swell the gap well past the roughly $54 billion deficit economists had predicted.
"The trade balance is causing concerns out there that the
Fed
may have to be more aggressive," said Peter Cardillo, chief market analyst with S.W. Bach & Co. "It's rekindling fears of higher inflation and the Fed's response."
Crude for February delivery climbed 69 cents to $46.37 a barrel, closing over $46 since Dec. 17. Government energy data for the most recent week came in largely as expected: Crude supplies were down by 3 million barrels, while distillate supplies, including heating oil, rose by 1.9 million barrels.
Another chip titan had less encouraging news.
Motorola
(MOT)
said its popular president and chief operating officer, Mike Zafirovski, resigned to pursue other interests. Zafirovski will remain on the job until Jan. 31 and won't stand for board re-election. Motorola fell 17 cents, or 1%, to $16.47.
Investors will get more clues on tech spending after the bell Wednesday when
Apple
(AAPL)
reports quarterly results. Analysts are looking for earnings of 48 cents a share on sales of $3.15 billion.
The stock, which more than tripled in 2004, sold off early Tuesday despite generally fawning media coverage of several new product releases. Apple gained late in the trading session, rising 90 cents, or 1.4%, to $65.46.
HCA
(HCA)
raised profit guidance after tweaking the way it estimates doubtful accounts. The hospital company expects to earn 68 cents to 72 cents a share in the three months ended Dec. 31, up from its previous estimate of 52 cents to 57 cents a share. The stock closed up $4.02, or 10.1%, to $43.70.
Bristol-Myers
(BMY)
said Wednesday it planned to sell its U.S. and Canadian over-the-counter consumer medicines business. The divestiture could bring the company $700 million to $1 billion. Bristol-Myers rose 6 cents, or 0.2%, to $24.66.
Sonus Networks
undefined
shares climbed sharply after the company announced a partnership with
Samsung
late Tuesday. Samsung will sell Sonus' systems to support voice calls over the internet for wireless companies. Sonus climbed 44 cents, or 7.9%, to $5.97.
Two heavily traded tech stocks rose following analyst upgrades.
QLogic
(QLGC)
gained 2% after Smith Barney raised it to buy from hold on the strength of yesterday's guidance for higher earnings. And
Ciena
(CIEN)
rose 6.7% after Goldman Sachs upped its investment rating to in line from underperform.
Genzyme
(GENZ)
rose after saying fourth-quarter revenue was $591 million, about $9 million better than estimates. The biotech company put pro forma profit between $1.75 and $1.80 a share. Analysts had been expecting earnings of $1.77 a share. Shares rose $2.85, or 4.9%, to $59.91.
Handbag retailer
Coach
(COH)
said second-quarter earnings for the period ended Jan. 1 will top forecasts, citing strong domestic sales. The company expects to earn 67 cents a share in its second quarter, a penny better than Wall Street estimates. The company's sales rose 29% from a year ago in the quarter. Coach lost 79 cents, or 1.4%, to $54.90.
Hasbro
(HAS)
said Wednesday it expects flat earnings for 2004 at 94 cents a share. The toymaker also forecast a dip in sales to $3 billion from $3.1 billion a year ago.The Thomson First Call consensus was at $1.21 a share on sales of $3.07 billion. Shares gained 39 cents, or 2.1%, to $19.06.
Overseas markets closed mostly lower, with London's FTSE 100 down 0.7% to 4783 and Germany's Xetra DAX losing 1.1% to 4208. In Asia, Japan's Nikkei fell 0.8% overnight to 11,454, while Hong Kong's Hang Seng gained 0.4% to 13,565.