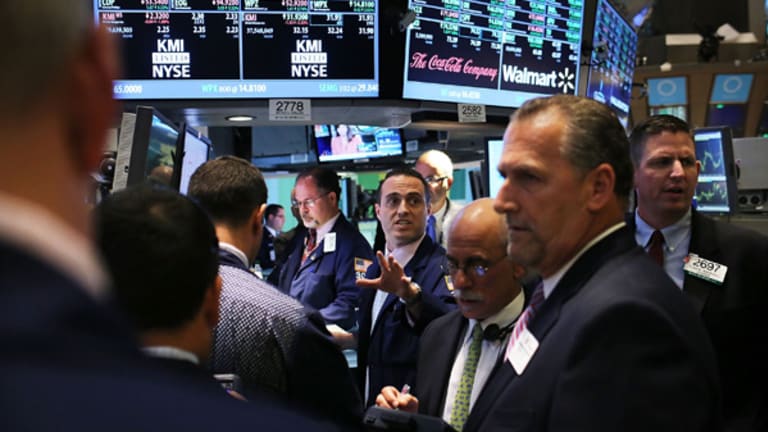 Stocks Find Fresh Fuel
The Dow gains 1.5% and the Nasdaq climbs 1.1% as the GDP shows strength.
Updated from 4:02 p.m. EDT
A week of violent swings closed with a bang Friday as stocks soared on robust third-quarter economic growth that overwhelmed news of an indictment in the Bush administration.
The
Dow Jones Industrial Average
shot up 172.82 points, or 1.69%, to 10,402.77, marking the fifth time in seven sessions the blue-chip gauge has swung more than 100 points. The Dow lost 115 points on Thursday and gained 170 points on Monday. It was the largest single-session point gain for the Dow since April 21.
The
, meanwhile, added 19.51 points, or 1.65%, to 1198.41. The
Nasdaq Composite
, which shed 1.7% on Thursday, rose 26.07 points, or 1.26%, to 2089.88.
Hewlett-Packard
(HPQ) - Get Free Report
was the Dow's best gainer, up 4.3%, while
IBM
(IBM) - Get Free Report
was the only laggard, down 1.1%.
For the week, the Dow gained 1.83%, the S&P 500 added 1.59%, and the Nasdaq rose 0.37%.
Away from stocks, drama unfolded in the nation's capital, where special prosecutor Patrick Fitzgerald brought a five-count indictment against Lewis Libby, Vice President Dick Cheney's chief of staff. The charges involve perjury for making false statements to a grand jury regarding possible intelligence leaks by members of the Bush administration. Libby resigned after the indictment.
"The volatility has been phenomenal for the last week, and today is no different," said Barry Hyman, equity market strategist with Ehrenkrantz King Nussbaum. "We had a lot of great drivers, with economic data and the indictment of just one person. The market was worried about Cheney and Karl Rove."
To some observers, big moves in the last week of October smack of selling by institutional managers hoping to pare their clients' tax obligation.
"It's year-end for most mutual funds so they sell off their losses," said Brian Williamson, an equity trader with Boston Company Asset Management. "You can't prove it, but you can postulate it. There's probably a good deal of truth to it. The market bouncing up and down is a result of all that."
In other markets, the 10-year Treasury bond was down 4/32 in price to yield 4.57%, while the dollar was lower against the yen and euro.
"If there's any hope at all for the bulls, it lies with the bond market," said Ken Tower, chief market strategist with CyberTrader. "Two days ago interest rates gapped higher. If something happens to change that direction, something that would cause rates to gap lower, it would ... offer some hope for the stock market."
Before the opening bell, the Commerce Department said gross domestic product rose 3.8% in the third quarter, two-tenths of a percentage point higher than expected. The report also contained evidence of creeping inflation, however, as the chain-weighted price index rose 3.1% against expectations for 2.8%.
"The data showed that the economy was still good post-Katrina," said Peter Cardillo, chief market analyst with S.W. Bach & Co. "Inflationary pressures were existing, but there doesn't seem to be a cause for any alarm. The interesting part is the employment cost index, up 3.1% from a year ago. This is good news, and this might give us a bit of a bounce."
Overall, the report's price index for personal consumption was up 3.7% in the quarter, up from 3.3% in the second quarter. Excluding food and energy, the index rose 1.3% in the quarter, slightly less than feared.
The University of Michigan said its revised reading on consumer sentiment fell to 74.2 in October from the preliminary reading of 75.4. Economists expected a final reading of 76.0 in October.
About 1.74 billion shares traded on the
, with advancers beating decliners by a 3-to-1 margin. Trading volume on the Nasdaq was 1.84 billion shares, with advancers outpacing decliners 2 to 1.
Energy prices inched higher after crude posted a 43-cent rise on Thursday. Crude for December delivery finished up 13 cents to $61.22, while gasoline futures were up 5 cents at $1.64 a gallon and natural gas shed 63 cents to $13.05 per million British thermal units.
Microsoft
(MSFT) - Get Free Report
, the world's largest software maker, earned $3.14 billion, or 29 cents a share, in the first quarter, compared with $2.53 billion, or 23 cents a share, in the same period a year ago. Adjusted for items, Microsoft earned 31 cents a share, beating the Thomson First Call consensus by a penny.
The shares fell more than 1% after hours Thursday on guidance calling for second-quarter earnings of 32 cents or 33 cents a share and revenue of $11.9 billion to $12 billion. Analysts were forecasting earnings of 35 cents a share on revenue of $12.29 billion. The shares reversed early losses and finished up 68 cents, or 2.7%, to $25.53.
A stock that remained a casualty was
KLA-Tencor
(KLAC) - Get Free Report
, which posted better-than-expected first-quarter earnings but guided second-quarter revenue lower. The chip-equipment maker expects to post revenue of $455 million to $470 million in the current period. Wall Street was forecasting $480 million. KLA-Tencor was lower by $1.72, or 3.6%, to close at $45.52.
Chevron
(CVX) - Get Free Report
reported third-quarter net income of $3.6 billion, or $1.64 a share, up from $3.2 billion, or $1.51 a share, a year earlier. Operating revenue rose to $53.38 billion from $39.61 billion.
Chevron said that the impact of Hurricanes Katrina and Rita offset the positive earnings contribution of Unocal. Analysts expected EPS of $1.91 on revenue of $55.48. Chevron added 88 cents, or 1.6%, to $57.38.
Other oil stocks finished higher, as well.
ConocoPhillips
(COP) - Get Free Report
gained 3.9%,
Valero
(VLO) - Get Free Report
added 1.7%,
Sunoco
(SUN) - Get Free Report
rose 2.5% and
Exxon Mobil
(XOM) - Get Free Report
was higher by 1.3%.
Gateway
( GTW) bucked the downtrend by reporting a third-quarter profit that reversed a year-ago loss on better-than-expected revenue. The company said computer unit shipments rose 25% year over year. Gateway was higher by 14 cents, or 5.5%, to close at $2.69.
Gateway's rival
Dell
(DELL) - Get Free Report
finished down 0.3% to $31.06.
Corinthian Colleges
(COCO) - Get Free Report
posted fiscal first-quarter earnings of $7.4 million, or 8 cents a share, falling from $14.6 million, or 16 cents a share, a year ago. The company cited increased spending on hiring and other initiatives for the 50% drop in earnings. Revenue increased to $236.3 million from $224.6 million last year. Earnings were in line with the Thomson First Call average consensus. The stock lost 53 cents, or 4%, to $12.72.
Maxim Integrated
(MXIM) - Get Free Report
, which helped to drag the Philadelphia Semiconductor sector index to a 2.7% decline on Thursday, posted first-quarter earnings of $105.4 million, or 31 cents a share, down from $144.5 million, or 45 cents a share, a year ago. Excluding items, the company earned $133.2 million, or 39 cents a share, matching analysts' average estimate, according to Thomson First Call. Maxim reported revenue of $424.4 million, beating Wall Street's forecast of $418.1 million. The stock, which fell 4.2% on Thursday, was down another 11.2% on Friday to close at $34.60.
Meanwhile, the Philadelphia Semiconductor Sector Index lost another 0.7% Friday.
On Monday, earnings reports are expected from Valero,
Occidental Petroleum
(OXY) - Get Free Report
,
Kellogg
(K) - Get Free Report
,
OSI Pharmaceuticals
( OSIP) and
Humana
(HUM) - Get Free Report
.
Bristol-Myers
(BMY) - Get Free Report
sold off after saying it might have to cancel efforts to market its experimental diabetes drug Pargluva. The company said additional tests required by the Food and Drug Administration could take up to five years to complete. Bristol-Myers said it will begin discussions with marketing partner
Merck
(MRK) - Get Free Report
to end their Pargluva agreement.
Additionally, the company missed third-quarter earnings estimates and guided lower for the rest of 2005. Bristol-Myers fell by 53 cents, or 2.5%, to $21.14.
Separately, Morgan Stanley upgraded Merck to overweight from equal-weight, as the firm believes the market has discounted the company's Vioxx drug liability. Shares rose 62 cents, or 2.3%, to $27.54.
Overseas markets were mixed, with London's FTSE 100 up 0.6% to 5213 and Germany's Xetra DAX adding 0.4% at 4826. In Asia, Japan's Nikkei lost 0.5% overnight to 13,347 while Hong Kong's Hang Seng slid 1.2% to 14,216.