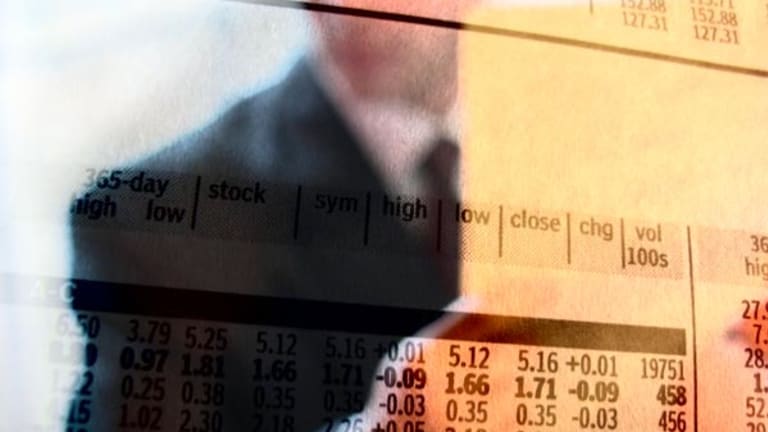 Stocks Fight Back Against Crude's Dead Weight
Crude oil started February with another selloff, but this time the stock market didn't follow suit. At least not altogether. Gains in some sectors occurred despite humdrum economic data.
Crude oil started February with another selloff, but this time, the stock market didn't follow suit. At least, not altogether
While crude's 6% slide dragged down energy stocks, mild gains elsewhere helped ease the impact. The S&P 500 slipped 0.04%, rebounding from a steep decline earlier in the day, the Dow Jones Industrial Average fell 0.1%, and the Nasdaq gained 0.14%.
The day's performance buoyed investors' hopes after the worst January since the financial crisis. 
"With the technical backdrop improving after the mid-January plunge, bulls should welcome what we are seeing with respect to sentiment among equity-only option buyers," said Todd Salamone, a senior vice president at Schaeffer's Investment Research. "The panic selling of mid-January is over, signaling a change in sentiment from extreme fear that could be supportive of stocks in the weeks ahead."
Though the S&P 500 may have found its bottom around 1,800, that doesn't necessarily signal a big rebound. The S&P 500 is currently trading at 1,939 and it could stay range-bound for the remainder of the year. 
"At most, we could justify 10% above [our value floor of 1,850] over the course of the year," Phil Davis, trader and founder of PSW Investments, told TheStreet. "That's assuming China doesn't blow up, Japan doesn't implode, the U.K. stays in the euro. There are a lot of little factors that could tilt things badly."
Weaker data from China exacerbated worries over demand for crude oil on Monday. China's factory activity fell to a three-year low, dropping further into contraction territory for its sixth straight month. West Texas Intermediate crude oil fell 6% to $31.62 a barrel. Prices have fallen 16% since the beginning of the year.
Disappointing U.S. construction spending in December pointed to even weaker economic growth in the fourth quarter. Spending in the U.S. rose 0.1% to $1.17 trillion at the end of last year, one-sixth the pace economists had expected.
The disappointing read pulls likely fourth-quarter GDP growth to just 0.5%, according to BNP Paribas analysts. The Bureau of Economic Analysis had pegged fourth-quarter GDP growth at 0.7% in its first estimate, released last week.
Manufacturing in the U.S. continued to contract for a fourth straight month, with the ISM Manufacturing Index reaching 48.2 in January, compared with an expected increase to 48.3. Any level below 50 is considered contraction, while a reading higher than that signals expansion.
Meanwhile, consumer spending was flat in December even as personal income rose. Consumers have benefited from lower gas prices in the past few months, a boon that economists had hoped would fuel increased consumer spending.
The report is "an indication that U.S. households are rebuilding a formidable precautionary savings war chest that could cushion spending in the event of a downturn," explained Millan Mulraine, deputy chief U.S. macro strategist at TD Securities. "Households are continuing to stock away their labor and energy windfall income, which should provide a favorable platform for sustaining personal spending in the event of a downturn."
Lumber Liquidators (LL) - Get LL Flooring Holdings, Inc. Report lost earlier highs but remained in the green after trading was briefly halted for volatility. Shares surged on reports the company has reached a deal with the Department of Justice to settle investigations into whether it illegally sourced timber products.
Twitter (TWTR) - Get Twitter, Inc. Report  , a holding in Jim Cramer's Action Alerts PLUScharitable trust portfolio, jumped 6.6% on talk of a potential deal with venture capitalist Mark Andreessen and private-equity firm Silver Lake Partners. Twitter has yet to comment on the rumors.
Alere (ALR)  surged 45% after Abbott Laboratories (ABT) - Get Abbott Laboratories Report agreed to buy the company in a deal worth $5.8 billion. Abbott will pay $56 a share, a 50% premium to Friday's closing price. The deal will grow Abbott's diagnostics testing portfolio.
Credit Suisse (CS) - Get Credit Suisse Group AG Report and Barclays (BCS) - Get Barclays Plc Report moved lower after agreeing to pay $154.3 million to settle government investigations into their "dark pool" exchanges. The Securities and Exchange Commission and the New York Attorney General had been reviewing claims the banks misled clients about being able to safely trade on their "dark pool" financial exchanges. The settlement is the largest for investigations into privately run stock exchanges.
Dominion Resources (D) - Get Dominion Energy Inc Report fell 2.8% after agreeing to buy Questar (STR) in a cash deal valued at $4.4 billion. The Virginia-based energy company will pay Questar holders $25 a share, a premium of about 30% to its average January price. The deal will probably close by the end of the year.
Nokia (NOK) - Get Nokia Oyj Report slumped 12% after issuing disappointing guidance following a patent agreement with Samsung Electronics. The company expects to receive around 1.3 billion euros ($1.4 billion) in cash from the deal through 2018; investors had hoped for more.