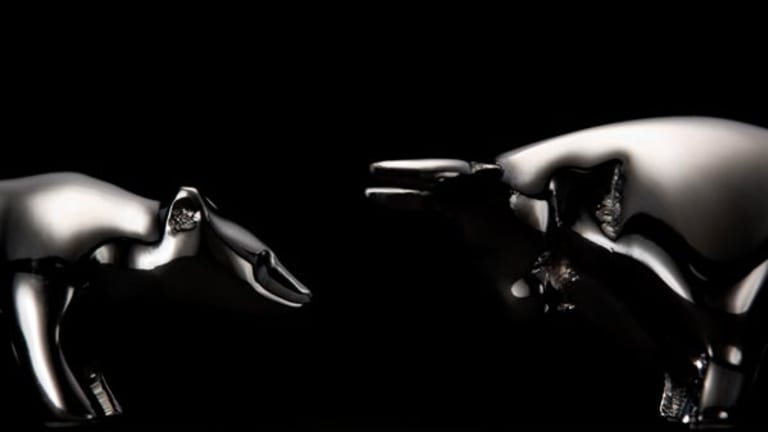 Stocks Fight Way Back to Positive Finish
Blue-chip stocks end a wobbly trading day with slight gains despite a rise in unemployment numbers. Tech shares dip. Frank Curzio breaks down the action in The Real Story video above.
Updated from 1:09 p.m. EDT
Blue-chip stocks in New York finished a day of uneasy, hesitant trading with slight gains Friday after the government's read on unemployment jumped for August, renewing investor concerns about a U.S. recession. Technology shares, meanwhile, took a tiny tumble.
The
Dow Jones Industrial Average
was up 32.73 points, or 0.3% to 11,220.96, and the
added 5.48 points, or 0.4%, to 1242.31. The
Nasdaq
was off 3.16 points, or 0.1%, at 2255.88.
Before trading got under way, the Labor Department said the
reached 6.1%, its highest level since September 2003. Economists had expected the rate to hold at July's level of 5.7%. Nonfarm payrolls were down by 84,000, a bigger loss than 75,000 in July. The average workweek remained unchanged at 33.6 hours, and the average hourly wage rose 0.4% from a month ago to $18.14.
The Real Story Wrap: Sept. 5
var config = new Array(); config<BRACKET>"videoId"</BRACKET> = 1773087688; config<BRACKET>"playerTag"</BRACKET> = "TSCM Embedded Video Player"; config<BRACKET>"autoStart"</BRACKET> = false; config<BRACKET>"preloadBackColor"</BRACKET> = "#FFFFFF"; config<BRACKET>"useOverlayMenu"</BRACKET> = "false"; config<BRACKET>"width"</BRACKET> = 265; config<BRACKET>"height"</BRACKET> = 255; config<BRACKET>"playerId"</BRACKET> = 1243645856; createExperience(config, 8);
"Terrible," said Jack Ablin, chief investment officer at Harris Private Bank, of the jobs number. "I would say that it really kind of knocks the legs out of any thought of recovery here." He said the unemployment number further complicates an already difficult situation brought about by the housing crisis and credit crunch.
Ablin said that the the economic stimulus package has helped the U.S. avoid the definition of a recession. "But ask most people
and I think they would agree that we are experiencing recession even if the numbers don't show it," he said. "And
the jobs number would confirm my suspicion."
Some of the weak data was already priced in to stocks, which is why the market didn't fall as much as it could have following the unemployment release, said Ablin.
The Mortgage Bankers Association also said foreclosures were on the rise in the second quarter. On a seasonally adjusted basis, the percentage of loans with missed payments climbed to 6.41%, from 6.35% in the first quarter.
The late comeback for stocks was aided by the financial sector, which got a lift after a Sandler O'Neill analyst predicted that troubled brokerage
Lehman Brothers
undefined
would weather the credit crunch. Lehman shares gained 6.8% to $16.20.
Elsewhere in the financials, bond fund manager
Pimco
, part of
Allianz
(AZ)
, named Mohamed El-Erian as chief executive. El-Erian replaces Bill Thompson, who retires at the end of the year. Allianz slipped 0.7% to $15.64.
Meanwhile, hedge fund
Atticus Capital
refuted rumors it is closing down. Earlier this week, fellow fund
Ospraie Management
shuttered its business after making bad bets on commodities.
Shares of
(MER)
suffered early after Goldman Sachs slapped a "conviction sell" sticker on the stock, saying it foresees more asset writedowns in Merrill's future. Shares later turned around, however, to post a daily gain of 2% at $26.73.
Elsewhere,
(GE)
said it would sell its warranty-management business to insurance company
Assurant
(AIZ)
for $140 million. GE gained 0.7% to $27.88, and Assurant rose 2.5% to $58.41.
Cigarette maker
(MO)
is in negotiations to purchase chew-tobacco producer
UST
(UST)
, according to a report on
CNBC's
Web site. Altria added 1.4% to $20.95, and UST jumped 25% to $67.55.
Contributing to bearishness in the sector, mobile-phone maker
(NOK)
was also hurting after saying its
market share would probably decline in the third quarter. Shares finished the day down 7.6% to $20.62.
Separately, a
Wall Street Journal
report said that PC maker
Dell
(DELL)
is trying to sell its computer factories in a bid to remain competitive. Dell ended up 0.3% at $20.41.
In one bright spot,
SanDisk
(SNDK)
jumped 31% to finish at $17.64 after Samsung said it may be interested in buying the company.
As for earnings, video-game maker
Take-Two
(TTWO)
said Thursday after the close that it swung to a profit from a year ago and raised guidance, and the stock added 1.6% to $23.61. And ahead of the opening bell, chipmaker
National Semiconductor
(NSM)
reported a profit that rose year over year but its sales outlook disappointed, sending shares down 2.7% to $18.95.
In commodities, the price of crude oil was down $1.66 to settle at $106.23. Gold finished unchanged at $802.80.
Prices for longer-dated U.S. Treasury securities were falling. The 10-year was down 8/32 in price to yield 3.65%, and the 30-year was shedding 6/32, yielding 4.27%. The dollar was gaining on the euro, yen and pound.
"I'm not worried about inflation, although the average hourly earnings did tick a little higher than expectations," said Ablin. He pointed out that commodities have recently underperformed stocks, and said, "I think we're shifting more toward a disinflationary, deflationary outlook." Such an environment would leave the
Federal Reserve
room to lower interest rates, said Ablin.
Major foreign exchanges, including the FTSE in London, the Dax in Frankfurt, the Nikkei in Japan and the Hang Seng in Hong Kong, were lower.