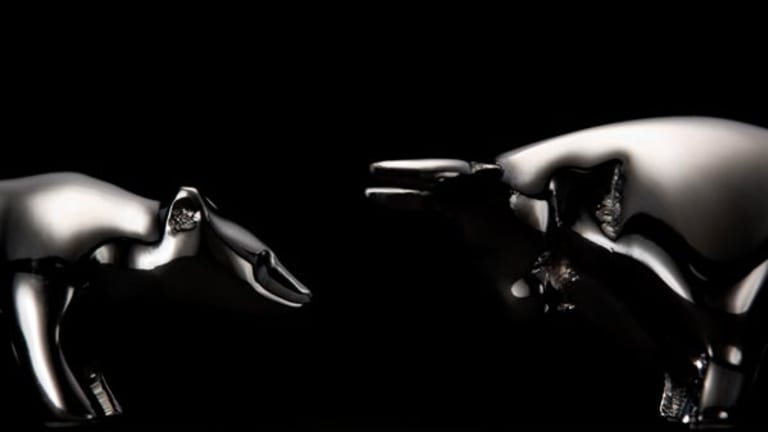 Stocks Falter on Weak Job Market, Euro
Stocks close lower but far off intraday lows as labor market and eurozone concerns spark recovery-related fears. Gregg Greenberg reviews the day in The Real Story.
NEW YORK (
) -- Stocks finished lower Thursday, reflecting investors' flagging confidence in the recovery, spurred by another unexpected jump in initial jobless claims and continued fears about Greece's sovereign debt.
But stocks recovered from their deepest intraday lows, suggesting concerns abated as the dollar lost ground in the afternoon.
The
Dow Jones Industrial Average
, which slid more than 180 points earlier in the session, closed down by 53 points, or 0.5%, to 10,321. The
S&P 500
shed 2 points, or 0.2%, to 1103, and the
Nasdaq
declined by 2 points, or 0.1%, at 2234.
>>Top Five Semiconductor Stocks Rated 'Buy'
For much of the day, markets warily eyed Greece's sovereign debt after Moody's and Standard & Poor's signaled they may
downgrade Greece's credit rating unless it enacts spending cuts.
Fears were amplified by a
New York Times
article revealing that Wall Street firms are exacerbating Greece's financial crisis by purchasing credit default swaps -- effectively betting that the country will default. The swaps have increased the cost of insuring Greece's debt, making it harder for the country to obtain financing.
But the
dollar, which strengthened in the morning, reversed and traded lower against a basket of currencies in the afternoon. The dollar index was down by 0.1% near the market close.
One analyst noted the late-afternoon weakness in the greenback, saying buyers stepped in to stocks to take advantage of a building momentum at the lows. "It's certainly indicative of a market that's pretty resilient," said Richard Sparks, senior equities analyst at Schaeffer's Investment Research. "It speaks to the idea that money on the sideline is ready to get back to work when you see the dips."
During a question-and-answer-session with the Senate Banking, Housing and Urban Affairs Committee,
Federal Reserve
Chairman Ben Bernanke said the central bank is examining the issue in answer to a question posed by Sen. Chris Dodd (D., Conn.), the committee's chairman. Bernanke's testimony, the
central bank's semiannual report on economic and monetary policy, comes a day after appearing before a House committee.
News that
initial jobless claims unexpectedly rose by 22,000 to 496,000 provided a double blow to stocks, which moved deeper into negative territory after claims failed to decline to 460,000, as expected.
A better-than-expected surge in
January durable goods orders, which rose 3% from December's rise of 1.9%, had little impact on the market even though the increase was much better than the 1.5% climb that economists' had projected. Excluding transportation orders, overall new orders slipped 0.6%, which was lower than consensus estimates for an ex-transportation uptick of 1%.
Aaron Kennon, chief executive officer of Clear Harbor Asset Management, wasn't surprised by the rise in initial jobless claims.
"I think that we're going to see higher unemployment in the coming quarters because in order for the labor market to improve, we need to see demand from private sector return," Kennon said, adding that households haven't fully deleveraged yet from the financial crisis. "Until that happens at full force, we won't have sustainable economic growth and won't be able to lower unemployment."
Taking a longer view, Kennon said markets have been pressured by high deficits and a sense that leadership in Washington is still struggling to find solutions to current economic challenges.
"In the near term, there are specific weaknesses today, including the ongoing uncertainty over the European Union as well as the view that perhaps the most recent bullish GDP data will prove fleeting in the longer term as unemployment remains high and credit remains tight."
In Washington, President Obama is holding a bipartisan meeting with House and Senate members aimed at finding middle ground on health care reform. The effort comes a day after a $15 billion job-creation bill drew support across party lines, allowing the Senate to pass it, 70 to 28.
Coca-Cola
(KO) - Get Coca-Cola Company Report
is snapping up
Coca-Cola Enterprises'
(CCE)
North American operations. The move follows a similar one by rival
PepsiCo
(PEP) - Get PepsiCo, Inc. Report
, which recently agreed to buy
Pepsi Bottling
( PBG) and
PepsiAmericas
( PAS).
Coca-Cola's stock was the Dow's worst performer, down 3.7%. Shares of Coca-Cola Enterprises, meanwhile, finished 32.9% higher at $25.48, making it the biggest gainer on the
New York Stock Exchange
.
Financial and energy stocks retreated farther than most on the day, with the KBW Bank Index shedding 1% and the NYSE Arca Oil Index declining 0.7%.
The New York Stock Exchange had a listed volume of 4.5 billion, with
Citigroup
(C) - Get Citigroup Inc. Report
,
Bank of America
(BAC) - Get Bank of America Corp Report
and
Ford
(F) - Get Ford Motor Company Report
seeing the heaviest volume.
Shares of
Palm
( PALM) lost 19.3%, after the company warned of a 30% sales shortfall in its most recent third-quarter.
Shares of
True Religion Apparel
(TRLG)
were among the Nasdaq's best gainers, rising 18.4%. The company reported earnings that exceeded Wall Street's expectations.
In other earnings news, a goodwill charge pushed
Safeway
(SWY)
to a fourth-quarter loss. Excluding the charge, the supermarket operator met analysts' estimates for earnings of 53 cents a share. The stock closed up 1.6%, to $23.88.
Royal Bank of Scotland
(RBS) - Get Royal Bank of Scotland Group Plc Report
narrowed its 2009 loss vs. the prior year and said impairments, which rose sharply, have likely peaked. Royal Bank of Scotland rose 7%.
Aegon
, the Dutch insurer that owns U.S. insurance company Transamerica, swung to a profit in the fourth quarter thanks to investment gains and lower impairments.
Drugmaker
Mylan
(MYL) - Get Viatris, Inc. Report
swung to a fourth-quarter profit and reaffirmed its 2010 guidance. The stock advanced 6.6% to $20.70.
The Energy Information Administration said natural gas storage fell 172 billion cubic feet in the week ended Feb. 19, which was on the high end of the withdrawal range of 168 billion to 172 billion cubic feet that analysts polled by Platts had been expecting.
The
for April delivery settled 9 cents lower at $4.77 per million British thermal units.
Elsewhere in the commodities markets, crude oil for April delivery fell $1.83 to settle at $78.17 a barrel, while the April
gold contract gained $11.30 to settle at $1,108.50 an ounce.
The benchmark 10-year Treasury strengthened 15/32, diluting the yield to 3.638%.
Overseas, Hong Kong's Hang Seng slipped 0.3%, and Japan's Nikkei lost 1%. The FTSE in London shed 1.2%, and the DAX in Frankfurt declined 1.5%.
-- Written by Melinda Peer and Sung Moss in New York
.