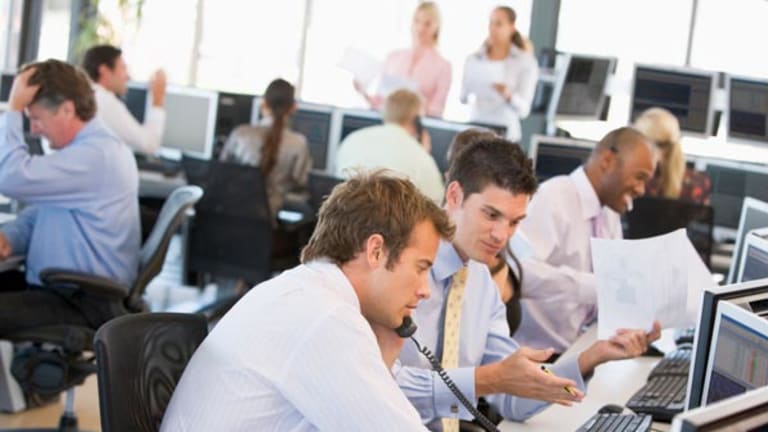 Stocks Fall to Selling Pressure
Wall Street ends a two-day winning streak by closing in the red, as investors combed through earnings warnings and awaited word on a federal bailout of the U.S. auto industry. Frank Curzio reviews the action in The Real Story video (above).
Wall Street ends a two-day winning streak by closing in the red, as investors combed through earnings warnings and awaited word on a federal bailout of the U.S. auto industry. Frank Curzio reviews the action in The Real Story video (above).
Updated from 3:51 p.m. EST
Stocks in New York ended a choppy trading session Tuesday with losses, halting a two-day winning streak on Wall Street as investors swallowed the latest corporate earnings warnings and awaited word on an expected federal bailout of the U.S. auto industry.
The
Dow Jones Industrial Average
lost 242.85 points, or 2.7%, to 8691.33, and the
S&P 500
gave back 21.03 points, or 2.3%, to 888.67. The
Nasdaq
, up some 34 points earlier in the session, ended down 24.4 points, or 1.6%, at 1547.34.
"It's really more of the same volatility that we've seen over the past several weeks," says Richard Sparks, senior equities analyst at Schaeffer's Investment Research. "It's the third 20% rally that we've seen in the S&P since mid-October, and the previous two have reversed fairly hard and led to new lows."
The two-day rally preceding Tuesday's downturn left the investment community debating what is and is not priced into the market. "It's very difficult to know," says Sparks, who characterizes the action for investors as a tug of war between what some say is a historic buying opportunity against the fact that we simply don't know where the bottom is.
"The problem is that
predictions for a turnaround use historical context to frame their outlook, and I'm not so sure that this time isn't different than most bear markets we've been in," Sparks says.
While the solidification of an automakers' bailout seemed imminent Monday, the details remained unresolved Tuesday. Under proposed legislation submitted to the White House earlier in the week by Congress, the
Big Three automakers
--
Ford
(F) - Get Report
,
General Motors
(GM) - Get Report
and
Chrysler
-- would receive up to $15 billion in emergency aid.
Under the plan, the federal government would tap an existing loan program meant to help the automakers build fuel-efficient vehicles. The legislation reportedly would also permit the U.S. government to receive warrants for stock that equate to at least 20% of loans given to the automakers.
A federal official, dubbed the "
car czar
," would oversee a government-run retooling of the automakers. And the United Auto Workers (UAW) union might request an equity stake or board seat at one of the automakers in return for making contract concessions to help the automakers, according to a report in
The Wall Street Journal
.
Shares of General Motors traded down 3.5% to $4.76, and Ford shed 4% to $3.24.
Meanwhile, retail data released Tuesday showed continued sales weakness. The International Council of Shopping Centers weekly chains stores data showed a 0.8% drop in sales for the week of Dec. 6 compared to the week prior. The Johnson Redbook Retail Sales Index showed an 0.8% decline for the same week compared to the month prior.
Dismal sales results were affecting the outlook for chipmakers as
(NSM)
predicted a 30% drop in third-quarter revenue;
Novellus Systems
(NVLS)
cut its workforce by 10% and its CEO's pay by half; and
(TXN) - Get Report
reduced its fourth-quarter revenue and earnings outlook.
Despite those warnings, and a dip in the greater market,
held up well. National Semiconductor added 13.2% to $11.65, Novellus tacked on 3.7% to $12.63, and Texas Instruments gained 4.9% to $15.55.
"Even though consensus numbers have to come down again, investors are warming up to the idea that orders for these companies -- which have been declining since October -- may rebound in February or March of the new year," says Tristan Gerra, a technology analyst for Robert W. Baird & Co.
One positive economic figure to emerge today: The National Association of Realtors reported that pending home sales dropped about 0.7% in October, from September. That's far less severe a decline than the consensus expectation of a 3% drop.
"It was a little bit of a surprise to see the numbers come in a little better," says Peter Cardillo, chief market economist at Avalon Partners. "If the housing numbers should begin to stabilize, that would be the key for economic recovery -- and for the market to move even higher later next year."
Patrick Newport, a housing economist at Global Insight Economics, said, "I thought the number would drop a lot because of high credit conditions everywhere." The better-than-expected results indicate that the mortgage market is still functioning, he says, people with good credit and a steady job can still get loans, and affordability is improving. Newport also pointed out that high sales of distressed homes in troubled regions, including California, Nevada and Arizona, are driving the overall figures higher.
Indeed,
existing
-home sales are getting a boost from sales of foreclosed homes, which have been accounting for as much as 30% to 40% of sales in some areas of the nation, according to the NAR report.
"We'll probably see modest declines in existing home sales through the end of the year," says Newport.
Meanwhile, stocks in the shipping sector were struggling after
(FDX) - Get Report
cut its 2009 earnings and expense guidance.
In
, Barclays cut estimates and its price target for FedEx to reflect the company's earnings warning. Meanwhile, JPMorgan downgraded fellow package delivery company
UPS
(UPS) - Get Report
to neutral from overweight.
Also, trucking firm
Con-Way
(CNW)
cut its 2008 profit guidance late Monday by roughly 15%, as it wrestles with reduced demand for shipping goods. The company also said it cut about 8% of its workforce, or 1,450 jobs, last week.
Shares of FedEx fell 10.8% to $63.65, UPS shed 7% to $54.51, and Con-Way traded down 13.9% to $22.19.
In company news, Japanese electronics company
Sony
(SNE) - Get Report
said it's cutting 8,000 jobs and will close 10,000 factories in hopes of saving roughly $1.1 billion annually. Shares added 2.3% to $20.50.
Auto-parts retailer
AutoZone
(AZO) - Get Report
said its fiscal first-quarter profit fell slightly under higher expenses and weak U.S. same-store sales -- due to disruption caused by Hurricanes Gustav and Ike, and of course, the economy. Investors, unalarmed, sent shares up 6.9%, to $124.51.
In commodities, crude oil fell $1.64 to settle at $42.07 a barrel. Gold added $4.90 to settle at $774.20 an ounce.
Longer-dated U.S. Treasury securities were recently rising. The 10-year was up 30/32 to yield 2.63%, and the 30-year was adding 2 13/32, yielding 3.04%. The dollar was recently stronger against the euro, pound and yen.
Overseas, European exchanges such as the FTSE in London and the DAX in Frankfurt traded higher -- up 1.9% and 1.3%, respectively. In Asia, Japan's Nikkei ended higher, while Hong Kong's Hang Seng ended with losses.
According to Japanese government officials, the country fell deeper into a recession in the third quarter than it originally surmised, impaired by the economic downturn.