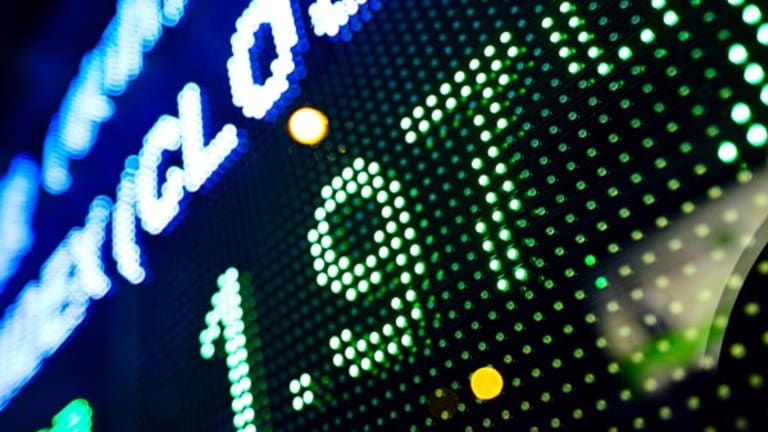 Nasdaq Leads Stocks Higher After Facebook Earnings Win
The tech-heavy Nasdaq drags broader markets into the green on Thursday morning after a strong earnings win from social network Facebook.
The tech-heavy Nasdaq dragged broader markets hesitantly into the green Thursday morning after a strong earnings win from social network Facebook (FB) . 
Benchmark indexes clawed back from modest losses suffered earlier in the session. The S&P 500 was up 0.04%, the Dow Jones Industrial Average fell 0.15%, and the Nasdaq added 0.42%.
Facebook added 10% after posting a 52% increase in first-quarter revenue. The social network boosted its top-line through video and mobile advertising. Adjusted earnings of 77 cents a share jumped from 42 cents a year earlier. Analysts expected profit of 62 cents.
"The results, simply, speak for themselves," wrote Jim Cramer and Jack Mohr of Action Alerts PLUS, which owns Facebook. "We fully embrace Facebook's continued outperformance. The ability of this management team to execute on its lofty goals is unmatched and its investments are clearly paying off.
Moves upward were hesitant, though, after fears over economic growth at the beginning of the year were confirmed. The U.S. economy expanded at a rate of 0.5% in the first quarter after a respectable 1.4% rise in the fourth quarter. Consumer spending rose 1.9%, driven by growth in services, while business investment hit its worst levels since the recession. The first estimate of GDP growth was expected to come in at a stronger 0.7%. Economists anticipated factors including weaker manufacturing, a stronger U.S. dollar, softer global demand and volatile market activity would eat into U.S. GDP for the start of the year.
Most economists remain optimistic that the slowdown at the start of the year is only temporary and that the back-half of the year will see a rebound.
"Some of the headwinds the economy faced in late 2015/early 2016 are diminishing (i.e., financial conditions are becoming more accommodative), setting the stage for a reacceleration in economic activity," Kevin Cummins, U.S. economist at UBS Investment Bank, wrote in a note. "In our view, the domestic economy remains on solid footing, perhaps reflecting the lagged benefit of still low energy prices."
The number of new claims for unemployment benefits climbed 9,000 to 257,000, according to the Labor Department. The less-volatile four-week jobless claims average fell by 4,750 to 256,000.
Japan's central bank opted to leave rates as is after initiating a negative-rate policy in February. Its asset purchase target remained at 80 trillion yen for the year, while its deposit rate was held at minus 0.1%. Bank of Japan Gov. Haruhiko Kuroda said the central bank needed more time to evaluate the effects of the change in policy.
"At this meeting, we judged that it was suitable to look more closely at the extent to which the effects of our policies are sinking in," Kuroda said.
The inaction surprised investors, most of whom had expected further stimulus from the Bank of Japan. The world's third-largest economy has suffered weakening conditions since the country's central bank last met in March.
Japan's Nikkei led global markets lower after falling 3.6% into its market close. In Europe, Germany's DAX slid 0.9%, the CAC 40 in France fell 1.3%, and the FTSE 100 in London declined 0.87%.
Comcast's (CMCSA) Universal Pictures has made an official bid for DreamWorks Animation (DWA) after days of takeover speculation. The movie studio, part of NBCUniversal, offered $3.8 billion for the producer of popular animated films including Minions and Shrek.  
Abbott Laboratories (ABT) slid 6% after agreeing to buy St. Jude Medical (STJ) in a deal worth $25 billion. Abbott offered a cash-and-stock deal equivalent to $85 a share for the medical device maker. The company expects an increase in adjusted earnings in the first full year after the deal closes. St. Jude shares rose 25.9%.
Sanofi (SNY) slipped after making an unsolicited offer for Medivation (MDVN) . The drugmaker offered $52.50 a share, a 50% premium to Medivation's average price in the two months before takeover reports surfaced, for a total value of $9.3 billion. Sanofi said it decided to go public after Medivation declined discussions.
Ford (F) rose 3.2% after beating first-quarter estimates on its top- and bottom-lines. Quarterly earnings climbed to 68 cents a share from 29 cents a year earlier. Analysts had expected per-share profit of 45 cents. The automaker was profitable in all markets except South America.
First Solar (FSLR) fell more than 5% as quarterly sales missed forecasts. The solar company generated revenue of $848 million, around 80% higher than a year earlier but below estimates of $959 million. First Solar swung to a first-quarter profit of $1.66 a share compared to a per-share loss of 61 cents in the year-ago quarter.
Time Warner Cable (TWC) enjoyed a record high in net customer growth and hit an eight-year best in first-quarter sales. The cable company, which is set to be acquired by Charter Communications (CHTR) , posted a 7.2% increase in revenue, while profit rose 9%.
ConocoPhillips (COP) was on watch after reporting a narrower-than-expected loss in its first quarter. The oil company posted an adjusted loss of 95 cents a share, narrower than a forecast $1.05. ConocoPhillips also cut its full-year capital spending guidance to $5.7 billion from $6.4 billion.
Pricelineundefined chief executive officer Darren Huston has announced his resignation from the company after an investigation into a relationship with an employee. The board found Huston "engaged in activities inconsistent to the company's code of conduct." Huston will not receive any severance.
Oracle (ORCL) was slightly lower after announcing plans to purchase Textura (TXTR) in a deal worth $663 million. Textura, which provides construction payment management services, processes $3.4 billion a month. Oracle expects the deal to close by this year.