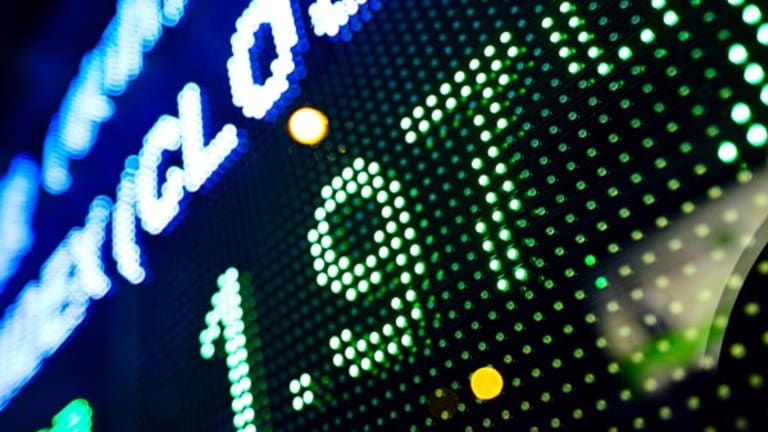 Stocks Fall on Global Growth Concerns
Stocks pull back on Wednesday morning as crude oil returns to a level below $37 a barrel.
Updated from 9:39 a.m.
Stocks pulled back on Wednesday morning as crude oil returned to a level below $37 a barrel on global growth concerns. 
The S&P 500 (SPY) fell 0.4%, the Dow Jones Industrial Average (DIA) dropped 0.34%, and the Nasdaq (QQQ) slid 0.47%.
Global growth in 2016 will likely be constrained, International Monetary Fund Managing Director Christine Lagarde warned in comments to a German newspaper. Lagarde pointed to higher interest rates in the U.S. and a weaker Chinese economy as likely headwinds to global growth next year. Lagarde also conceded that higher U.S. interest rates were "necessary and healthy."
Crude oil extended its decline after weekly data from the Energy Information Administration showed an unexpected increase of 2.6 million barrels in crude stocks in the past week. Analysts had expected a decline in inventories. West Texas Intermediate crude oil prices fell 2.8% to $36.83 a barrel.
The energy sector was the worst performer in the markets Wednesday. Exxon Mobil (XOM) , Kinder Morgan (KMI) , Chevron (CVX) and Schlumberger (SLB) were all lower, while the Energy Select Sector SPDR ETF (XLE) fell 1%. 
Pending home sales unexpectedly declined in November. The Pending Home Sales Index decreased 0.9% to 106.9 last month, continuing to contract after hitting a nine-year high in May. Economists had expected the measure to edge 0.5% higher. 
Icahn Enterprises (IEP) and PepBoys (PBY) have formally announced a $1.031 billion merger after much back and forth. Activist investor Carl Icahn's firm secured the deal for $18.50 a share and expects to close in the first quarter of next year. Bridgestone had previously been in the race for the auto shop chain but declined to raise its bid. 
Fairchild Semiconductor Internationalundefined climbed 3% after acknowledging that it received a revised unsolicited offer worth $21.70 per share. The chipmaker said it would "carefully review and consider" the unidentified bidder's offer. ON Semiconductor (ON) had previously offered $20 a share for Fairchild. 
DuPont (DD)  plans to eliminate around 1,700 jobs in Delaware in the first quarter of 2016. The chemicals company, like others in the materials sector, has been squeezed by a slump in commodity prices and reduced industrial demand.
SeaWorld (SEAS) filed a lawsuit on Tuesday challenging the California Coastal Commission's decision to ban the company from breeding killer whales. The theme park operator argues that the commission acted outside its authority in its October ruling. 
KaloBios Pharmaceuticalsundefined filed for bankruptcy protection just a week after being notified it would be delisted by the Nasdaq. The company has been under pressure since the arrest of Martin Shkreli, its CEO at the time. The biopharma company listed its assets and liabilities between $1 million and $10 million.