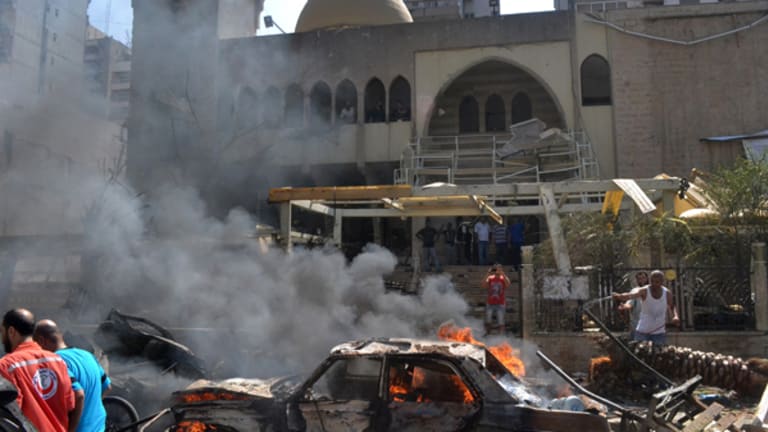 Stocks Plummet on Prospect of U.S.-Led Airstrike on Syria
A better-than-expected consumer confidence report for August couldn't shake concern that a U.S. airstrike in Syria could escalate Middle East wars, disrupting oil supplies.
NEW YORK (
) -- The
S&P 500
posted its largest drop since June as stocks tumbled on reports the U.S. may spearhead a multi-country military intervention against Syria this week in response to evidence of chemical weapons.
The
S&P 500
dropped 1.6% to close 1,630.48, the largest drop since June 20 when the benchmark index fell 2.5%. The
Dow Jones Industrial Average
shed 1.1% to 14,776.48 while the
Nasdaq
was off 2.2% to 3,578.52.
"Obviously we've had a pretty down day, and right now it seems like it's all about Syria and the uncertainty," said Joe Bell, senior equity analyst at Schaffer's Investment Research. "We saw a lot of money flow over to the bond market today -- a little bit of a safety trade on the day here."
Another factor at play is the fast approaching debt ceiling deadline, the annual Congressional melodrama that has roiled markets in recent years.
"This is no longer simply about Syria," George Friedman, chairman of the Austin, Texas-based global security intelligence firm Stratfor warned in a report. "The United States has stated a condition that commits it to an intervention. If it does not act when there is a clear violation of the condition, Obama increases the chance of war with other countries like North Korea and Iran."
The missile strikes against the Middle Eastern nation could begin as early as Thursday, according to
NBC News,
which cited senior U.S. officials. The report said the U.S. may be preparing for three days of strikes to serve as a warning to the Assad regime. Meanwhile U.S. Defense Secretary Chuck Hagel told
BBC
that the U.S.-led forces would be "ready" to strike if President Barack Obama ordered an attack. Allies of Syria including Russia and China have been warning against military intervention in the country warning of the devastating results for the region.
"It is hard to imagine how an attack on chemical weapons can avoid an attack on the regime -- and regimes are not destroyed from the air," Friedman added. "Doing so requires troops. Moreover, regimes that are destroyed must be replaced."
Goodyear
(GT) - Get The Goodyear Tire & Rubber Company Report
was the biggest percentage gainer on the S&P 500, up 2% to $19.01, while
GameStop
(GME) - Get GameStop Corporation Report
posted the largest percentage loss with shares off 5.8% to $49.37.
J.C. Penney
(JCP) - Get J. C. Penney Company, Inc. Report
1.4% to $13.17 after Pershing Square Capital Management's Bill Ackman revealed that he is selling his entire stake in J.C. Penney.
In deal news, specialty pharmaceuticals firm
Akorn
(AKRX) - Get Akorn Inc. Report
said Tuesday it would acquire
Hi-Tech Pharmacal
(HITK)
in a $540 million
cash deal that
would expand the maker of eye-care products into new areas. Akorn surged 9.6% to $18.02 and Hi-Tech Pharmacal leapt 22.1% to $42.99.
Tulsa, Okla., natural gas transporter
Oneok Partners
(OKS)
in Wyoming for $305 million as part of a planned $440 million investment in the natural gas liquids-rich area of the Powder River Basin. Oneok shares rose incrementally to $49.77
surged $27.10 to settle at $1,420.20 an ounce as investors fled to safety assets. October crude oil futures spiked $3.09 to $109.01 a barrel on concerns that the conflict with Syria would result in the disruption of supplies.
International stock markets sank. The DAX in Germany slumped 2.28% and the FTSE 100 in London was off 0.79%. The Hong Kong Hang Seng closed down by 0.59% and the Nikkei 225 in Japan finished off 0.69%.
On a positive note Tuesday, the Conference Board's August consumer confidence report showed a rise to 81.5 from an upwardly-revised 81 in July. Economists, on average, were expecting a decline to 79, according to a
Thomson Reuters
survey of economists. However, the markets remained fixated on the geopolitical risks.
Earlier in the morning the June S&P/Case-Shiller 20-city home price index showed an as-expected increase of 12.1% before the open, down from 12.2% in May.
-- Written by Andrea Tse and Joe Deaux in New York
>To contact the writer of this article, click here:
Andrea Tse
.>