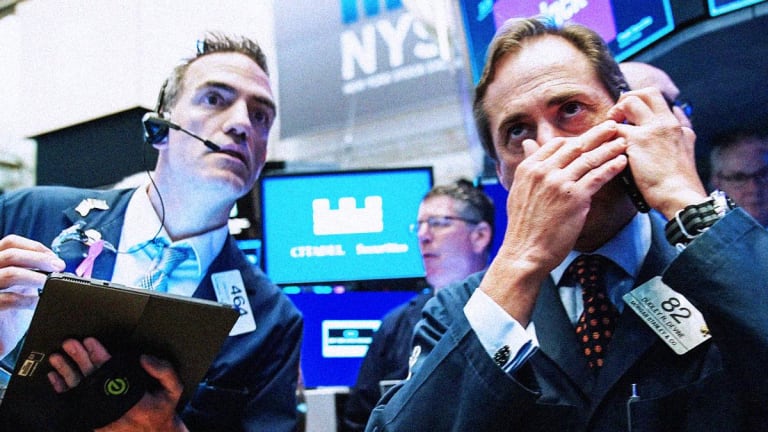 Stocks End Sharply Lower as Trump and China Escalate Trade War
Stocks end sharply lower as President Trump "orders" American companies to look for an "alternative to China" after Beijing says it will institute retaliatory tariffs. Dispute overshadows Fed Chairman Powell's address at Jackson Hole conference.
Here Are 3 Hot Things to Know About Stocks Right Now
The Dow Jones Industrial Average ended sharply lower after President Donald Trump tweeted an "order" to American companies to find "an alternative to China," sparking another inverted yield curve, and overshadowing Fed Chairman Jerome Powell's pledge that the central bank would "act as appropriate" to sustain the current U.S. economic expansion.
Salesforce (CRM) shares rose after the company reported second-quarter earnings and revenue ahead of expectations while also raising its full-year guidance. Salesforce is Real Money's Stock of The Day.
Shares of Foot Locker (FL) tumbled after the specialty brand retailer reported second-quarter earnings and sales that missed analysts' forecasts.
Wall Street Overview
Stocks ended sharply lower Friday after President Trump "ordered" American companies to find alternatives to operating in China, following China's threat to put new tariffs on American goods.
The Dow Jones Industrial Average, which fell as much as 745 points, finished down 623 points, or 2.37%, to 25,628, the S&P 500 fell 2.59% and Nasdaq Composite slid 3%.
Leading the Dow's decline were Apple (AAPL) , Intel (INTC)  and American Express (AXP) .
Trump's late-morning tweets sent markets into a tailspin and sparked another inverted yield curve. Yield-curve inversions, in which the interest rate on the 10-year Treasury note falls below the rate on two-year notes, are often viewed as warning signs of a recession.
The uproar also overshadowed Federal Reserve Chairman Jerome Powell's address at the Jackson Hole Economic Policy Symposium in Jackson Hole, Wyoming.
At last check, the yield on the two-year Treasury note was at 1.523%, with the 10-year yield at 1.525%.
Late in the trading day, Trump apparently sarcastically said the market's plunge was due to Massachusetts Rep. Seth Moulton quitting the Democratic presidential primary race.
"The Dow is down 573 points perhaps on the news that Representative Seth Moulton, whoever that may be, has dropped out of the 2020 Presidential Race!" Trump wrote on Twitter.
Trump tweeted earlier on Friday: "Our great American companies are hereby ordered to immediately start looking for an alternative to China, including bringing ... your companies HOME and making your products in the USA."
Trump also said he was ordering all U.S. postal carriers, including FedEx (FDX) , Amazon (AMZN) , UPS (UPS) and the U.S. Postal Service, "to SEARCH FOR & REFUSE all deliveries of Fentanyl from China (or anywhere else!)."
The tumultuous day began when the China's State Council's Customs Tariff Commission said it decided to levy tariffs of 5% to 10% on $75 billion of U.S. goods, in two phases effective on Sept. 1 and Dec. 15. Trump said on Twitter that he would formally respond to China's announcement on Friday afternoon.
Trump met Friday with his trade team in the Oval Office, including adviser Peter Navarro, U.S. Trade Representative Robert Lightizer, Treasury Secretary Steven Mnuchin, and the director of the National Economic Council, Larry Kudlow.
"The trade war is alive is well, and battles continue to be fought, and nobody knows how this is going to play out," said Ed Keon, chief investment strategist for global multiasset solutions at the $123 billion money manager QMA.
Stocks rose earlier in the session after Powell said the Fed was "carefully watching developments as we assess their implications for the U.S. outlook and the path of monetary policy."
"The three weeks since our July FOMC meeting have been eventful, beginning with the announcement of new tariffs on imports from China. We have seen further evidence of a global slowdown, notably in Germany and China."
Trump, a relentless critic of Powell and the Fed, attacked Powell on Twitter, saying "my only question is, who is our biggest enemy, Jay Powell or Chairman Xi?", referring to the Chinese leader.
"As usual, the Fed did NOTHING!" Trump wrote. "It is incredible that they can 'speak' without knowing or asking what I am doing, which will be announced shortly. We have a very strong dollar and a very weak Fed. I will work 'brilliantly' with both, and the U.S. will do great."
Trump, who is running for reelection in 2020, has called on Powell and his colleagues to cut interest rates deeply, arguing that the central bank isn't giving him enough "support" for the trade war, especially since foreign central banks have cut their benchmark rates to historically low levels.
A growing number of economists have said that Trump is just using the Fed as a scapegoat for economic policies that aren't working as designed.
Investors scrutinized Powell's speech for signs of whether the Fed will cut official U.S. interest rates further. The central bank last month moved to ease borrowing conditions for the first time in more than a decade.
"The Fed comments don't matter," said Jamie Cox, managing partner for Harris Financial Group. "Trump is storm tweeting."
Bob Phillips, managing principal at Spectrum Management Group, said that "while the market took Powell's comments well at Jackson Hole, total uncertainty exists now that President Trump has made everything about the trade war with China."
"Since the U.S. economy has been doing okay, earnings have been okay and interest rates remain low, you would generally expect stocks to be okay as well," Phillips said. "However, total uncertainty exists on how this will all play out, so the market will likely stay weak."
"It's a wild way to end the week," said Mike Loewengart, vice president of investment strategy with E*Trade. "We started the day with retaliatory tariffs from China, and truthfully the news from Powell is anything but - most likely have more questions than answers.
"Those who think a rate cut is the way to go will read into Powell's commitment to act as appropriate to maintain our economic expansion as good news. On the other hand, those who think rates should stay pat will read into Powell's confidence around the job market a key metric for the Fed."
Loewengart added that "while it's no surprise to hear that we're in a slowing economy with trade tensions being a critical symptom, Fed watchers are left wondering how the Fed will ultimately deploy its toolkit come September."
Salesforce (CRM) shares rose 2.25% to $151.57 after the company reported second-quarter earnings and revenue ahead of expectations while also raising its full year guidance. Salesforce is Real Money's Stock of The Day.
Foot Locker (FL)  tumbled 18.9%  to $34 after the specialty brand retailer reported second-quarter earnings and sales that missed analysts' forecasts.
Boeing's (BA)  grounded 737 MAX could be certified and back in service as early as October, according to the Seattle Times. The MAX jet has been grounded since March following two fatal crashes involving the model that occurred just months apart in Ethiopia and Indonesia. Shares were up 0.45% to $356.01.
Shares of tech-security company VMWare (VMW)  dropped 10% to $133.42 after receiving a post-deal target price cut from Raymond James analyst Michael Turits. VMware said Thursday it was acquiring cloud software companies Pivotal Software (PVTL) and Carbon Black (CBLK) .
Brent crude contracts were down 95 cents and selling at $58.97 per barrel, while West Texas Intermediate contracts, which are more tightly linked to U.S. gas prices, were $1.61 lower at $53.74 per barrel.
In economic news, Commerce Department said on Friday new home sales dropped 12.8% to a seasonally adjusted annual rate of 635,000 units last month. It was the biggest monthly decline since July 2013. Economists had expected a sales pace of 649,000 units.
Salesforce, Amazon, and Apple are holdings Jim Cramer's Action Alerts PLUS member club. Want to be alerted before Jim Cramer buys or sells these stocks? 
Save 57% With Our Labor Day Sale. Join Jim Cramer's Action Alerts PLUS investment club to become a smarter investor! Click here to sign up!