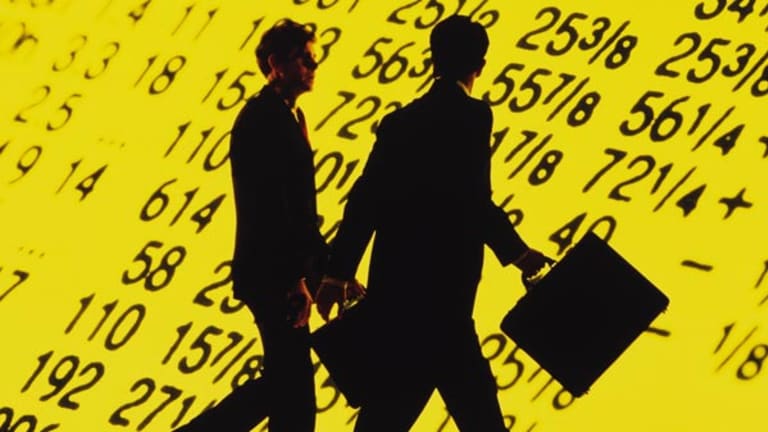 Stocks Fall Again
The averages have now declined every week of 2005.
Updated from 4:02 p.m. EST
Stocks ended another week with losses after failing to hold early gains Friday, as surging oil prices and disappointing economic data overwhelmed good news on
General Electric
(GE)
and
Citigroup
(C)
.
The
Dow Jones Industrial Average
fell 78.48 points, or 0.75%, to 10,392.99, placing it below its 2003 closing level of 10,453.92. The
fell 7.54 points, or 0.64%, to 1167.87. The the
Nasdaq Composite
shed 11.61 points, or 0.57%, to a 10-week low of 2034.27, having given up almost 3% in the last two sessions. The 10-year Treasury bond rose 5/32 in price to yield 4.14%, while the dollar ended mixed.
Volume on the
NYSE
was 1.66 billion shares, with decliners beating advancers by a ratio of 17-to-15. Volume on the Nasdaq was 2.05 billion shares, with decliners outpacing advancers 17-to-13.
"It looks like, up until the Iraq election, there'll be no risk taking or anyone taking a stand," said Edgar Peters, chief investment officer with Pan Agora. "Unless there's a major catalyst, it appears that we're stuck with a lack of interest."
The major indices have all posted losses for the first three weeks of 2005. In contrast to the negative start, stocks rose sharply in the first couple weeks of January in 2003 and 2004 only to slump the rest of the month.
"It's January and we can't figure out where the investors are," said Arthur Hogan, chief market analyst with Jefferies. "The biggest excuse we can come up with is that clearly earnings growth is decelerating."
Concerns about violence heading up to the Iraqi elections on Jan. 30 have also been a factor for energy traders. Oil prices jumped Friday, having lost 4% in the past two sessions. The benchmark crude contract closed up $1.22 to $48.53 a barrel, thanks also to a report about strong demand in China.
In economic news, the University of Michigan's consumer sentiment index fell to 95.8 in January from 97.1 in December, short of the 97.4 consensus forcast of economists.
GE said fourth-quarter sales and earnings both surged 18% from a year ago, boosted by its core industrial and financial services division. Earnings of $5.38 billion, or 51 cents a share, were a penny ahead of estimates, and the company expressed confidence it will hit its 2005 growth targets. Still, GE lost 24 cents, or 0.7%, to $35.13.
"General Electric came out with a good report, but unfortunately we're not seeing a rush to buy stocks," said Peter Cardillo, chief market analyst with S.W. Bach & Co. "The message doesn't change; the market probably still has more to go on the downside."
Citigroup was up 0.3% after Merrill Lynch advised clients the stock is a bargain. The brokerage raised Citi to buy from neutral citing valuation, which currently sits at just over 11 times the firm's 2005 earnings estimate. Shares of the country's biggest bank added 16 cents to $47.93.
Adaptec
(ADPT)
said it expects to post a loss of 3 cents a share in its third quarter, well short of the consensus earnings estimate of 5 cents a share. The storage vendor expects to break even in its current quarter, a period in which Wall Street had been forecasting earnings of 8 cents a share. The stock dropped 53 cents, or 8.2%, to $5.93.
Dow component
United Technologies
(UTX)
posted operating earnings of $1.37 a share in its fourth quarter, about 10 cents better than forecasts. Revenue rose 14.6% from a year ago to $9.84 billion, also wiping out the consensus. Guidance for 2005 was roughly consistent with existing estimates. Shares gained 30 cents, or 0.3%, to $100.08.
Alltel
(AT)
also reported stronger fourth-quarter results. The company earned $270.6 million, or 89 cents a share, up from $258.9 million, or 83 cents a share, from the year-ago period. The Thomson First Call consensus was 83 cents a share on revenue of $2.08 billion. Alltel rose 47 cents, or 0.9%, to $55.39.
Fortune Brands
( FO) also beat fourth-quarter earnings expectations, reporting $249.5 million, or $1.68 a share, up from $156.9 million, or $1.04 a share from a year ago. Excluding items, the company earned $1.29 a share, beating the Thomson First Call consensus by 8 cents. Shares finished up $4.11, or 5.4%, to $79.91.
Jones Apparel
(JNY)
cut its earnings forecast for the fourth quarter to 28 cents to 30 cents a share, vs. a previous forecast of 40 cents to 45 cents, citing a higher-than-expected level of promotions. The company also lowered 2005 earnings to $2.75 to $2.90 a share from $3 to $3.10 a share. Jones fell $2.30, or 6.4%, to $33.44.
In brokerage calls, both Deutsche Securities and Soleil Securities upgraded
Verizon
(VZ)
based on its valuation, after the stock's sharp decline recently. Verizon rose 23 cents, or 0.6%, to $36.50.
Retailer
Bebe
(BEBE)
saw three brokerage upgrades Friday, one day after reporting fourth-quarter results. Both Wachovia Securities and JB Hanauer upped shares to outperform from market perform, while First Albany raised its rating to strong buy. Wachovia based its rating on "tremendous momentum" the retailer has shown. Bebe added $1.50, or 6.4%, to $24.85.
Bear Stearns raised its earnings forecast for
Apple
(AAPL)
to $2.25 a share from $2.10, saying that upcoming normal seasonal weakness will not affect iPod sales. Apple gained 3 cents, or 0.04%, to $70.49.
Overseas markets finished mostly lower. In Europe, London's FTSE 100 was unchanged at 4803, while Germany's Xetra DAX lost 0.2% to 4213. In Asia, Japan's Nikkei fell 0.4% overnight to 11,238, while Hong Kong's Hang Seng lost 0.5% to 13,481.