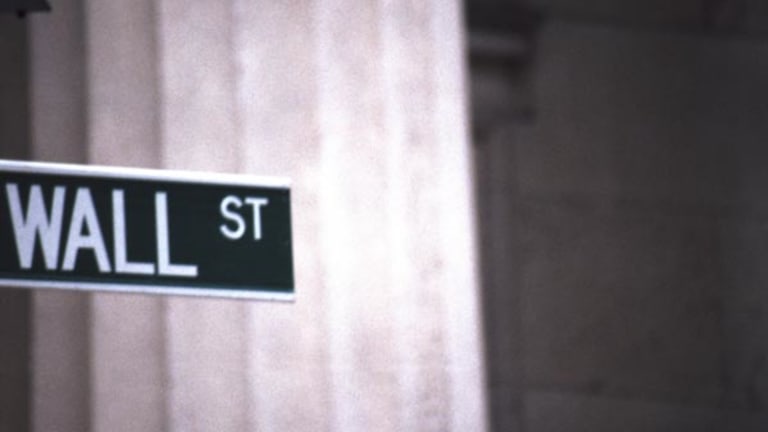 Stocks Fade Late, End Mixed
The Nasdaq closes lower, but the Dow posts a gain.
Updated from 4:09 p.m. EDT
Stocks lost their momentum in the last hour of trading Monday, but blue-chips managed to end with gains while tech stocks finished in negative territory.
The
Dow Jones Industrial Average closed higher by 55.73 points, or 0.6%, to 9645.40. The
Nasdaq lost 4.79 points, or 0.3%, to 1530.69, and the
S&P 500 tacked on 3.21 points, or 0.3%, to 1030.74.
The major averages were sluggish out of the gate, but then they turned higher after retail giant
Wal-Mart
(WMT) - Get Walmart Inc. Report
said same-store sales for June will reach the high end of its expectations. Shares of Wal-Mart climbed 4% to $56.40 on the news.
That morning spike quickly evaporated as worries about terrorism resurfaced. Attorney General John Ashcroft said U.S. authorities had captured an Al Qaeda operative who was planning to set off a radioactive bomb on American soil. The announcement immediately put pressure on the averages, but as more details emerged, namely the fact that the terror suspect was captured more than a month ago, stocks recovered.
At one point during the session, the Dow had risen more than 100 points before retreating late in the day.
According to Ashcroft, Abdullah Al Mujahir was arrested May 8 at Chicago's O'Hare Airport. Al Mujahir, a U.S. citizen, was born Jose Padilla, and he reportedly converted to Islam while serving time in prison. Ashcroft said the man was part of a plot to detonate a "dirty bomb," which uses conventional explosives to spread radiation over a wide area, somewhere in the U.S.
Tyco
(TYC)
remained in the news as New York prosecutors reportedly are probing a company program to relocate employees to Florida. Among other things, investigators want to know if some of the deals amounted to related-party transactions that should have been reported to shareholders,
The Wall Street Journal
reported.
The inquiry follows the indictment last week of ousted Chief Executive Dennis Kozlowski on charges he evaded personal sales taxes related to purchased artwork. Shares of Tyco ended up 13% to $11.41.
Late in the session, ratings agency Fitch downgraded Tyco's debt to junk status and said it might cut the ratings again if the company is unable to complete the proposed spinoff of
CIT
.
Another continuing scandal again in the headlines involved
ImClone Systems
(IMCL)
, the biotech company whose shares were hammered in December after the Food and Drug Administration refused to accept clinical trials submitted in support of its approval application.
The
Journal
reported Monday that ImClone employees learned of that probability three days before the FDA made it public and during the interval, several family members of Chief Executive Samuel Waksal and a close family friend, home and lifestyle maven Martha Stewart, sold ImClone stock. ImClone was down 9% to $7.68.
On the research front Monday were upgrades of cell-phone giants
Nokia
(NOK) - Get Nokia Oyj Sponsored ADR Report
and
Ericsson
(ERICY)
by J.P. Morgan on a valuation basis and a concurrent lowering by Merrill Lynch of its estimate for 2002-03 handset sales.
Nokia fell 2%, and Ericsson lost 3%.
J.P. Morgan also downgraded
Merrill
(MER)
to long-term buy from buy, saying slowing revenue could hurt margins.
Amazon.com
(AMZN) - Get Amazon.com, Inc. Report
was lower after a weekend
Barron's
article questioned the online bookstore's valuation, noting that if its shares traded at multiples consistent with those of department stores such as Wal-Mart or
Kohl's
(KSS) - Get Kohl's Corporation (KSS) Report
, they would cost about one-third of their current price of $18. Amazon lost 7% to $17.30.
Williams Cos.
(WMB) - Get Williams Companies, Inc. Report
outlined a plan Monday morning to rein in some of its volatile energy trading operations, and as a result lowered earnings estimates for 2002 to $1.35 to $1.70 a share from $2.15 to $2.30 a share.
The company, which had its credit rating lowered to one rung above junk by Moody's on Friday, said demand continues to exist for long-term risk management operations in the energy sector, but "the necessary credit confidence is absent throughout this industry segment."
Williams will limit the liquidity and working capital commitment for its risk management and hedging activities companywide to $1 billion, down from $1.5 billion. Shares of Williams shed 1% to $8.59.
Government notes and bonds were higher around 4 p.m. EDT. The 30-year rose 24/32 to 96 23/32. The 10-year Treasury note was gaining 9/32 to 98 26/32 to yield 5.03%.
Overseas shares were mixed, with London's FTSE up 0.2% to 4928, and Germany's DAX down 0.5% to 4589. In Japan, the Nikkei fell 0.6% to 11,370, while Hong Kong's Hang Seng was flat at 11,289.