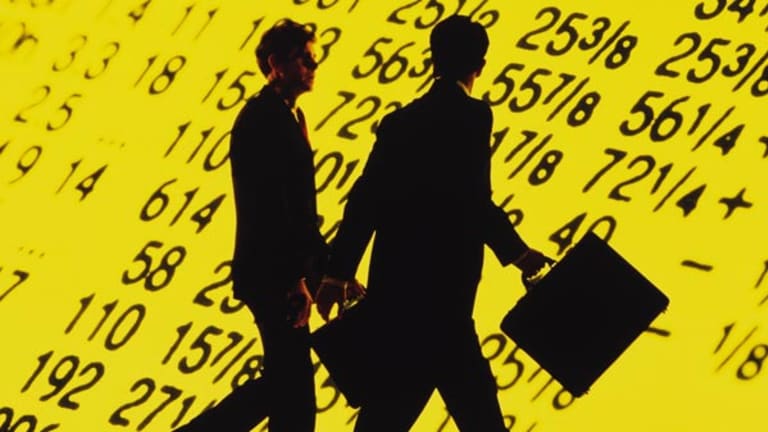 Stocks Fade Late but Hold Gains at Close
Buyers were out early after retailers set a positive tone.
Updated from 3:08 p.m. EST
A broad rally sparked by upbeat comments from several retailers and strength in energy shares lost steam in the final hour, but stocks still held respectable gains at the close.
The
Dow Jones Industrial Average closed up 53 points, or 0.5%, to 10,088 while the
Nasdaq gained 16 points, or 0.8%, to 1961 and the
S&P 500 added 5 points, or 0.4%, to 1149.
All three averages spent much of the day with gains of 1% or more, but were pulled down late in the session in part by a Mideast television broadcast purporting to show Osama bin Laden alive.
Tech issues initially surged after
Yahoo!
(YHOO)
said users of its shopping search engine spent $10.3 billion in the fourth quarter, well above expectations. Yahoo closed up 82 cents to $17.51. Meanwhile,
Amazon.com
(AMZN) - Get Report
rose $1.29 to $11.10 after a Piper Jaffray analyst said his research showed the online retailer had strong holiday unit volume.
More encouragement came from
Wal-Mart
(WMT) - Get Report
, which said same-store sales will probably rise at the high end of its previously issued 4%-6% range in December. The discounter cited heavy traffic in the final weekend of the Christmas season. Wal-Mart gained $1.02 to $58.15.
Several energy bellwethers rose on expectations that OPEC will agree to production cuts at a meeting Friday.
ExxonMobil
(XOM) - Get Report
rose 60 cents to $39.60;
ChevronTexaco
(CVX) - Get Report
added 65 cents to $89.20;
Phillips
(P)
gained 81 cents to $60.41; and
Unocal
(UCL)
added 31 cents to $35.58.
In Japan, the Nikkei lost 0.6% overnight to 10,193, while Hong Kong's Hang Seng rose 0.5% to 11,210. Europe's markets were closed Wednesday.
Wednesday marked the beginning of a seven-day
period during which stocks have often rallied, posting an average gain of 1.5% over the last 50 years, although the effect has been diminished over the last decade.
The situation in Argentina continued to evolve after President Adolfo Rodriguez Saa assumed power and halted interest and principal payments on the country's foreign debt. Saa said he'd maintain the country's currency peg to the U.S. dollar, but proposed a third currency to aid liquidity without devaluing the peso.
The yen's two-week swoon against the dollar ended Wednesday when a Japanese government official suggested the daily swings in the currency's price have been too big. The yen rose about 0.3% against the dollar following the comments, which were made by Zembei Mizoguchi, director-general of the Ministry of Finance international bureau.
Meanwhile, the price of oil rose almost 2% in London ahead of Friday's OPEC meeting in Cairo. Traders evidently are betting the group will agree on production cuts following tentative pledges by non-member countries to impose their own reductions.
The 10-year Treasury note was recently trading down 15/32 to 98 17/32, yielding 5.19%.