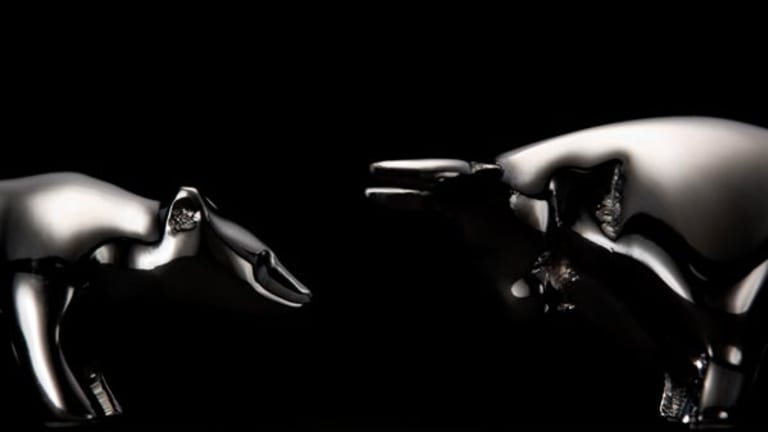 Stocks Extend Rally
Stocks finish modestly higher Wednesday as Steve Jobs takes the Apple stage but fall off their highs after the Fed's beige book.
Stocks finish modestly higher Wednesday as Steve Jobs takes the Apple stage but fall off their highs after the Fed's beige book.
(Updated with stock prices.)
NEW YORK (
) -- Wall Street was upbeat Wednesday after
took the stage at
Apple's
(AAPL) - Get Report
media event and the
Federal Reserve
said economic conditions are stabilizing.
The
Dow Jones Industrial Average
added 49.88 points, or 0.5%, to 9547.22, while the
S&P 500
edged up 7.98 points, or 0.8%, to 1033.37. The
Nasdaq Composite
advanced 22.62 points, or 1.1%, to 2060.39.
The
Federal Reserve
said reports from its 12 districts showed economic activity continued to stabilize in July and August. Consumer spending remained soft, and residential real estate markets remained weak, although there were signs of improvement, according to the beige book.
Most districts reported that loan demand and labor markets were also weak, although they also reported modest improvements in the manufacturing sector, an uptick in temporary hiring and a decline in the pace of layoffs.
Focus earlier stayed on Apple's media event. While attention was paid to new price cuts and products -- iPhone 3.1 software and iTunes 9.0, among other things -- about as much buzz centered on CEO Steve Jobs' presence. Shares were up by about 0.4% recently.
Despite a few news items, there wasn't a lot of volume.
"Mostly it seems trading is dominated by a small group of active traders, while a lot of people are kind of just waiting to see how things play out," says Charles Rotblut, senior market analyst with Zacks Investment Research. Yesterday's volume was "awfully light, even by current standards," and while it might improve, there just aren't a lot of catalysts on the calendar, he says.
Among the day's economic data, the Mortgage Bankers Association said early Wednesday that its seasonally adjusted index of mortgage applications, including both purchase and refinance loans, increased 17% to 648.3 for the week ended Sept 4. That's its highest level since May.
Wall Street also had an eye on the Treasury's auction of $20 billion in 10-year bonds Wednesday. The auction had a high yield of 3.510, slightly lower than expected, and a higher than average bid-to-cover ratio -- an indication of demand -- of 2.77. The Treasury sold $38 billion in three-year notes Tuesday with the greatest demand since November and it will sell $12 billion in 30-year notes Thursday.
In other news,
General Electric
(GE) - Get Report
shares were higher by more than 1% after Goldman Sachs raised price targets for it and other industrials, and
Boeing
(BA) - Get Report
shares were about 1% higher after it said it anticipated air cargo traffic growth next year.
Also,
Vivus
(VVUS) - Get Report
shares surged more than 70%
patients taking its obesity drug Qnexa lost 14.7% of their body weight in a recent trial.
Meanwhile,
Kraft
(KFT)
is reportedly in talks to obtain about $8 billion
for its attempt to buy
Cadbury
(CBY)
,
Bloomberg
reported. Cadbury rejected Kraft's first offer on Tuesday, but the prospect of M&A cheered Wall Street.
Elsewhere,
NYSE Euronext
(NYX)
said it agreed
to sell a "significant" equity interest in NYSE Amex options, one of its two options exchanges in the U.S.
Texas Instruments
(TI)
was also scheduled to release its midquarter update after the close Wednesday.
Crude oil was up $1.01 at $72.11 a barrel, while gold fell $2.70 to $997.10 an ounce.
Stocks overseas were mixed. In Europe, London's FTSE 100 and the DAX in Frankfurt were rising 0.9% and 1.4%, respectively. In Asia, the Nikkei in Japan fell 0.8%, and the Hang Seng in Hong Kong declined 1%.
-- Written by Elizabeth Trotta in New York.