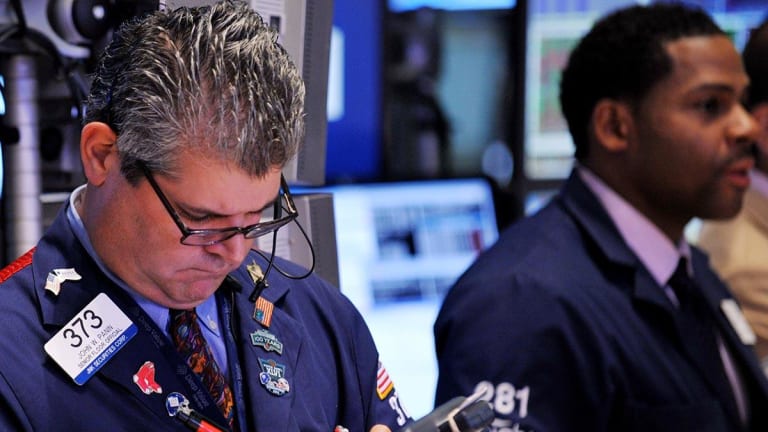 Stocks Extend Declines As Turkey's Currency Crisis Rocks Markets
Turkey's lira fell to a fresh all-time low against the dollar overnight, extending its losses since July past 51%, as the country's economic crisis threatened to spillover into markets all over the world.
Turkey's lira fell to a fresh all-time low against the dollar overnight, extending its losses since July past 51%, as the country's economic crisis threatened to spillover into markets all over the world.
The Friday Market Minute
Global stocks extend declines on Turkey contagion concerns as lira slumps to fresh all-time low.
Asia shares fall to near one-year as investors dump risk and drive cash into the dollar and the yen.
European stocks slip into the red as bank stocks decline; euro traded at fresh one-year low against the greenback.
U.S dollar gains, 10-year Treasury yields fall to 2.85% as investors flee risky bets around the world.
Wall Street futures point lower in thin trading, with active week for U.S. retail sector on tap.
Market Snapshot
Global stocks extended declines Monday as Turkey's economic crisis escalated, spilling over into the euro, hammering emerging market currencies around the world and driving investors into safe haven assets such as the yen and the U.S. dollar.
Turkey's lira, which fell to 18% to a a record low on Friday, lurched lower again in overnight Asia trade following weekend comments from President Recep Tayyip Erdoğan, who called the currency's decline a "plot" designed to weaken the government and the state. The lira traded as low as 7.24 against the U.S dollar, a fresh all-time low, before paring that decline to around 6.89 after the central bank announced a raft of liquidity measures and rule changes it said would free-up around $10 billion within the country's banking system.
The contagion from last week's meltdown, however, was more difficult to contain, with the euro sliding to a fresh one-year low of 1.1380 against the U.S. dollar in overnight trading as investors feared the region's exposure to a potential banking crisis and a certain recession in the $860 billion Turkish economy. Emerging market currencies were also caught in the downdraft, with the South African rand falling 8.6% to a two-year low against the greenback and the Mexican peso falling 2% to 19.27 against the dollar.
The Japanese yen was also a notable mover over night, rising in concert with the U.S. dollar as investors fled risky bets in currency markets and hunkered down in safe-haven assets.
The yen's move higher kept stocks in Japan, and the broader Asia markets, in check, however, with the Nikkei 225 slumping nearly 2% to close at 21,857.43 points while the region-wide MSCI Asia ex-Japan index tumbled 1.51% to a near one-year low heading into the final hours of trading.
The U.S. dollar index, which tracks the greenback against a basket of six global currencies, was marked 0.14% higher from its Friday close at 96.48, while benchmark 10-year U.S. Treasury yields fell to 2.85% as investors parked cash in the safety of government bond markets.
European stocks opened weaker across the board, with banks leading to the downside, as investors re-priced markets in the wake of the escalating crisis in Turkey, with the Stoxx 600 index falling 0.41% to 384.29 points in the opening hours of trading amid similar percentage declines for benchmarks around the region.
Spain's IBEX, however, was marked 0.7% to the downside as one of its largest lender, Banco Bilbao Vizcaya Argentaria (BBVA) - Get Report , slumped a further 3% over concerns for its business exposure in Turkey, while Italy's UniCredit (UNCRY) fell more than 3%. Turkey's benchmark BIST 100 was marked 3.77% lower while its banking sector subindex plunged 11% before trading on its three biggest lenders -- Akbank (AKBTY) , Isbank and Yapi Kredi -- was halted by exchange regulators.
Bayer AG (BAYRY) - Get Report shares fell the most in 15 years Monday after a California jury said the group must pay $289 million in damages to a man who contracted cancer from a weedkiller manufactured by its Monsanto subsidiary.
Bayer shares were marked 11% lower in the opening hour of trading on the Deutsche Boerse in Frankfurt, the biggest single-day decline in 15 years that extended its year-to-date decline to 8.6% and dragged the stock to its lowest level since July 2013.
Early indications from U.S. equity futures suggest the potential for another day of selling on Wall Street Monday, with contracts tied to the Dow Jones Industrial Average I:DJI indicating a 55-point decline at the opening bell while those linked to the S&P 500 I:GSPC are forecasting a 5.3 point pullback for the broader benchmark.
Market direction this week, however, is likely to be dictated as much by developments in Turkey and other emerging market economies as it will be by the strength of the American consumer, which will be reflected in a key reading of retail sales for the month of July on Wednesday and a series of second quarter earnings this week from the likes of Home Depot Inc. (HD) - Get Report , Macy's Inc. (M) - Get Report and Walmart Inc. (WMT) - Get Report
Global oil prices were modestly softer in overnight trading, with investors citing the potential for slowing demand from China and other emerging market economies holding down gains linked to the looming U.S. sanctions on Iranian crude, which are set to kick-in later this autumn.
Brent crude contracts for October delivery, the global pricing benchmark, were seen 19 cents lower from their Friday close in New York and changing hands at $72.64 per barrel in early European dealing. WTI contracts for September, meanwhile, were marked 4 cents lower at $67.59 per barrel.