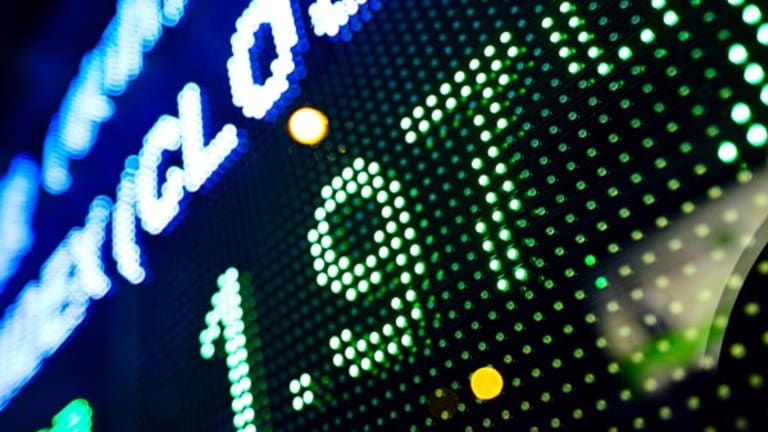 Stocks Erase Losses With Late Rally
Wall Street's major averages take a turn for the better despite a sharp rise in unemployment numbers and bearish news from the retail, auto and technology sectors.
Updated from 2:27 p.m. EST
Stocks in the U.S. came off their lows and turned sharply higher Thursday afternoon, erasing the early losses that were spurred by a sharp rise in unemployment numbers and discouraging news from the retail, auto and technology sectors.
The
Dow Jones Industrial Average
was up 248 points at 8530, and the
S&P 500
was adding 25 points to 877. The
Nasdaq
was surging 43 points to 1542.
A number of factors were conspiring against the averages. However, once the major indices hit their worst levels of the session, the situation changed dramatically.
Robert Pavlik, chief investment officer at Oaktree Asset Management, said that after the S&P 500 got down to an intraday low of 818.69, buying interest was sparked. Pavlik said that although reports suggested that large institutional purchases of the
SPDR
(SPY) - Get S&P 500 ETF TRUST ETF Report
ETF stirred the rally, he didn't fully agree with that assumption.
"Whatever it is, it supported the market," he said. "I'll take it right now."
However, Pavlik remained skeptical of the rally. "We're being led by energy and materials and telecom. How far is that going to take you is the question. It ain't going to take you that far."
The news of the day offered few reasons to indicate equities should rally, but nonetheless bargain-hunters were appearing for one of the few times all week.
This time around, traders received a report from Labor Department indicating that jobless claims for the week ended Nov. 8 came in at 516,000, above economists' estimates of 479,000 and breaking above 500,000 for the first time since 2001. The jobless figure from the previous week was also revised upward to 484,000 from 481,000.
Ian Shepherdson, chief U.S. economist at High Frequency Economics, said that the Labor Department doesn't seem to have cited one-time causes for the jump in unemployment claims, so it's probably safe to say there has been an actual increase in layoffs.
"Assuming it is mirrored in a reduced pace of gross hirings too, this means we can look forward to a further deterioration in the payroll numbers," he wrote.
Brian Bethune, director of financial economics at Global Insight Economics, agreed, saying that weakness in the retail sector will put a damper on seasonal hiring. "Clearly the economy is not doing well." He also said that there has been a pattern of undercounting of layoffs in the financial area, and revisions have pushed those numbers even higher.
Meanwhile, the Census Bureau announced that the September trade balance registered a deficit of $56.5 billion, below analysts' forecast of $57 billion and down from a $59.1 billion deficit in August.
As the
housing crisis
wore on, RealtyTrac reported that 84,868 homes were foreclosed on in October, a 25% increase from the year-ago tally.
Corporate earnings reports were also pointing to more pain on the horizon. Retail giant
(WMT) - Get Walmart Inc. Report
reported a rise in third-quarter profit, but said its performance for the remainder of its fiscal 2009 would be hurt by currency fluctuations.
Bruce Bittles, chief investment strategist at R.W. Baird, said that Wal-Mart's forecast does not add much new information to the market. "I think everybody knows the consumer's in trouble," he said.
From a technical standpoint, as the market drifts closer to its October lows, Bittles said he's concerned that the market has shown complacency as opposed to the fear that would precede a rebound. "Maybe before the market does turn, we've got to make a slightly lower low," he said.
Financial stocks were also holding the spotlight again.
The Wall Street Journal
reported that
Citigroup's
(C) - Get Citigroup Inc. Report
board, unhappy about the banking titan's recent results, was considering replacing its chairman, Sir Win Bischoff.
However, Citi's board of directors said in a press release that Bischoff had its full backing and called the
Journal
report "completely erroneous."
The list of companies applying for government assistance expanded when
CIT Group
(CIT) - Get CIT Group Inc. Report
petitioned to become a bank holding company and requested funds from the Treasury. Earlier this week,
American Express
(AXP) - Get American Express Company Report
sought similar refuge.
As for the automotive sector,
Bloomberg
reported that beleaguered
(GM) - Get General Motors Company Report
was hitting a snag in its efforts to sell $4 billion in assets to raise its cash levels. Several lawmakers have begun discussing whether GM, along with
Ford
(F) - Get Ford Motor Company Report
and
Chrysler
, needs a government bailout.
In the technology arena, chipmaker
(INTC) - Get Intel Corporation Report
cut its fourth-quarter revenue forecast on weakening demand.
Elsewhere among chipmakers,
Applied Materials
(AMAT) - Get Applied Materials Inc. Report
announced a sharp decline in its fiscal fourth-quarter earnings and said it would eliminate 1,800 jobs next year.
Also looking to cut costs was telecom firm
(S) - Get SentinelOne Inc. Class A Report
, which is issuing buyout packages to some employees.
German industrial conglomerate
(SI) - Get Silvergate Capital Corporation Class A Report
, meanwhile, announced a widened quarterly loss on charges related to job cuts and money dedicated to costs stemming from a bribery investigation.
Looking at
, Jefferies initiated coverage of American Express with an underperform rating. PC maker
Dell
(DELL) - Get Dell Technologies Inc. Class C Report
caught a Goldman Sachs downgrade to sell, and Credit Suisse cut it's price target for
Apple
(AAPL) - Get Apple Inc. Report
to $120 from $135.
In commodities, crude oil was adding $2.44 to $58.59 a barrel. Gold was shedding $13.30 to settle at $705 an ounce.
Longer-dated U.S. Treasury securities were falling in price. The 10-year note was down 12/32, yielding 3.78%, and the 30-year was losing 2-22/32 to yield 4.33%. The dollar was strengthening vs. the pound and yen, but softening against the euro.
Following weeks of declines in borrowing costs, credit markets tightened a bit Thursday. Three-month dollar Libor, a measure of the rate banks charge one another for large loans, edged up 2 basis points to 2.15%. Overnight Libor likewise climbed 2 basis points to 0.4%.
Across the seas, European exchanges were mixed, as the FTSE in London traded lower, while the DAX in Frankfurt was logging gains. In
, Japan's Nikkei and Hong Kong's Hang Seng closed with losses.