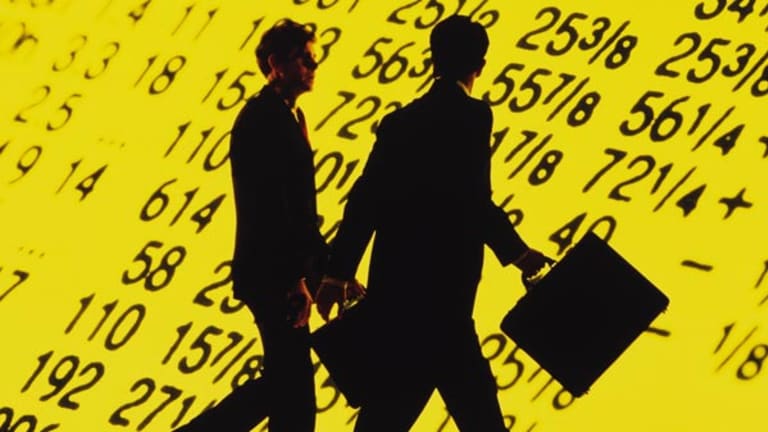 Stocks Enter Seesaw Mode
The market is struggling to find its way despite crude oil's continued descent.
Updated from 10:54 a.m. EDT
Stocks in the U.S. began to waffle Friday afternoon even as crude oil prices continued to decline and the dollar was growing stronger.
The
Dow Jones Industrial Average
was up 1.5 points to 11,617, and the
was better by 1.5 points at 1294. The
Nasdaq
was shedding 9.5 points to 2444.
A downturn in commodities was supporting the market's modest gains. Crude oil was losing $3.09 to $111.92 a barrel, and gold was giving back $25.20 to $789.30 an ounce. Those moves came as the dollar was edging upward against its major foreign competitors. The
U.S. Oil
(USO)
exchange-traded fund was losing 2.4%.
Richard Sparks, senior equities analyst at Schaeffer's Investment Research, said that the downtrend in oil and strength in the dollar has been the driving force for the market this week. "The market would be healthier if it weren't a tail-wagging-the-dog type situation," he said. "Your market only seems to be able to rally if oil drops." He said that he'd prefer that the market rally on additional fundamental support in the form of raised earnings guidance from the financial sector.
In the meantime, Sparks said, "You want to maintain your exposure to any trend." Although the dollar may be overbought, it's going to help the market until it reverses, he said.
Sparks also said that a neutral market performance on a Friday is a bullish indicator. Traders tend to sell off positions into the weekend, he said, so neutral to positive finishes this Friday and last Friday offer some encouragement.
Buying sentiment was briefly dented after the University of Michigan released its August consumer sentiment survey. The index improved to 61.7 from 61.2 in July, but was a bit short of economists' predictions. However, the pullback was brief, and stocks regained their footing.
Elsewhere in the realm of economic data, the New York Empire State Index for August ticked up to 2.8, a vast improvement over negative 4.9 in July and ahead of expectations for a 5-point decline.
The
Federal Reserve's
measure of July capacity utilization came in at 79.8%, in line with expectations. The June figure was revised down to 78.8% from 79.9%. Industrial production increased 0.2% in July, whereas analysts were projecting no growth for the month.
On the corporate front, software maker
Autodesk
(ADSK)
offered earnings that topped analysts' second-quarter estimates following Thursday's close. Shares rose 11%.
Bond insurers
Ambac
undefined
and
MBIA
(MBI)
also received good news, as Standard & Poor's said it would remove the companies' key units from CreditWatch Negative and affirmed its AA ratings. Ambac shot up 30%, and MBIA climbed 11%.
Goldman Sachs
(GS)
was having a tougher time after JPMorgan Chase cut its third-quarter profit forecast for its fellow investment bank. The firm is now looking for Goldman to earn $2.40 a share in the quarter, well below its previous estimate of $4. The stock slipped 2.2%.
Following Thursday's settlement by
JPMorgan Chase
(JPM)
and
Morgan Stanley
(MS)
of a government auction-rate securities probe,
Wachovia
(WB)
on Friday agreed to buy back $9 billion in auction-rate debt from clients.
As for earnings,
JC Penney
(JCP)
exceeded analysts' bottom-line expectations for the most recent quarter but offered guidance that fell short of estimates. Penney was gaining 7.1%.
Even more pleasing to Wall Street was fellow retailer
Kohl's
(KSS)
, which beat analyst estimates for the second quarter and raised its full-year outlook, sending the stock up 7.4%.
Illinois Tool Works
(ITW)
, meanwhile, reaffirmed its projections.
Global exchanges were mixed. The FTSE in London was ticking downward, while the DAX in Frankfurt was moving higher. In Asia, the Nikkei in Japan was rising, while the Hang Seng in Hong Kong took a hit.
In the fixed-income arena, longer-dated U.S. Treasuries were gaining ground. The 10-year note was up 12/32 in price to yield 3.84%, and the 30-year was adding 24/32, yielding 4.47%.