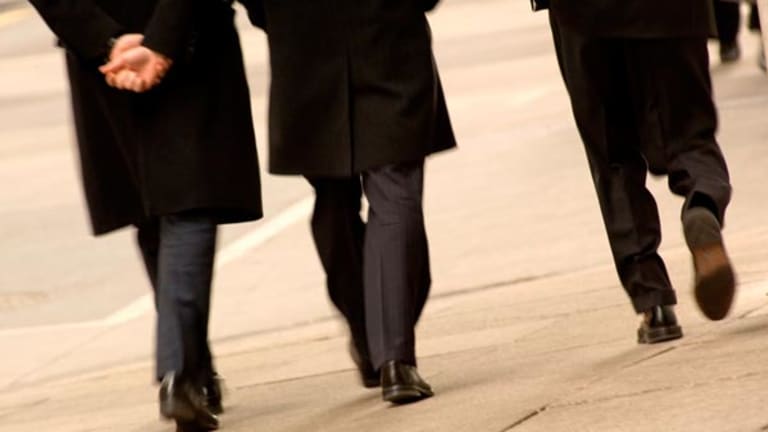 Stocks Entangled in Spitzer's Net
The Dow and Nasdaq both fall as regulatory concerns spread.
The Dow and Nasdaq both fall as regulatory concerns spread.
Updated from 4:03 p.m. EDT
Stocks closed lower Tuesday as an oil market selloff faded and regulatory paranoia crept from property and casualty insurers into the more popular managed care space.
The
Dow
fell 58.70 points, or 0.59%, to 9897.62, having briefly regained the 10,000 level early in the day; the
S&P 500
dropped 10.79 points, or 0.97%, to 1103.23; and the
Nasdaq Composite
shed 13.62 points, or 0.70%, to 1922.90. All three indices had closed higher in the two previous sessions. The 10-year Treasury note was down 1/32 in price to yield 4.04%, while the dollar was lower against the yen and euro.
Volume was relatively high on the
New York Stock Exchange
, where 1.7 billion shares traded and advancers trailed decliners 2 to 1. On the Nasdaq, 1.7 billion shares changed hands, with advancers behind decliners 3 to 2.
Early optimism about the tech sector was replaced by concerns about New York Attorney General Eliot Spitzer's unfolding investigation into alleged price-fixing and kickbacks in the insurance industry.
"People started to move to the sidelines," said Arthur Hogan, chief market analyst at Jefferies. "We've seen a lot of health care and insurance stocks taking a beating. It's taking down some of the more traditional insurance companies, and that's where the biggest weakness is."
Both
Marsh & McLennan
(MMC) - Get Report
and
AIG
(AIG) - Get Report
fell again. Marsh lost 5.7% to $24.10, while AIG shed 3.3% to $57.70.
Health maintenance organization stocks also suffered.
Aetna
(AET)
shares lost nearly 12%,
Wellpoint
(WLP)
dropped 11.5%, and
United Health Group
(UNH) - Get Report
fell 9.3%.
"The ongoing question is, just how wide will Eliot Spitzer cast his net?" Hogan added.
Crude futures continued the decline they began after crossing above $55 a barrel early Monday, but the selling slowed. Oil closed down 38 cents to $53.29, after being about a dollar lower earlier in the session. Among the catalysts was a prediction from OPEC that worldwide oil consumption will rise by 1.6 million barrels a day next year -- a lot, but less than it predicted a month ago.
IBM
(IBM) - Get Report
shares gained more than 4% Tuesday. The Armonk, N.Y., tech titan said third-quarter earnings rose 4% from a year ago to $1.8 billion, or $1.06 a share, including a $320 million charge to settle a pension lawsuit. Before the item, IBM earned $1.17 a share, beating the Thomson First Call consensus by 3 cents.
The shares rose despite a slightly anemic services division, which showed revenue of $10 billion in the quarter, slightly below estimates. Still, the segment's profitability was slightly higher than hoped, and traders appeared content that IBM avoided a disaster in the unit, which provides technology consulting to big corporations. Shares ended $3.45 higher at $89.37.
"This is the first time we've seen some very positive comments about the next quarter and 2005 from a tech company," said Marc Pado, a U.S. market strategist at Cantor Fitzgerald.
Strength out of IBM helped boost related tech shares in the Goldman Sachs Technology Hardware index:
Adaptech
(ADPT) - Get Report
rose 0.6%,
Seagate Technology
(STX) - Get Report
added 1.6% ahead of its first-quarter earnings report, and
QLogic
(QLGC)
gained 1.5%.
Texas Instruments
(TXN) - Get Report
tacked on 6.9% after saying third-quarter earnings were $553 million, or 32 cents a share, up from $447 million, or 25 cents a share, last year. Revenue rose 28% from a year ago to $3.25 billion. Analysts had been forecasting earnings of 27 cents a share on revenue of $3.16 billion, according to Thomson First Call.
Fourth-quarter guidance was mixed, with revenue pegged at $2.96 billion to $3.2 billion and earnings at 24 cents to 28 cents a share. Analysts were looking for $3.2 billion and 26 cents a share. Still, the company reported firming demand in the latter half of its most recent quarter, and traders bid up the stock $1.46 to $22.55.
The Philadelphia Stock Exchange Semiconductor Index gained 0.8%, with
Advanced Micro Devices
(AMD) - Get Report
and
National Semiconductor
(NSM)
up 4% and 3.5%, respectively.
After the bell Tuesday,
Motorola
(MOT)
said third-quarter earnings quadrupled to $479 million, or 20 cents a share, on revenue of $8.62 billion. Earnings were a penny ahead of estimates, and the company guided fourth-quarter sales and earnings roughly in line.
On the economic front, the Labor Department said its consumer price index rose 0.2% for September, after rising 0.1% in the prior month. Excluding food and energy, the core CPI rose 0.3% in September, after a 0.1% rise last month. Economists had forecast a rise of 0.2% in both the CPI and core CPI.
"A little bit of core inflation actually isn't really a bad thing if it means that you can finally get some pricing power through," Pado said.
Separately, the Commerce Department said September housing starts fell 6% to a 1.898 million annual rate, from a revised 2.02 million in the prior month. Economists had expected the figure to drop in September, but had called for a fall of 50,000, or about 3%. Building permits rose 1.8% in September to 2.005 million from a revised 1.969 million in the prior month. Analysts had expected a drop of 4,000 permits.
Before the bell Tuesday, Philip Morris parent company
Altria
(MO) - Get Report
reported a 6.3% rise in third-quarter earnings from the prior year, driven by higher-than-expected sales and investment gains at an affiliate. Altria earned $2.65 billion, or $1.29 a share, in the quarter, and forecast full-year profits of $4.55 to $4.60 a share. While neither number looked comparable to analyst forecasts, the stock finished flat at $47.40.
Another Dow component reporting Tuesday was
McDonald's
(MCD) - Get Report
. The fast-food giant said that effective cost controls helped the company report earnings that matched analysts' estimates on higher-than-expected sales. The company reported earnings of $778.4 million, or 61 cents a share, up 42% from the prior year. McDonald's shares lost 20 cents to $29.
Continental Air
(CAL) - Get Report
swung to a third-quarter loss of $16 million, or 24 cents a share, from earnings of $133 million, or $1.83 a share, last year. The loss was narrower than expected, although the company forecast more red ink this year and next unless energy prices ease. Continental dropped 52 cents, or 6%, to $8.19.
Automaker
Ford
(F) - Get Report
announced third-quarter profits, after producing losses in the prior year. The company credited the strength in the financial services group. On an adjusted basis, the company had earnings of $537, or 28 cents a share, well ahead of analysts' estimates of 14 cents a share. Shares fell 46 cents, or 3.4%, to $12.93.
Shares of
Taser
(TASR)
gained after the company said earnings jumped 469% in the third quarter. The company had a profit of 6.1 million, or 19 cents a share, while revenue jumped more than 200%. Analysts expected EPS of 15 cents, according to Thomson First Call. The company also raised 2004 guidance. Taser stock gained $2.18, or 5.7%, to $40.25.