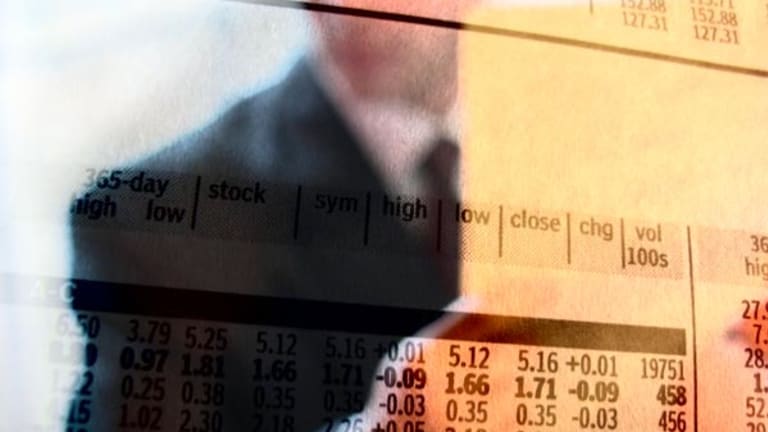 Stocks End With Small Losses
A fall in oil prices sparks a rebound after early selling.
A fall in oil prices sparks a rebound after early selling.
Updated from 4:05 p.m. EDT
Stocks fought back from early losses and ended marginally lower Tuesday, recovering after oil futures fell more than $1 a barrel.
The
Dow Jones Industrial Average
closed down 4.80 points, or 0.05%, to 10,077, while the
S&P 500
fell 2.55 points, or 0.23%, to 1121.84. The
Nasdaq
also lost 3.59 points, or 0.19% to 1925.17. The 10-year Treasury note rallied 9/32 in price to yield 4.10%, while the dollar was gaining against the yen and euro.
Volume was on the lighter side at the
New York Stock Exchange
, where 1.3 billion shares traded and advancer were roughly even with decliners. On the Nasdaq, 1.5 billion shares changed hands, with advancers trailing decliners by 4 to 5.
Oil saw a choppy session, with November crude falling $1.13 to $52.51 after earlier rising above $54 a barrel. Crude futures had gained in five consecutive sessions before Tuesday on concerns about damaged production capacity on the U.S. Gulf Coast.
"Oil closed more than a dollar down and that's nice, and a significant addition to some positive news," said Robert Pavlik, portfolio manager at Oaktree Asset Management.
"I also think that people are just little bit optimistic as to what might come after the close today," said Pavlik, referring to late earnings from
Intel
(INTC) - Get Report
and
Yahoo!
(YHOO)
. "There is a lot of heavy news weighing on the market and I think it all depends on how soon oil can turn around and what the prospects hold for the coming earnings reports," he added.
While oil has created a bearish backdrop for weeks, stocks absorbed its repeated shocks well, according to Sobodh Kumar, chief investment strategist at CIBC World Markets
"As oil prices move upward, the market pulls back, but not as much as you would think if investors were pricing in $60 a barrel." Kumar said. "What's interesting is that the equity market pullbacks are comparatively modest compared to
what they would be if they really believed the price of oil would be going higher." (For a story on the market's complacency in the face of higher oil,
click here.)
Tuesday's oil catalysts included a report from the International Energy Agency predicting worldwide demand will total 82.4 million barrels a day in 2004, about 200,000 barrels more than was forecast in September.
"The
problem that's right in everybody's face is oil, and that's kind of wearing people out and creating concern about the economy," said Al Goldman, chief market strategist at A.G. Edwards. Goldman also noted uncertainty ahead of the presidential election, which gets another airing this week in the third and final Bush-Kerry debate.
"We can live with almost anything in the marketplace, once we know what that anything is," Goldman said. "But the market just hates uncertainty, and the election is pretty much a toss-up."
Earnings season was off to a mixed start Tuesday, a trend that some analysts think will mark the whole third quarter.
"Earnings growth will be slower and there will be more emphasis on how well individual companies are able to deliver," Kumar said.
Tech's woes were fueled by
Philips Electronics
(PHG) - Get Report
, which said its consumer division unexpectedly lost money in the third quarter. The Dutch company warned the softness would last at least another quarter. Philips, which posted a big increase in overall earnings thanks to asset sales, also predicted that revenue in its semiconductor division would be sequentially flat in the fourth quarter.
Chip investors will get more clarity later Tuesday when
Intel
(INTC) - Get Report
reports earnings. The Philadelphia Semiconductor Index ended down 1.3%.
Before the bell,
Merrill Lynch
( MER) said third-quarter earnings fell 8% from a year ago to $920 million, or 93 cents a share. Profit was about a penny a share better than forecasts, although Merrill characterized asset markets as challenging and said revenue fell 3% from last year's quarter. Shares rose $1.48, or 2.9%, to $52.48.
Johnson & Johnson's third-quarter earnings rose 13% from a year ago, beating analysts' estimates. The health care product maker posted a profit of $2.3 billion, or 78 cents a share. Analysts had forecast earnings of 76 cents a share according to Thomson First Call.
Shares ended $1.46, or 2.6%, higher at $56.82.
Also reporting was homebuilder
MDC Holdings
(MDC) - Get Report
, which posted third-quarter net income of $3.07 a share, about 34 cents better than predicted. Revenue rose 28.4% from a year ago to $1.03 billion. Shares of MDC Holdings gained $4.80 to $70.46.
Shares of
Travelzoo
(TZOO) - Get Report
jumped nearly 12% Tuesday, after the company announced third-quarter earnings rose to $2.1 million, or 12 cents a share, in the third quarter from $617,000, or 3 cents a share, last year. Shares of Travelzoo rose $6.47 to $63.35.
Overseas markets were lower, with London's FTSE 100 dropped 0.8% to 4649.80 and Germany's Xetra DAX slipped 1.5% to 3957.60. In Asia, Japan's Nikkei fell 1.3% overnight to 11,202, while Hong Kong's Hang Seng lost 0.4% to 13,252.
Stocks rose modestly in low Columbus Day volume Monday, with the Dow Jones Industrial Average gaining 27 points, or 0.3%, to 10,082 and the Nasdaq Composite rising 9 points, or 0.5%, to 1929.