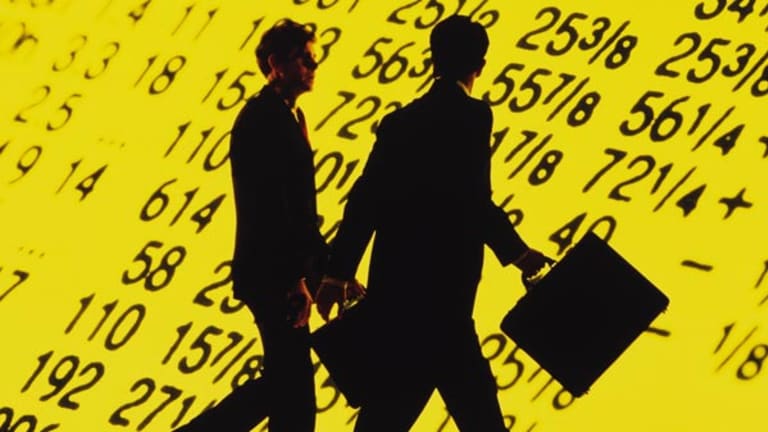 Stocks End With Modest Gains
After being down for much of the day, the major averages turn higher late.
Updated from 4:05 p.m. EDT
Stocks closed modestly higher Wednesday, as a late-day rally lifted the major averages into positive territory thanks to a 3% drop in crude oil prices.
The
Dow Jones Industrial Average
rose 19.14 points, or 0.19%, to 10,300.25. The
added 4.89 points, or 0.42%, to 1171.11, and the
Nasdaq Composite
was higher by 8.78 points, or 0.45%, to 1971.55. All three major indices had spent most of the trading session in negative territory before staging the late comeback.
About 1.80 billion shares changed hands on the
New York Stock Exchange
, with advancers beating decliners by a 9-to-7 margin. Trading volume on the Nasdaq was 1.72 billion shares, with advancers matching decliners.
"Intraday turnarounds are definitely good signs," said Barry Hyman. "With all the rumors driving the market today, the biggest factor was oil being down over 3%. We still have to negotiate recent resistance levels and get some continued strength in technology. Today could have been a lot worse. The good news today is that today wasn't similar to yesterday."
Oil spiked lower, with the June contract closing down $1.62, or 3.1%, to $50.45 a barrel. The Energy Department said that crude supplies rose 2.7 million barrels in the week ended May 6. Gasoline supplies rose 200,000 barrels and distillate supplies added 1.7 million barrels. Crude prices have increased over the past five sessions, rising 4.7%.
On the economic front, the Commerce Department said the U.S. trade balance narrowed to a $54.99 billion deficit in March from the previous month's revised $60.6 billion. Economists had expected the deficit to swell to $62 billion. March's reading is the lowest level of the trade deficit since September, while the 9.2% decline from last month is the largest monthly drop since December 2001.
"The surprise here is a 2.5% drop in imports," said Ian Shepardson, chief economist with High Frequency Economics. "Import growth is slowing but these data overstate the case. Core exports rose, but only 0.6%. Government statisticians assumed rising March imports; these data imply an upward revision of just under 1% to first-quarter GDP, offsetting a likely downward inventory revision."
Earlier in the day, pressure came after a Federal Reserve Bank president suggested the central bank would be prepared, if needed, to be more aggressive with its rate actions. Selling also had gathered steam as the White House and the Capitol building were evacuated after a small plane flew into restricted air space. The matter was resolved, and workers and visitors were allowed to return to the buildings.
William Poole, president of the Federal Reserve Bank of St. Louis, said in a speech at the AAIM Management Association that the FOMC "is prepared, if necessary, to move more aggressively to preserve the relatively low rate of core inflation that now exists. Nevertheless, the FOMC's best judgment at this time is that the target federal funds rate can continue to rise at a measured pace and that this policy will maintain economic growth without rising inflation."
Poole also said that if there are surprises in newly arriving data, "then the FOMC will revise its expected policy path. At some point we'll almost certainly see some surprises in the data. What should not be uncertain, however, is the Fed's iron-clad commitment to maintaining price stability."
In other markets, the 10-year Treasury bond was up 1/32 in price to yield 4.20%, while the dollar was higher against the yen and euro after the U.S. trade balance data. The major averages had opened the session slightly higher.
The yen gained early against most currencies after an online newspaper published by the Chinese government ran a story overnight saying the country planned to devalue the yuan as early as next week. The story was later removed from the Web site and most traders now believe it reflected a translating mistake.
Similar uncertainty reigned Tuesday in the U.S. stock market, where rumors about hedge fund losses tied to bad bets on
General Motors
(GM)
sent the Dow down by 103 points.
No hedge fund has confirmed a GM-related crisis. Still, 2005 has been a difficult year for professionally managed money, capped off by a stubborn April in which
every major trading strategy resulted in losses, according to Hedge Fund Research Inc.
Cisco
(CSCO)
added 34 cents, or 1.9%, to $18.55, a day after its earnings report.
Shares of other companies involved in the computing universe closed higher, including
Intel
(INTC)
, up 10 cents to $24.77;
Microsoft
(MSFT)
, up 1 cent to $24.91; and
PMC-Sierra
(PMCS)
, up 1 cent to $7.57.
The story was the opposite at
Dreamworks Animation
(DWA)
, where earnings and earnings guidance both came in well below estimates late Tuesday due to anemic video sales of the movie
Shrek
. Dreamworks fell $4.45, or 12.2%, to $32.05.
Federated Department Stores
undefined
reported first-quarter earnings of $123 million, or 71 cents a share, up from $97 million, or 53 cents a share, a year ago. The Thomson First Call consensus was for profit of 67 cents a share. Sales rose 2.5% in the quarter to $3.61 billion from a year ago. The company also forecast earnings of 80 cents to 85 cents a share in the second quarter, higher than analysts' expectations of 83 cents. Federated lost 62 cents, or 1%, to $63.28.
Elsewhere,
Blockbuster
(BBI)
said early indications showed that investor Carl Icahn and two of his dissidents had been voted to the company's board of directors. Shares of Blockbuster added 21 cents, or 2.1%, to $10.05.
Eastman Kodak
undefined
Chief Executive Daniel Carp announced Wednesday that he will retire at 57. Carp will be succeeded by Antonio Perez, the longtime
Hewlett-Packard
(HPQ)
executive who was named Kodak's president and chief operating officer two years ago. Perez was named president and chief executive, effective immediately. Carp will remain chairman until the end of 2005, at which time Perez will assume that position. Shares of Kodak rose $1.13, or 4.4%, to $26.58.
Shares of
RealNetworks
(RNWK)
and
Apple
(AAPL)
were both lower, reflecting
Yahoo!'s
(YHOO)
plans to roll out an online music service. RealNetworks dropped $1.54, or 21.1%, to $5.76, while Apple was down 81 cents, or 2.2%, to $35.61. Meanwhile, Yahoo! was up 82 cents, or 2.4%, to close at $34.88.
Disney
(DIS)
, whose shares were halted for roughly 30 minutes in the afternoon, posted fiscal second-quarter earnings of $698 million, or 33 cents a diluted share. Results were up from the year-ago 26 cents a share and a penny ahead of the Thomson First Call analyst estimate. Revenue rose 9% from a year ago to $7.83 billion, in line with what Wall Street expected. Shares were down 28 cents, or 1%, to $26.67.
Arena Pharmaceuticals
(ARNA)
added 8.7% after saying the highest dose of its weight-loss drug candidate had a significant effect on obese patients, who lost significantly more weight in a clinical trial than patients taking a placebo. Shares were up 52 cents to $6.49.
Warner Music Group
(WMG)
priced its IPO at $17 a share, below the original range of $22 to $24, for its debut Wednesday. The initial price offering raised $554 million by offering 32.6 million shares with underwriters Goldman Sachs and Morgan Stanley. Warner Music will trade on the
New York Stock Exchange
under the ticker symbol WMG.
In brokerage action, Prudential Equity upgraded
Kohl's
(KSS)
to overweight from neutral weight, citing improving trends in store traffic, as well as new store productivity. The brokerage also set a stock price target of $58. Shares of the retailer were up $1.31, or 2.7%, to $49.64.