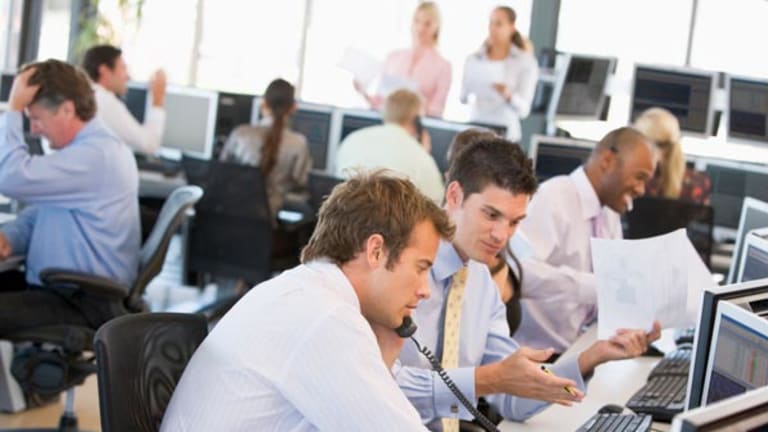 Stocks End With a Bang
The averages rally late and close higher as oil continues drop.
Updated from 4:17 p.m. EST
Stocks used a late surge to close higher Friday as lower crude prices helped traders get past
Pfizer's
(PFE) - Get Free Report
uncertain outlook and a record trade deficit.
The
Dow Jones Industrial Average
rose 35.70 points, or 0.33%, to 10,919.05, having been down as many as 60 points earlier. The
gained 3.21 points, or 0.25%, to 1266.99, and the
Nasdaq Composite
added 6.01 points, or 0.27%, to 2261.88, rebounding from an early 20-point loss.
For the week, the Dow jumped 125 points, or 1.2% and the S&P 500 rose 3 points, or 0.2%. Meanwhile, the Nasdaq slipped a fraction of a point.
In other markets, the 10-year Treasury bond was down 10/32 in price to yield 4.58%, 10 basis points less than the yield on the two-year note. The 30-year Treasury bond, which had its first auction yesterday since 2001, was recently down 24/32 in price to yield 4.55%. The dollar fell against the yen and euro.
Oil was lower after the International Energy Agency predicted that worldwide crude supplies would rise fast enough this year to cover demand. March crude finished down 78 cents at $61.84 a barrel, while natural gas, which hit a six-month low on Thursday, was down another 16 cents to $7.32 per million British thermal units.
"The market was down for most of the day on fears of inflation and because of an inverted yield curve," said Jay Suskind, head of institutional equity trading with Ryan Beck & Co. "Since oil has retreated, it has taken the thought of increased inflation out of the market, at least for the near term. The inversion between the 10-year and 30-year has diminished as the day has gone on, too."
About 1.70 billion shares changed hands on the
, with advancers narrowly beating decliners by a 17-to-16 margin. Volume on the Nasdaq was 2.01 billion, with decliners outpacing advancers 8 to 7.
Dow component Pfizer, which is meeting with analysts Friday to update guidance, said it expects adjusted earnings of about $2 a share in 2006, below prior estimates. The drugmaker anticipates 2006 revenue of $51.3 billion. The Thomson First Call consensus stands at EPS of $2.06 for 2006 and for annual revenue of $51.58 billion. Pfizer's shares fell 66 cents, or 2.5%, to close at $25.68.
Elsewhere on the Dow,
General Motors
(GM) - Get Free Report
finished down 1.2%, while both
Alcoa
(AA) - Get Free Report
and
Exxon Mobil
(XOM) - Get Free Report
lost more than 0.6%.
The Dow rebounded thanks to gains of 1% or better from
AIG
>
(AIG) - Get Free Report
,
DuPont
(DD) - Get Free Report
,
IBM
(IBM) - Get Free Report
,
Intel
(INTC) - Get Free Report
and
AT&T
(T) - Get Free Report
, among others.
On the economic front, the Commerce Department said the trade deficit widened to $65.68 billion in December, eclipsing the analyst consensus of $64.8 billion and November's $64.7 billion gap.
"Imports rose to a record $177.2 billion, while exports also increased, to a record $111.5 billion," said Paul Mendelsohn, chief investment strategist with Windham Financial. "This creates a higher probability that the advance fourth-quarter gross domestic product will not be upgraded substantially higher, since a higher trade deficit subtracts from GDP."
Separately, a report on the U.S. federal surplus showed a widening to $21 billion in January from $8.6 billion a year ago.
Stocks ended mixed on Thursday as a 90-point gain on the Dow Jones Industrial Average was all but erased amid losses in the energy sector. On the session, the Dow gained 25 points to 10,883, while the S&P 500 lost 2 points to 1264 and the Nasdaq Composite shed 11 points to 2256.
Oracle
(ORCL) - Get Free Report
says it will cut 2,000 jobs in connection with its acquisition of Siebel Systems, and said per-share earnings in the third and fourth quarters will be a penny short of estimates. Oracle guided current-quarter revenue to a range of $3.5 billion to $3.55 billion, about $100 million ahead of forecasts. Oracle finished unchanged at $12.68.
To view Gregg Greenberg's video take on today's market, click here
.
McAfee
( MFE) said fourth-quarter earnings rose 2% from a year ago to $39.7 million, or 23 cents a share, while adjusted earnings of 27 cents a share missed estimates. The software company guided the first quarter in line. McAfee was higher by $4.02, or 18.4%, to close at $25.90.
Auto-parts maker
Visteon
(VC) - Get Free Report
swung to a fourth-quarter profit of $1.34 billion, or $10.25 a share, compared with a loss of $138 million, or $1.10 a share. Results included a $1.8 billion gain from an asset sale and $363 million total in charges and expenses. Sales fell to $2.87 billion from $4.68 billion a year earlier, matching analysts' estimates. Shares dropped 11 cents, or 2.3%, to $4.73.
In ratings news, Citigroup analysts initiated several stocks in the education space. The banks started
Apollo Group
(APOL)
with a buy and a $77 price target; it closed at $56.70 Thursday. Citi advised holding
Career Education
(CECO) - Get Free Report
and selling
Corinthian Colleges
(COCO) - Get Free Report
and
ITT Educational Services
(ESI) - Get Free Report
.
Prudential Equity Group cut
Phelps Dodge
( PD) to neutral-weight from overweight, as copper demand grew less than expected in 2005. The stock lost $5.94, or 4%, to $142.06.
Banc of America upgraded
Marriott International
(MAR) - Get Free Report
to buy from neutral, one day after the hotel operator reported fourth-quarter earnings that beat estimates. Marriott added $1.80, or 2.7%, to $69.44.
Overseas stocks were mostly lower, with London's FTSE 100 falling 0.8% to 5764 and Germany's Xetra DAX down 0.7% to 5701. In Asia, Japan's Nikkei slid 1.1% overnight to 16,258, while Hong Kong's Hang Seng firmed 0.1% to 15,426.